WASHINGTON — Jacob Chansley, the Arizona man who wore a horned fur cap and carried a spear into the U.S. Capitol Building on Jan. 6, has been moved to a halfway house to finish the remainder of his prison sentence, according to the Bureau of Prisons.
Chansley, also known as the "QAnon Shaman," became one of the most visible members of the mob that stormed the Capitol thanks to his unusual attire red, white and blue face paint. Chansley was one of a small number of rioters to make it to the floor of the Senate Chamber, where he used a megaphone to lead a prayer on the dais and left a menacing message for former Vice President Mike Pence.
Chansley pleaded guilty in September 2021 to one felony count of obstruction of an official proceeding and was sentenced by U.S. District Judge Royce C. Lamberth in November of that year to 41 months in prison. Although Chansley's attorney at the time, Albert Watkins, made an impassioned plea for a downward variance to a shorter sentence, Lamberth said he couldn't justify it based on Chansley's "horrific" role in the riot.
"Obstructing the government… is so serious that I cannot justify a downward departure," Lamberth said. "You made yourself the center of the riot."
"I told him in November 2021 that he was likely to be released in February 2023," Shipley said.
Shipley highlighted credit Chansley received through the First Step Act and his participation in the Bureau of Prison's Residential Drug Abuse Program (RDAP) which, upon completion, can reduce the sentence of non-violent offenders by up to one year.
At the time of his sentencing, Chansley had already served more than 300 days, or approximately 11 months, in pretrial detention. Under the First Step Act, he was eligible for up to 54 days of good time credit for each year of his sentence – or five months or more in Chansley's case.
According to the Bureau of Prisons website, Chansley was moved recently to the Residential Reentry Management field office in Phoenix, Arizona. The BOP lists his expected release date as May 25.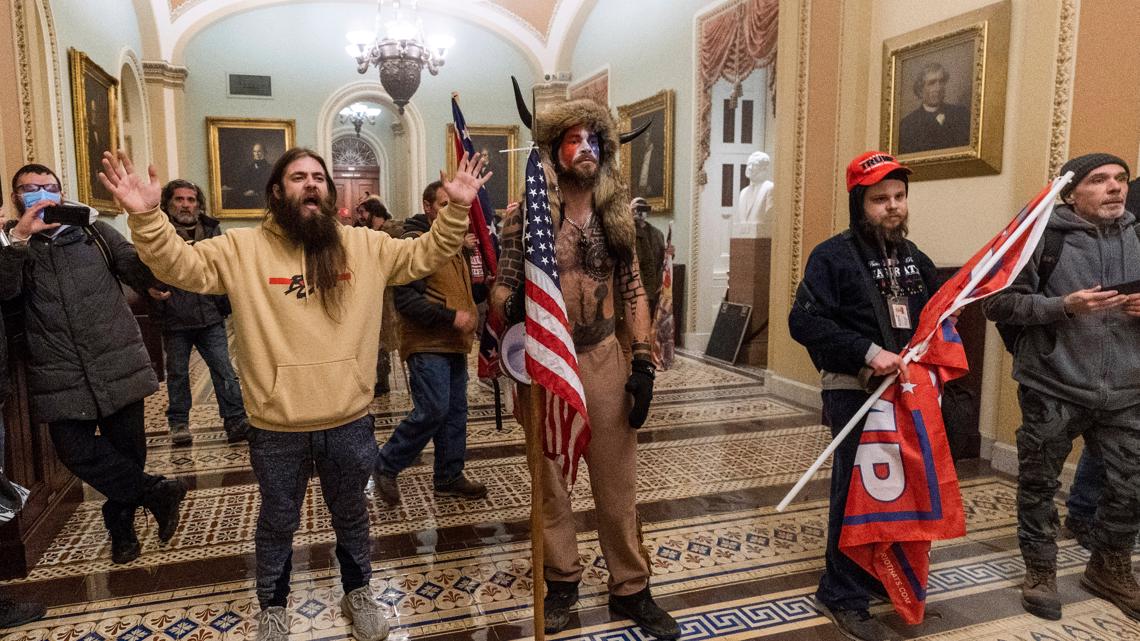 Under a provision of the Second Chance Act signed by former President George W. Bush, federal inmates are routinely released to residential reentry programs or halfway houses to serve up to the final six months of their sentences.
Upon release, Chansley will have to serve three years under supervision and undergo periodic drug testing. Lamberth also ordered Chansley to continue to receive mental health treatment. In his sentencing memo, Chansley's former attorney highlighted how his client had lived for 15 years with untreated schizotypal personality disorder.
"Mr. Chansley has spent his adult years as a longer, with neither guidance nor resources, forging his own path in a society that is largely unequipped to identify and help people like him, people with mental health vulnerabilities," Watkins wrote.
Chansley's case recently gained renewed attention when Fox News host Tucker Carlson aired previously unseen footage of him walking through the Capitol seemingly unimpeded by police. Carlson's segment was condemned by both Republicans and Democrats in Congress for failing to show the full scope of the riot. U.S. Capitol Police Chief Thomas Manger told officers in an internal memo obtained by CNN that Carlson had "cherry-picked" calm moments from 41,000 hours of video that failed to provide "context about the chaos and violence" of the day.
We're tracking all of the arrests, charges and investigations into the January 6 assault on the Capitol. Sign up for our Capitol Breach Newsletter here so that you never miss an update.