ST. LOUIS — The St. Louis Blues knew long ago the kind of support they were fortunate to have from their fans, and they wanted to reward that by bringing home the Stanley Cup.
Well, it was mission accomplished for the 2018-2019 team. After years of postseason heartbreak, including being swept in the Stanley Cup Finals in each of their first three years in the league, the Blues finally stand atop the hockey world.
And to celebrate the moment, the Blues held a parade through the streets of downtown St. Louis and a championship rally at The Gateway Arch as hundreds of thousands of fans lauded the team that brought home the Cup.
"That was the coolest thing I've ever experienced in my life," Conn Smythe Trophy winner Ryan O'Reilly said. "Thank you all. Thank you. I can't believe that just happened."
Photos: Blues fans at the Stanley Cup Championship Parade

Photos: Blues fans at the Stanley Cup Championship Parade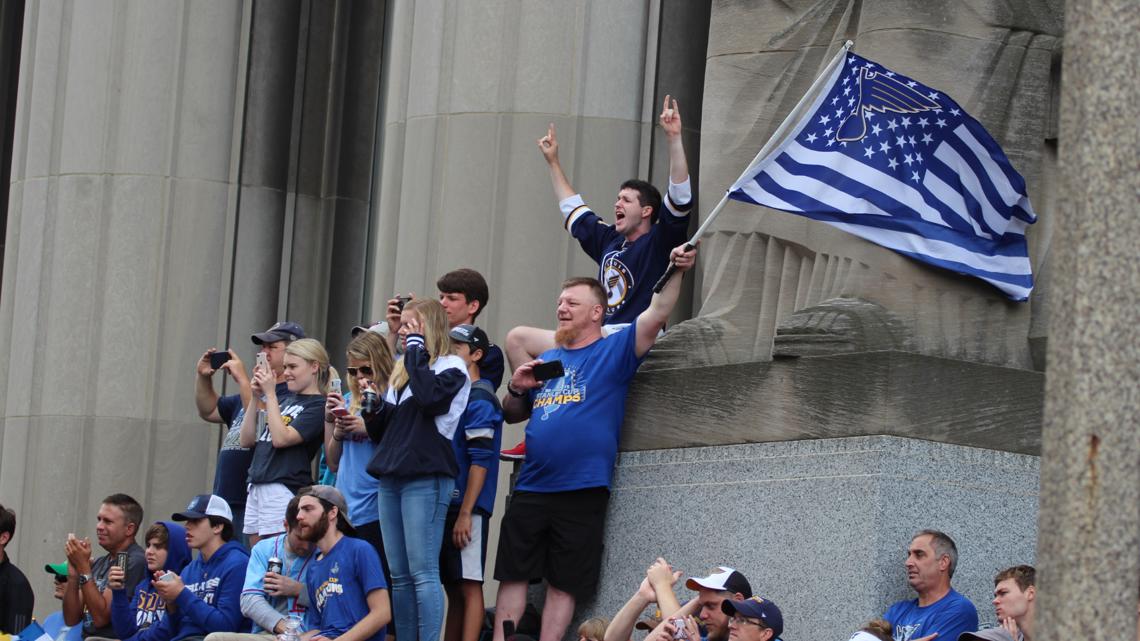 For O'Reilly, hoisting the Stanley Cup was the fulfillment of a goal he set on the very day Blues executive Doug Armstrong brought him to St. Louis through a trade with the Buffalo Sabres last July, but he was far from the only addition made in pursuit of a championship.
The Blues signed Patrick Maroon to a contract last summer, and the St. Louis native delivered in the postseason, as he scored the double-overtime winner in Game 7 of a second-round series against the Dallas Stars.
"I'm a hometown hero, baby," Maroon bellowed from the stage underneath The Arch. "Put your glasses up right now, St. Louis. Look around right now. We're Stanley Cup champs, baby. Whooo."
The championship-winning players were not the only ones to take part in the parade and rally, as several of the 65 Blues alumni who now call St. Louis home, including Bob Plager, Al MacInnis and Brett Hull, joined in the celebration.
"It's unbelievable," Plager said. "I've been here. I was very fortunate, came here the first year, played in the first game. My goal was to win a Stanley Cup. I never got to win it. Three times there, but this year, I got my parade and it was a heck of a parade.
"I'll tell you, as happy as I am for myself, the players, I've run into some people that have been season-ticket holders here for 50 years, 40-some years. I see them now, they've got tears in their eyes. I am more happy for you than anybody else. Thank you, St. Louis. You're the greatest fans."
The Blues' story of success is one Hollywood may not have believed, as they were in last place when the calendar turned to 2019, but through a long road trip and an 11-game winning streak, interim coach Craig Berube saw the makings of a championship team.
And he was proven right in the end.
"The road through January, February and most of March, just being on the road that much and winning that many games is incredible," Berube said. "Just goes to show the hard work and character of our players. That's why we're Stanley Cup champions. There's no other reason."
Captain Alex Pietrangelo added, "It's pretty damn amazing, let me tell you. This is unbelievable. Unbelievable. It's just a bunch of messed up individuals put together. You know what, this is unbelievable."
RELATED: 'We're Stanley Cup champs, baby!' | Blues rally thousands of fans downtown