ST. LOUIS — It was a celebration 52 years in the making, and no amount of rain or chance of thunderstorms was going to dampen the spirits of St. Louis Blues fans as they lauded their 2019 Stanley Cup championship team with a parade through the city and the celebration culminated with a rally at The Gateway Arch Saturday afternoon.
Blues fans have been waiting for this moment since the team was founded in 1967. After coming close to the ultimate goal so many times, the team rose to the top in the NHL and defeated the Boston Bruins in Game 7 to clinch the first Stanley Cup Championship in the proud history of the franchise.
"It means everything," said Chris Britt of Oakville. "I've been waiting my whole life for this, and I'm proud to be from Oakville and Pat Maroon bringing home the Stanley Cup.
"It's unbelievable, seeing the looks on these kids' faces. Some of them play with hockey with Anthony Maroon, Pat's son, so we're excited to be here. It's the best day ever."
Photos: Blues fans at the Stanley Cup Championship Parade
For some, attending the parade was personal, as they shared the celebration with family and friends. Some even had memorials for loved ones who passed away before the Blues hoisted the Cup for the first time.
"This is awesome," Blues fan Mike Flanagan said. "It's a once-in-a-lifetime thing. It just makes the perfect Father's Day weekend. This is incredible. It's been a long time coming."
And for others, it was the recognition of perseverance, as super fan Laila Anderson, an 11-year old who has captured the hearts of St. Louis through her battle with HLH, a rare immunodeficiency known as hemophagocytic lymphohistiocytosis, was a key part of the festivities.
Anderson rode in one of the lead cars and helped hoist the Stanley Cup at the rally.
"This is unbelievable, unreal," Anderson said from the dais.
Defenseman Colton Parayko added, "She's shown so much to my team. Steener (Alexander Steen) was the first guy that introduced me to her. It's special. She's a special individual. Everything about her is awesome."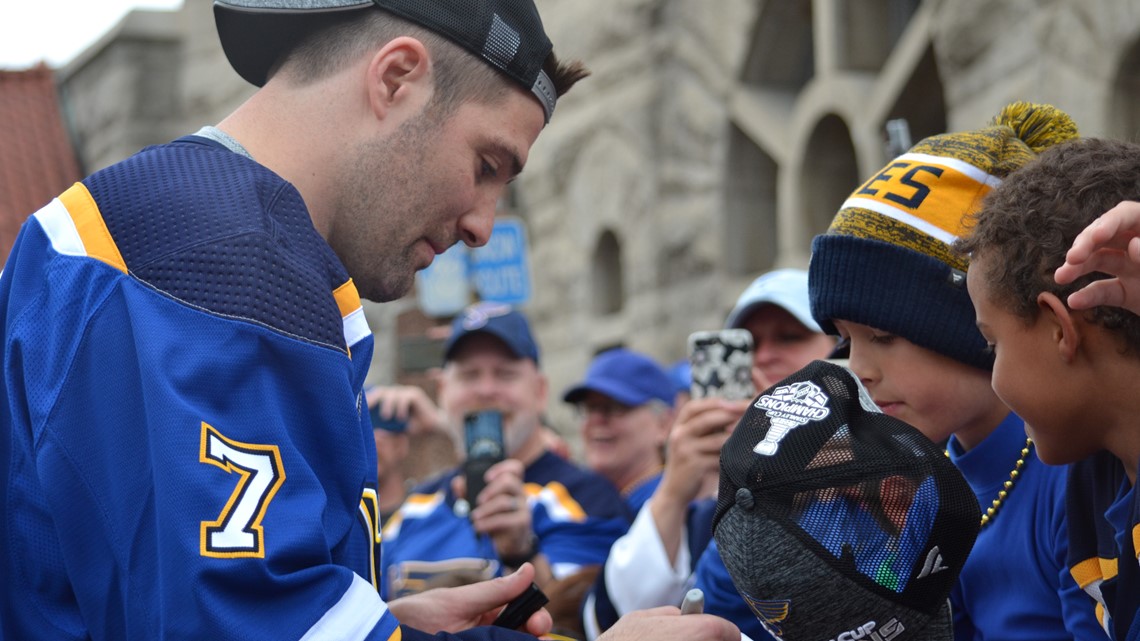 Throughout the championship celebration, the team's victory anthem, "Gloria," could be heard from loudspeakers and floats.
The Laura Branigan early-80s hit song became the Blues' victory celebration on an early-January trip to Philadelphia, and will forever be the soundtrack to the band of brothers who brought home the championship, as the hundreds of thousands of fans serenaded them throughout the parade and rally.
That support from the fans was all the sweeter for the players as they shook hands with, signed autographs for and exchanged adult beverages with the Blues' faithful.
"It's awesome," coach Craig Berube said. "I've never seen anything like it in my life. Best fans in the league, for sure. What an incredible experience to be down here today and everything, the parade, it's unbelievable. I'm so happy for the city and the fans here."
Goaltender Jordan Binnington added: "This has been an incredible day. Thousands of people. You guys have been waiting for a long time for this. Thank you for sharing this with us."