The Jefferson City native is at the very least, one of the most famous two-sport athletes our state has ever produced.
On the football field at the University of Missouri, Gage racked up more than 2,700 receiving yards and 18 touchdowns in his career. On the basketball court, Gage was a sparkplug, contributing to some fantastic Tiger teams of the early 2000's.
In fact, Gage averaged more than 16 minutes a game for the Tiger team that advanced all the way to the Elite 8 in 2002.
"Winning that Sweet 16 game against UCLA and advancing to the Elite 8, that was probably one of the most memorable moments of my career," Gage, who now lives in the St. Louis area with his family, remembers.
As a two-sport athlete in football and basketball, you don't even see athletes attempt what Gage pulled off anymore.
"It was crazy but at the same time it was fun," Gage said. "It gave me the opportunity to go out on the football field and perform in front of thousands of fans and then when that season came to a close, got the opportunity to compete on the basketball court. The Hearnes center and be a part of that tradition there."
Football of course turned out to be Gage's future, though, when he left Mizzou early to start an 8-year career in the NFL with the Chicago Bears and Tennessee Titans. Gage caught 16 touchdowns and tallied nearly three thousand yards in the NFL, and the now 41-year-old said he still has some skills today.
"I think I'm good for a good series, maybe 5, maybe 8 plays… there's still a little bit of explosion there," Gage laughed.
But leaving college early meant Gage came up just short of getting his degree. And during the downtime of the pandemic, Gage reflected on the education promise he made to his parents all those years ago.
"Growing up my parents had their degrees on the shelf in the living room. My dad graduated from Indiana, my mom graduated from SLU. So seeing those degrees was something I always wanted to get at some point," Gage said.
That point came this past semester, with Gage completing online courses to secure a degree in general studies as a Missouri Tiger, 20 years after he left Columbia for the NFL.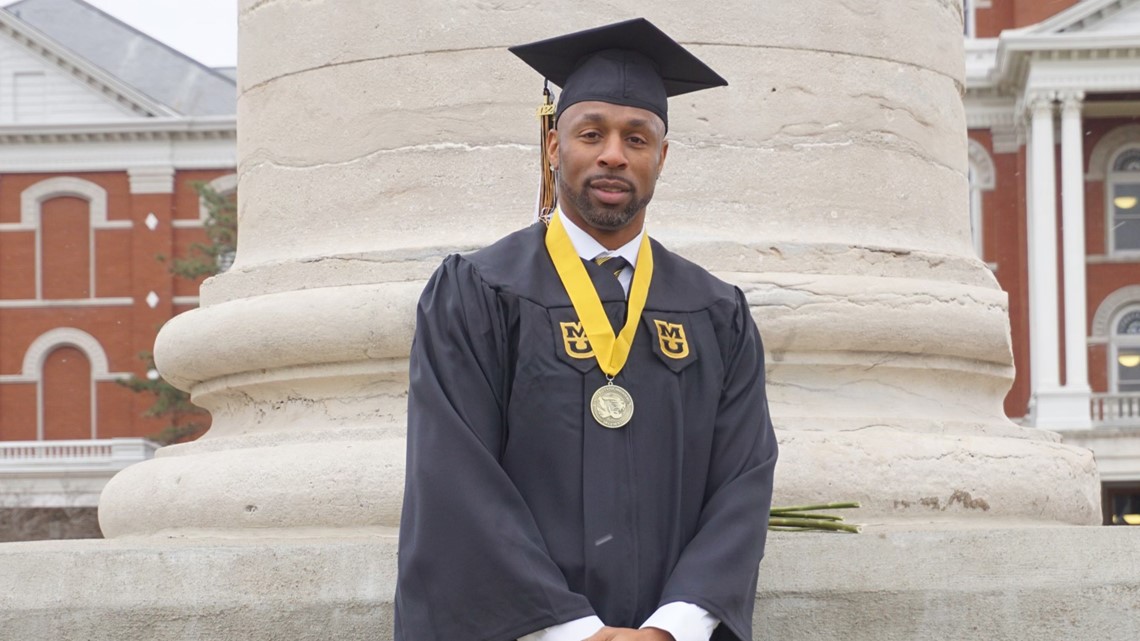 And in his current life as a mentor to young athletes and an assistant football coach at CBC High School, Gage is practicing what he preaches.
"With having kids and being an example for them but also coaching and mentoring kids and always telling them whatever you start, finish that. Make sure you hold yourself accountable. Don't start anything you're not going to finish and complete everything you step into. Looking in the mirror it's hard to say that to somebody and then have my degree still out there waiting for me," Gage said.
One of the things that have made Gage's degree journey so special, is that his parents are still here to see their son fulfill his promise of finishing college.
"I really wanted to get this accomplished while they're still here, when I can present that to them, they're both alive and well and can accept it and appreciate it with me," Gage said.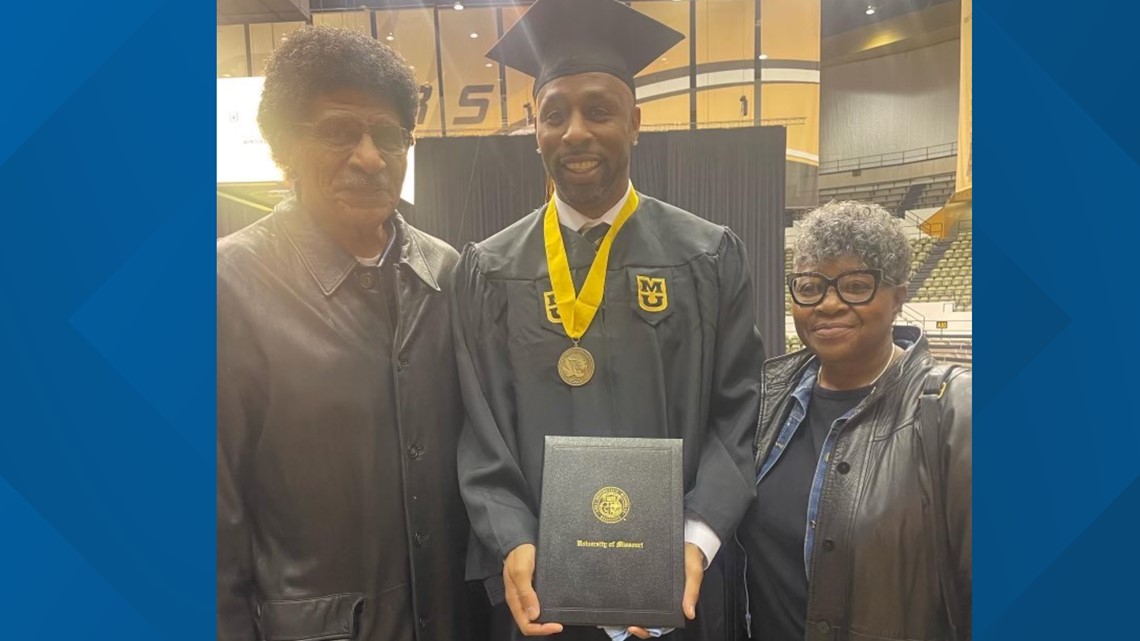 And while the bright lights of sports stardom will always beckon top young athletes, Gage knows the value of education, and that's his message to the kids walking the path he once did.
"Yeah sports are fun, and it'll change your life. But it's not forever. There's an end date to every sport. But you hold that degree, it'll go with you forever. So finish up," Gage said.
More Mizzou Coverage