OAKVILLE, Mo. — You probably don't know the name Charlie Backer, but you might know his face.
"It's been interesting, like a few times at Nudo I'll be sitting there and these people come over and say, 'I love your hot sauce.' And I'm like, how do you know it's mine? 'You look like the guy on the label.' That's awesome. It's so humbling," Backer told Abby Llorico on an episode of the Abby Eats St. Louis podcast.
He paid $35 on a website to have his face drawn into a logo for his hot sauce. He's wearing a bow tie and is surrounded by flames.
And soon, his cartoon, hell-dwelling face will be on shelves across the country.
But Hot Charlie himself has one hell of a story to tell.
From Tabasco chugging competitions with his brother when he was 8 years old, to waking up one day in 2017 wanting to become a hot sauce salesman, to packaging his product in the Hot Charlie's world headquarters inside his Oakville home. Backer's story is a saucy one, with a sprinkling of corporate America mixed in.
"I went from having a Masters in working in corporate America, and now all I do everyday is sell hot sauce, and it's awesome," he said.
But before he left his corporate life in the dust. He had been preparing for a very different career—vocation, really.
"I studied to be a Catholic priest for seven years," he said. Backer moved to Hannibal, Missouri, to attend a high school seminary, but there was another thought in the back of his head.
"Is God calling me to be married? Is he calling me to be a monk? I didn't know. So, I took some time off and dated around."
That path led him away from the priesthood and to college and eventually his wife, Kelly. He credits her for motivating him to chase his hot sauce dream.
"The faith she has in me, the first person to say, 'Yes, you will be a hot sauce salesman.' Then, when I lost my job, she wasn't mean to me like, 'You need to find a job tomorrow.' I honestly don't know if I could have done that at the time if the roles were reversed. She is so loving and supportive. Kelly's there through it all," he said.
And these days, the "all" Backer referenced, is heating up in a good way.
In August, Hot Charlie's inked a deal with HomeGoods to sell his hot sauce dust and hotter sauce dust nationwide. He'll go from the brand being available in more than 90 retailers across Missouri, Illinois and Kansas—to more than 800 HomeGoods locations.
For Backer, it was another "faith moment," as he put it.
"I was walking into Walmart with Kelly back in June and I knew in my mind that I had enough money to pay the bills for the next month and I'm like, I'm going to grow nationally."
Kelly, his constant supporter, reassured him he would.
"We go shopping, we leave and I'm walking out and I get a call." A meeting with HomeGoods was set for the following week.
"God doesn't usually work that fast, that's like 45 minutes!" he said laughing.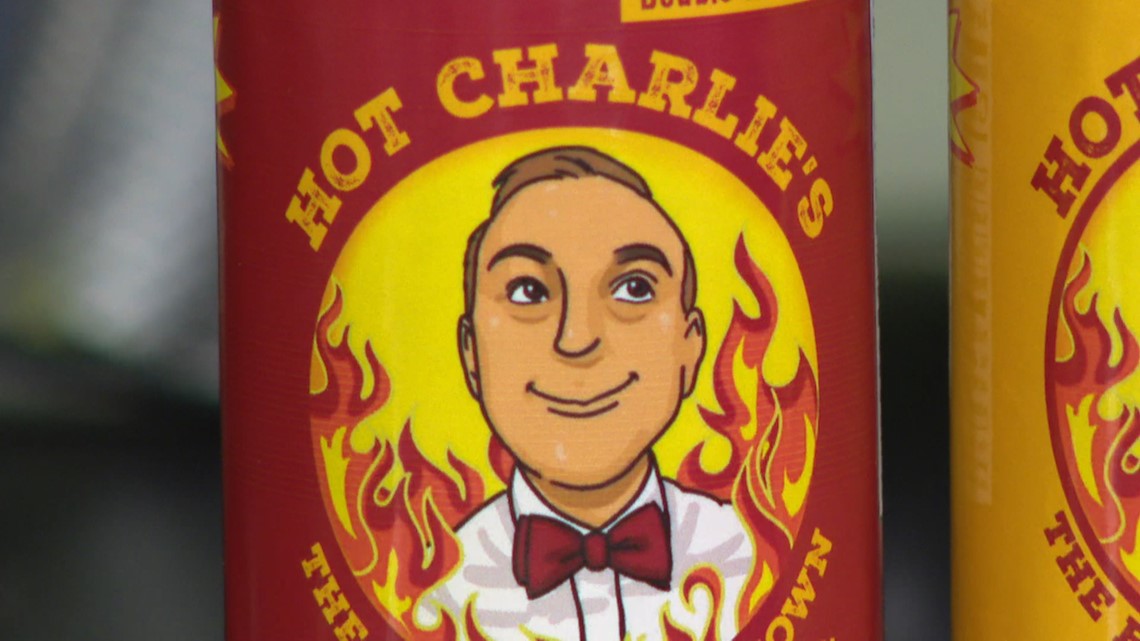 "If you don't take a chance, you're never gonna know. I would rather take a chance and fail miserably knowing that I gave it my all, than one day wake up and be like, well I could've started a hot sauce company. That would eat me up more than failing," Backer said.
His story is one of a kind, but he said everything he's learned has given him faith that you can handle the heat.
"If anybody out there is wanting to release a product, they could feel free to reach out to me. The St. Louis food community is awesome, and they will support you. You just gotta be a nice, genuine person and treat people like people. And I believe everything's gonna work out."
More from Abby Eats St. Louis:
About Abby Eats St. Louis
Abby Llorico tells the story of St. Louis based on what's on the table. From the hunger for local ingredients, to the booming brunch scene and the craving for creative cocktails, Abby dives into the nitty-gritty of how St. Louis grew to become the foodie town that it is.
Abby Eats St. Louis is available for free on all podcast apps. Take a listen to our latest episodes in the audio player toward the top of this story. We've also included links to some of the most popular podcast platforms below.
Make sure to subscribe to get the latest episode as soon as it drops.
Take a listen and let us know what you think! Have a topic idea or just want to send us your thoughts or comments? Email us at podcasts@ksdk.com.