For more than 260 years, Trooping the Colour has served as the official birthday celebration for the sovereign. With more than 1,400 marching soldiers, 200 horses, and 400 musicians, this parade includes most of the royal family riding on horseback or in carriages from Buckingham Palace down to The Mall. The event closes with the royal family standing on a Buckingham Palace balcony to watch a flyover by the Royal Air Force. It's quite a spectacle, and this year didn't disappoint.
On Saturday, crowds gathered in London for a parade and celebration like no other, all in honor of Queen Elizabeth, who turned 93 in April. Here's a look at our top 5 favorite Trooping the Colour moments.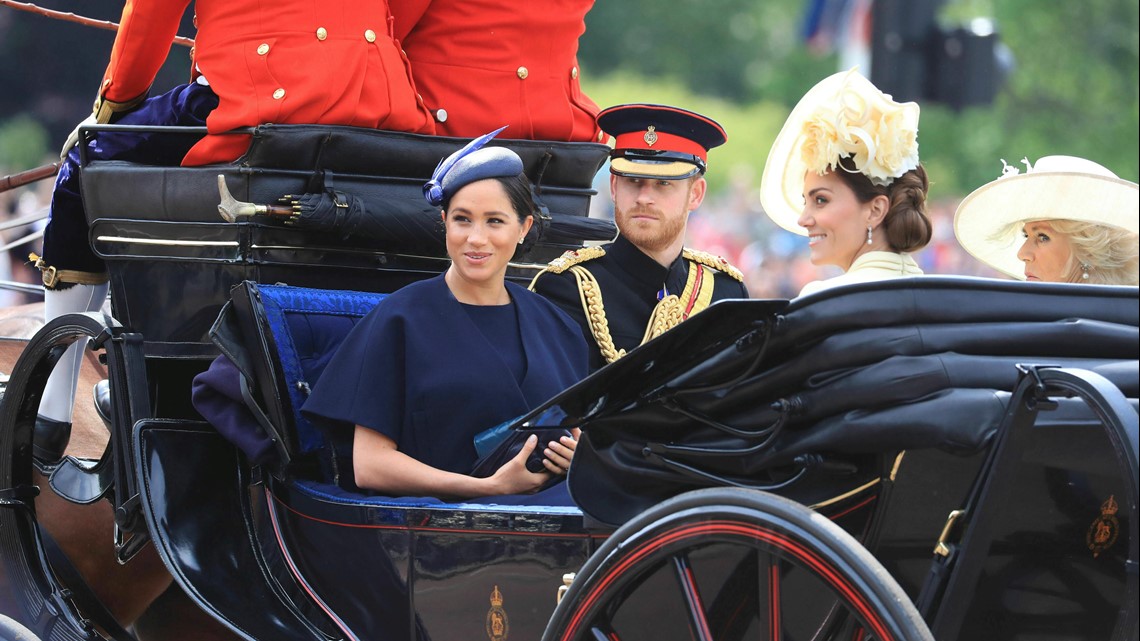 Meghan makes her first appearance since giving birth
For the first time since presenting her new son Archie to the world, the Duchess of Sussex made an official appearance. Meghan rode in a carriage alongside her husband, Prince Harry, sitting across from the Duchess of Cornwall and Duchess of Cambridge. According to Meghan's Mirror, the duchess wore a bespoke Givenchy navy colorblock dress with a matching navy oversized cape (which she removed before appearing on the balcony with the family to watch the flyover), and a bespoke Noel Stewart navy fascinator. But don't expect to see Meghan anytime soon. Her next likely public appearance could be for Archie's christening, which could happen as early as July.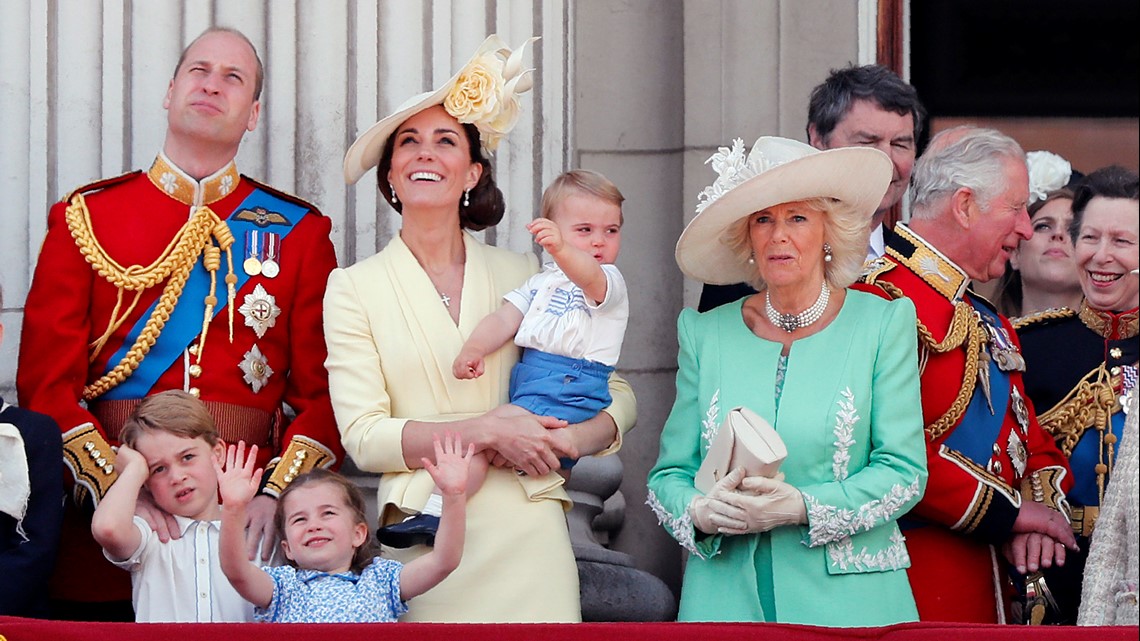 Prince Louis makes his first official appearance
He's barely 1 year old, but Prince Louis has already gone to work, making his first official appearance as a member of the royal family. Louis, along with siblings George and Charlotte, didn't ride in the parade, but they were brought out onto the balcony to watch the flyover. Dressed in what appears to be a hand-me-down from his uncle, Prince Harry, little Louis was perfectly coordinated with his siblings, who were also clad in white and blue outfits. We learned a lot about Louis during the few minutes he was outside: he's a thumb-sucker (something his mom gently corrected), he has an adorable grumpy face, and he's already mastered the royal wave.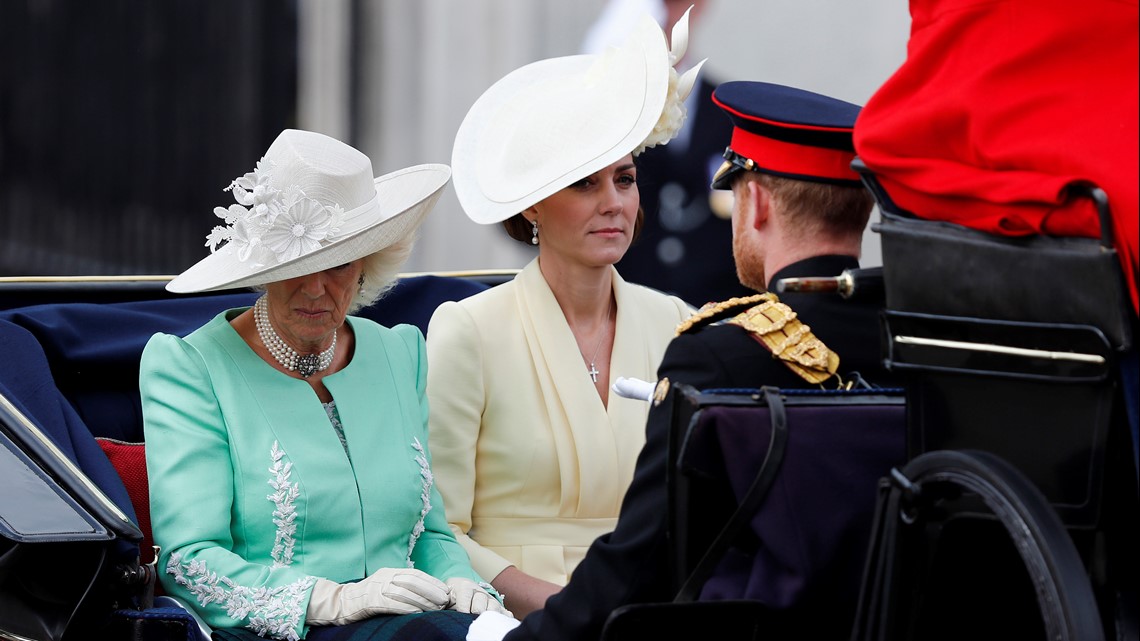 Kate continues to be a fashion queen
The Duchess of Cambridge is known for her style, but she really sparkled this time. Dressed in a beautiful pale yellow dress by Alexander McQueen, Kate took the opportunity to recycle part of her look. Her matching Philip Treacy fascinator is the same one she wore to the Duke and Duchess of Sussex's 2018 wedding. The color palette chosen for this appearance was stunning on Kate, and the cut and style of her dress and fascinator took this fabulous ensemble from beautiful to breathtaking.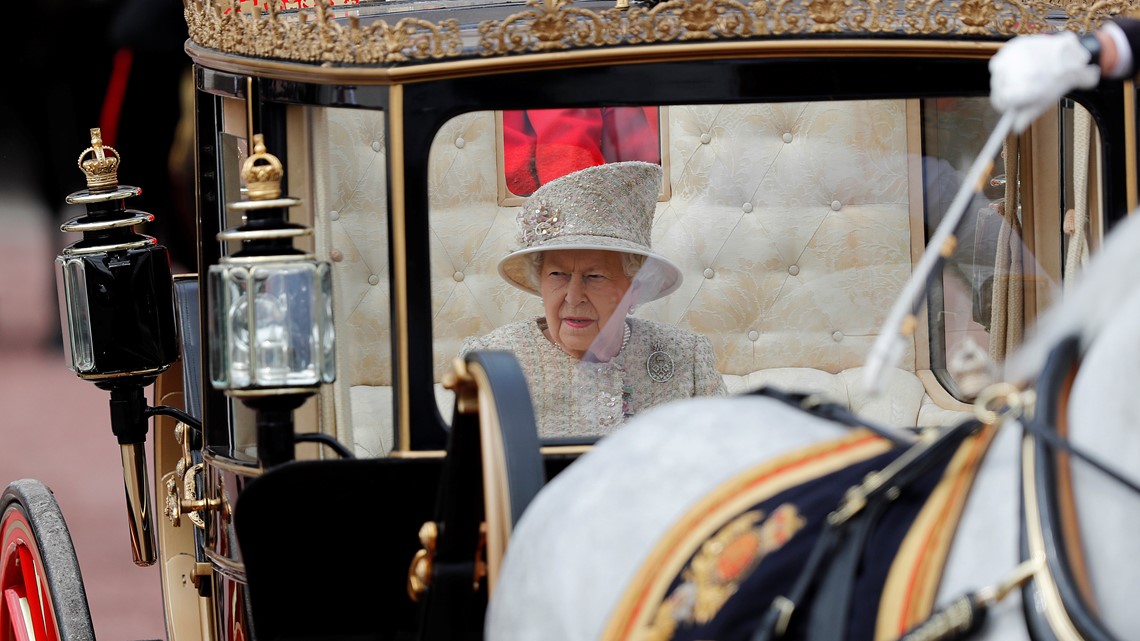 Queen Elizabeth's solo ride
Since Prince Philip retired in 2017, Queen Elizabeth has taken her Trooping the Colour carriage ride solo. This year we saw her ride in the Scottish State Coach, which is a horse-drawn enclosed carriage. The partial glass top allowed sunlight to shine on the queen, giving the effect of a natural spotlight at times. This is the same carriage Princess Eugenie and her new husband Jack Brooksbank rode in following their October 2018 wedding.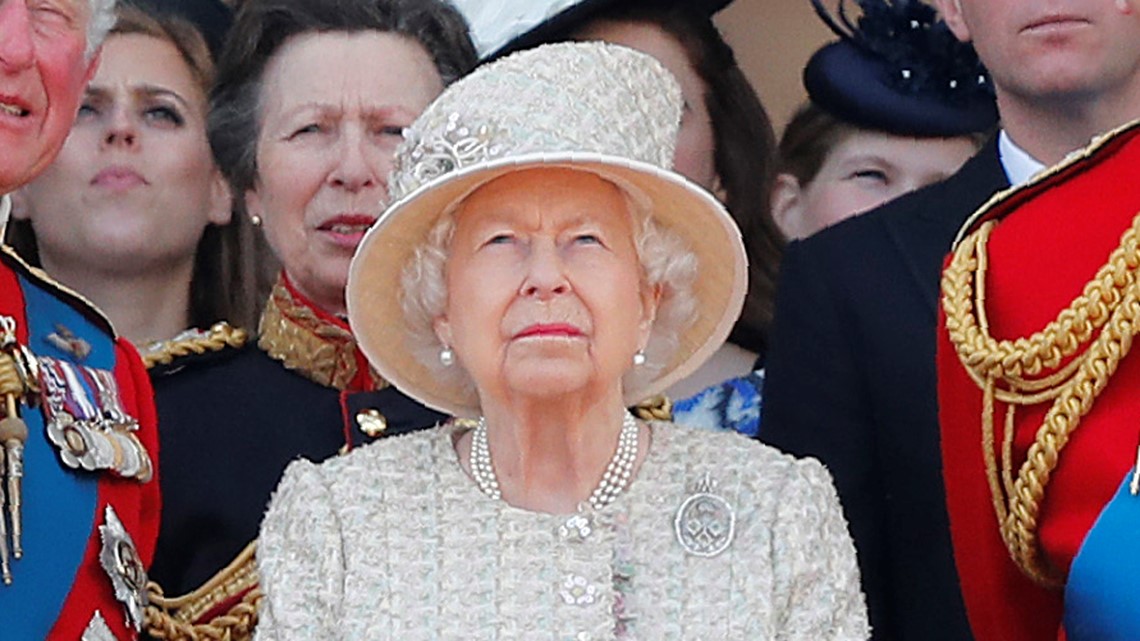 The queen's symbolic brooch
Each year the queen wears a diamond brooch that symbolizes the five British and Commonwealth armies. It's called the Brigade of Guards brooch and has the Latin phrase "Quinque Juncta In Uno" on it, which means "five joined as one." The brooch originally belonged to her grandmother, Queen Mary.
About Royal Dish
Do you find yourself keeping up with all things Windsor, Wales, Cambridge and Sussex? We may live across the pond, but if you're like us, our fascination with everything and anything royal translates right here in the USA.
Now, we're taking it to another level in our new podcast, Royal Dish. Hosted by 5 On Your Side's Kay Quinn and Brandie Piper, it's an American look at the British monarchy.
Kay and Brandie have their day jobs, but each week they'll be discussing the most talked-about stories from Buckingham Palace, Windsor Castle and beyond. Occasionally, they'll take the show on the road to a little slice of London in their own hometown of St. Louis.
So, sit back, pour a spot of tea and dive in to the Royal Dish. You can listen to the latest episodes in the player above or by clicking here.
The Royal Dish podcast is available for free on all podcast apps and services.
Subscribe here
Make sure to subscribe to get the latest episode as soon as it's released.
Take a listen and let us know what you think! Send us your thoughts, comments and topic suggestions to podcasts@ksdk.com.
And make sure to follow Royal Dish on Twitter, @RoyalDishPod! Keep up with the latest scoop and chat with us about all things royal.