LONDON, UK — For the last two years Kristen Mueller has lived in London. She grew up in St. Louis and moved to England when her husband was offered an opportunity.
"He didn't really have to twist my arm to come along," said Mueller. "It was a great opportunity for us to live in another country and explore another culture."
So, Mueller and her husband packed up their lives - including their English bulldog Portia (a rescue from St. Louis English Bulldog Rescue) - and moved across the pond.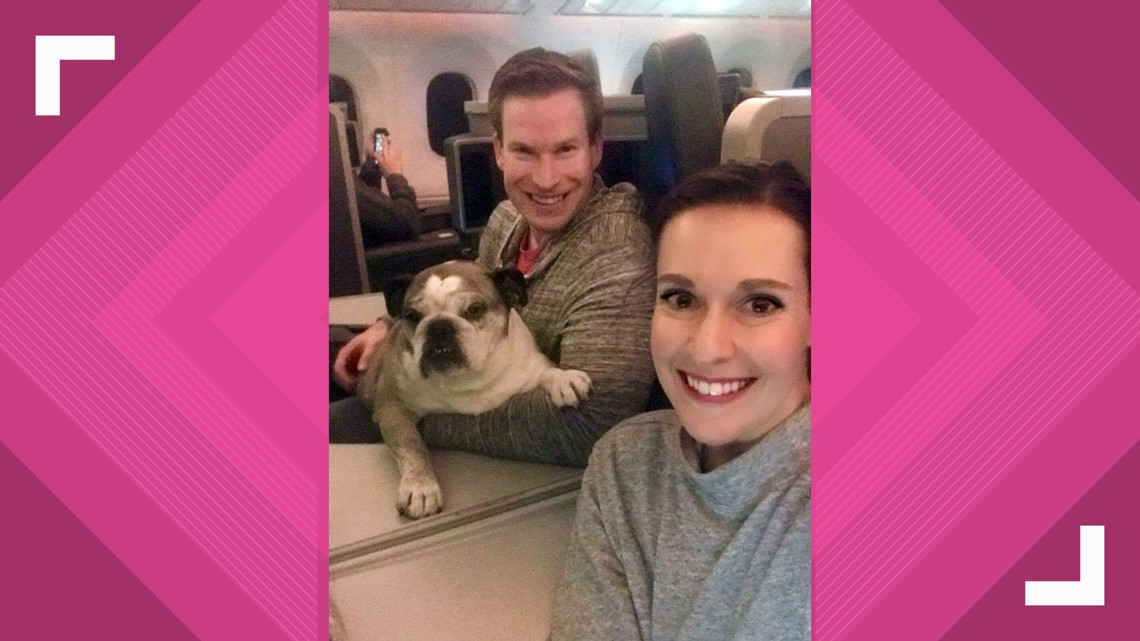 She says now that they've been there for a couple years, she feels right at home.
"There's so much going on, so multi-cultural. It's different from St. Louis, mainly in its size, but the people are so kind," she said. "They all love a good chat, and it's really easy to feel at home. So, we've been having a great time."
Kristen helps manage media during events that fall within Royal Parks, the charity that manages and protects 5,000 acres of royal parkland. Kensington and Buckingham palaces fall within royal parkland, so she's often part of big events that happen at those palaces.
"There's an enormous amount of pride among the staff, that we're entrusted to care for these green spaces that have such a rich, rich history in London."
Most recently, Mueller was part of a team that worked Trooping the Colour. Stationed just outside Buckingham Palace, she had a front-row spot that would make royal watchers around the world envious.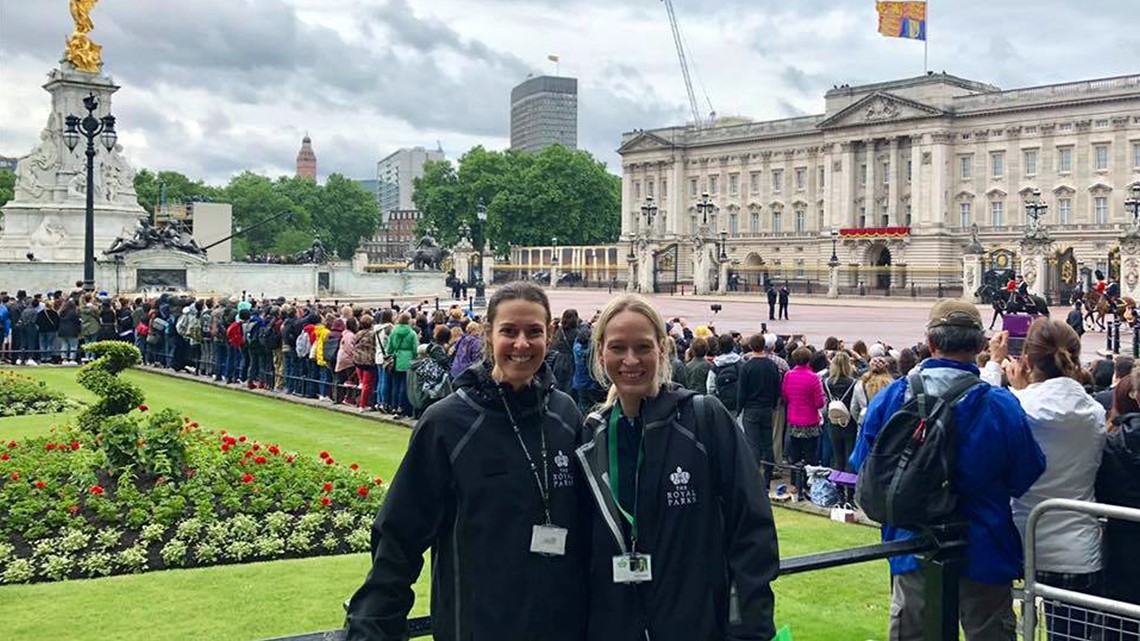 Not only was she able to be part of this event, she also managed to get pictures of Meghan and Harry as they rode past in a carriage. She also saw Queen Elizabeth and got a great shot of the entire family standing on the balcony.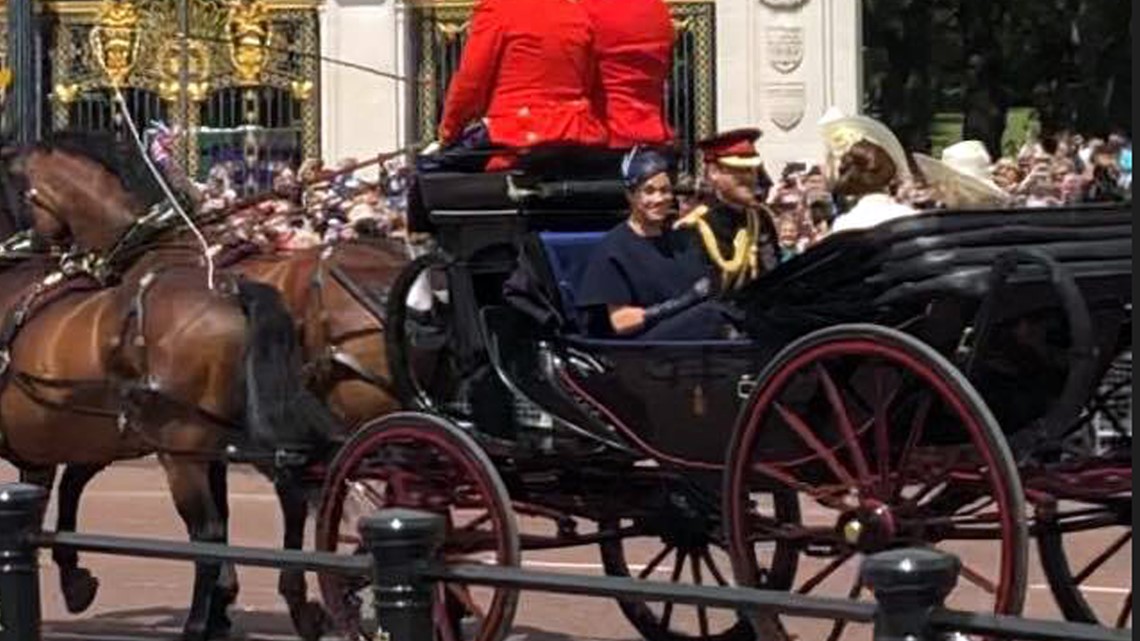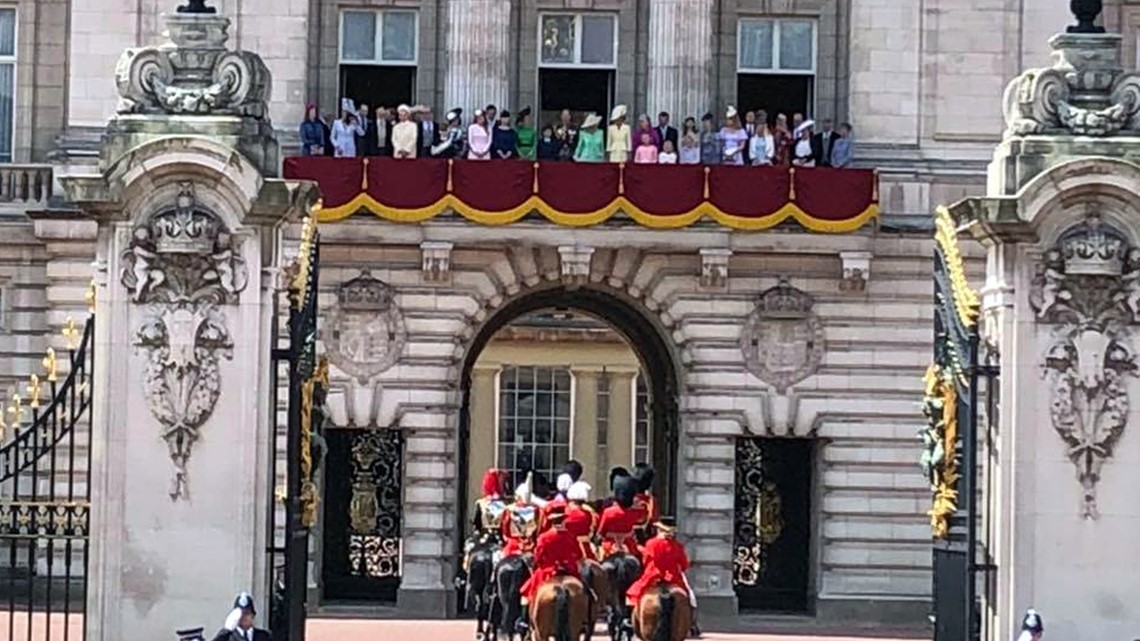 Her time working Trooping the Colour taught her a sweet nickname for Queen Elizabeth that many of the locals use: Queenie.
"I think because the day is all about people showing their affection for her, everyone was calling her Queenie all day long. The police, my colleagues who are mainly British, the spectators – I had never heard that nickname before, but it was such a sweet little name for them to be calling her," said Mueller.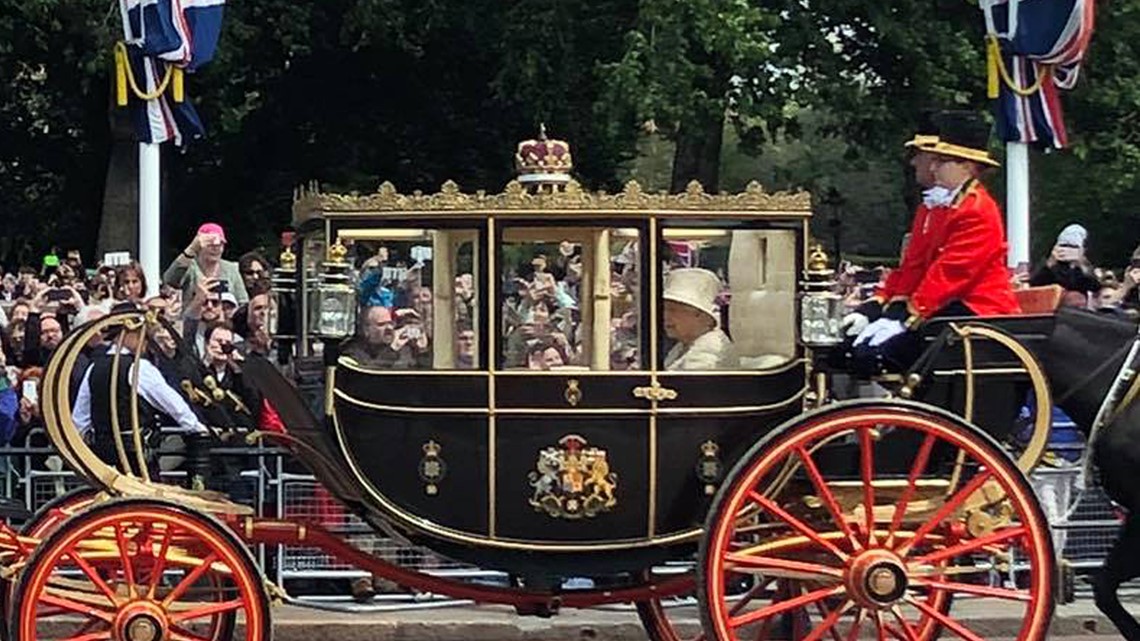 But formal occasions such as Trooping the Colour aren't the only major events she's worked. Her first assignment was to manage the media after the Duchess of Cambridge gave birth to her third child, Prince Louis.
"When I was working press for the birth of Kate and William's third child, I did have locals coming up to me saying, 'Why are you out here? You're an American.' And I said, 'To be honest, I don't know.' I mean, it was like a pinch me moment," she said.
So, how does an American woman prepare for such a monumental first assignment?
"I did a crash course, basically, watching 'The Crown' on Netflix to get caught up on the history and the family dynamics," laughed Mueller. "It's really surreal to have a job that's so intertwined with the monarchy."
Mueller said she and her husband aren't sure how long they'll live in London, but she's having a great time living in a place that's so welcoming and working for what she called "a dream job."
Brandie Piper and Kay Quinn interviewed Mueller about her experiences during this week's episode of their podcast, Royal Dish. You can listen to the interview in the player below or by clicking here.
About Royal Dish
Do you find yourself keeping up with all things Windsor, Wales, Cambridge and Sussex? We may live across the pond, but if you're like us, our fascination with everything and anything royal translates right here in the USA.
Now, we're taking it to another level in our new podcast, Royal Dish. Hosted by 5 On Your Side's Kay Quinn and Brandie Piper, it's an American look at the British monarchy.
Kay and Brandie have their day jobs, but each week they'll be discussing the most talked-about stories from Buckingham Palace, Windsor Castle and beyond. Occasionally, they'll take the show on the road to a little slice of London in their own hometown of St. Louis.
So, sit back, pour a spot of tea and dive in to the Royal Dish. You can listen to the latest episodes in the player above or by clicking here.
The Royal Dish podcast is available for free on all podcast apps and services.
Subscribe here
Make sure to subscribe to get the latest episode as soon as it's released.
Take a listen and let us know what you think! Send us your thoughts, comments and topic suggestions to podcasts@ksdk.com.
And make sure to follow Royal Dish on Twitter, @RoyalDishPod! Keep up with the latest scoop and chat with us about all things royal.