MISSOURI, USA — An astronomical phenomenon was seen in the Show Me State high in the skies during the last week of April. Did you get a glimpse of the northern lights?
Note: The video above is from August of last year.
According to a photo posted on the Missouri Department of Conservation's Facebook page, some people could see the lights at the King Lake Conservation area in King City, Missouri, near DeKalb County and parts of Gentry County. Those counties are in northwest Missouri.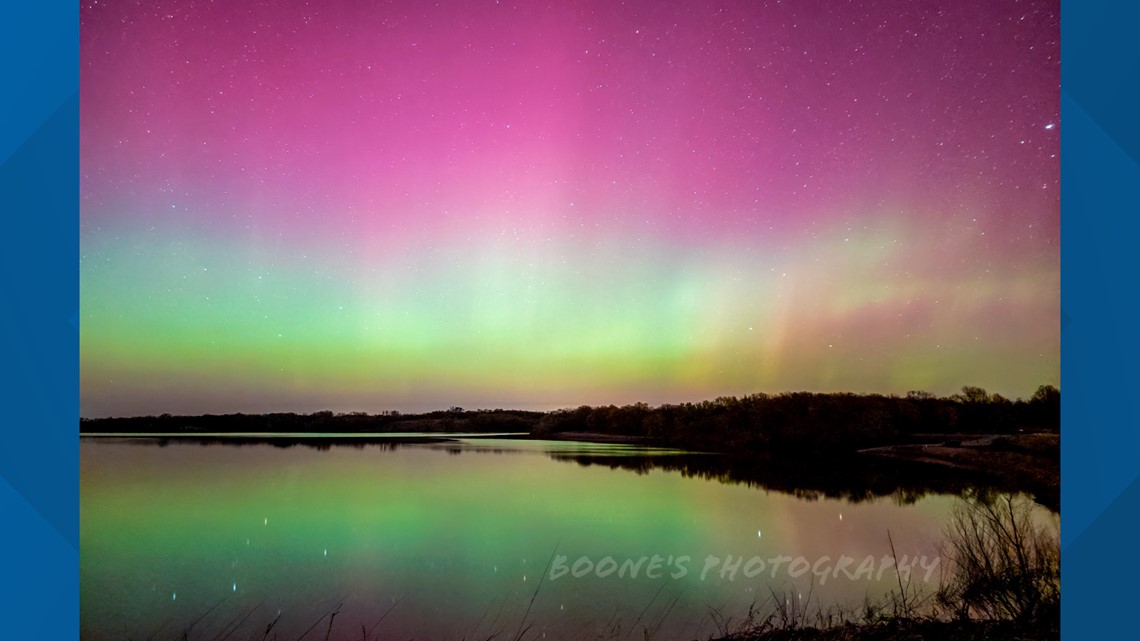 The northern lights come in different forms, such as rippling curtains, pulsating globs, traveling pulses or steady glows. Colors like blue, bright green and ruby red appear most often.
Northern lights, also known as aurora borealis, are "shafts or curtains of colored light visible on occasion in the night sky," according to the Library of Congress.
The phenomenon occurs when solar energy emits a cloud of gas on the sun's surface. One of these clouds can travel between two to three days to reach Earth, slamming into Earth's invisible magnetic field.
Waves of charged particles then flow along the lines of magnetic force, strike oxygen and nitrogen in the Earth's polar regions and create "dazzling auroral light."
You're more likely to see the northern lights in places like Alaska, Canada and Antarctica due to the proximity to Earth's poles. But they have been spotted in Mexico, closer to Earth's equator.

Look in the "direction of the closest pole, which includes the northern horizon in the northern hemisphere or the southern horizon in the southern hemisphere."

You can see them most times of the year and at any time of the day in places like Greenland.

Do not try to look with the naked eye until it's nighttime.
For more fun facts about the northern lights, visit the LOC website. And know about what the Missouri Department of Conservation is posting via its Facebook page or website.
To watch 5 On Your Side broadcasts or reports 24/7, 5 On Your Side is always streaming on 5+. Download for free on Roku or Amazon Fire TV.
5 On Your Side news app