ST. LOUIS — Wednesday there were numerous areas of Flash Flooding from St. Louis to the metro east. Upwards of 5" - 6" of rainfall fell in areas like Waterloo, IL & in Scott AFB has a final total of 5.60" of rain.
Thursday we have had more heavy downpours in a few areas as an upper low slowly moves eastward. The heaviest rain so for on Thursday has been around Red Bud, IL and Sparta, IL with 4 to 5" totals.
Friday there is a lesser chance of storms as the upper low pressure moves eastward away from the Bi-state.
The weekend will start off dry, but there is another chance of rain and thunderstorms Saturday afternoon and evening as a cold front pushes through St. Louis. High temperatures will start off warm near 90 on Saturday, but slightly cooler Sunday with lower to mid 80s.
Next week, temperatures will cool even more with morning temperatures in the upper 50s to lower 60s with high temperatures in the upper 70s to lower 80s. Dry weather is expected beginning Monday and could continue through the entire week! Finally, right?
_____________________________________________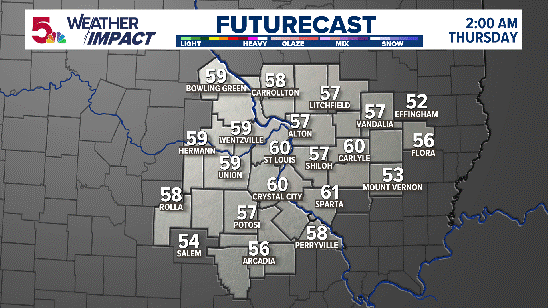 Download the free 5 On Your Side app to get the latest watches and warnings and track conditions live with our interactive radar. Use the links below to download now.
Tonight: Areas of downpours ending, partly cloudy. Lows near 70.
Friday: A slim chance of a storm, otherwise partly cloudy and hotter. Highs near 90.
Saturday: Partly cloudy, p.m. storm chance. Highs near 90.
Sunday: Morning clouds, afternoon sun. Highs near 84.
Monday: Mostly sunny and less humid. Highs in the lower 80s.
Tuesday: Mostly sunny...near 80.