ST. LOUIS — Historic rainfall fell on St. Louis Monday night into Tuesday morning, breaking a 100-year record to set a new all-time daily rainfall record for St. Louis.
Tuesday afternoon, Lieutenant Governor Mike Kehoe signed an executive order declaring a state of emergency in the state. Kehoe signed the order as the acting governor on behalf of Governor Mike Parson, who is on an international trip to promote Missouri businesses and trade.
The main flooding concerns for roads were along I-70 in north St. Louis city and county. As of Tuesday afternoon, many areas were still flooded and officials urged caution and asked people to avoid driving in affected areas. Check traffic conditions before leaving and if you encounter water on a roadway, turn around.
Multiple drivers were stranded on flooded roadways, including 5 On Your Side reporters Sydney Stallworth and Mercedes Mackay, who were stuck on an interstate as flooding stalled their car's engine. They were rescued by Pattonville firefighters.
As of 9 a.m. St. Louis rainfall totals ranged from five to 12 inches, with the most rain falling over St. Charles County, where Wentzville, O'Fallon and St. Paul all saw rainfall totals near 12 inches. In St. Louis County, most neighborhoods picked up five to 10 inches of rainfall.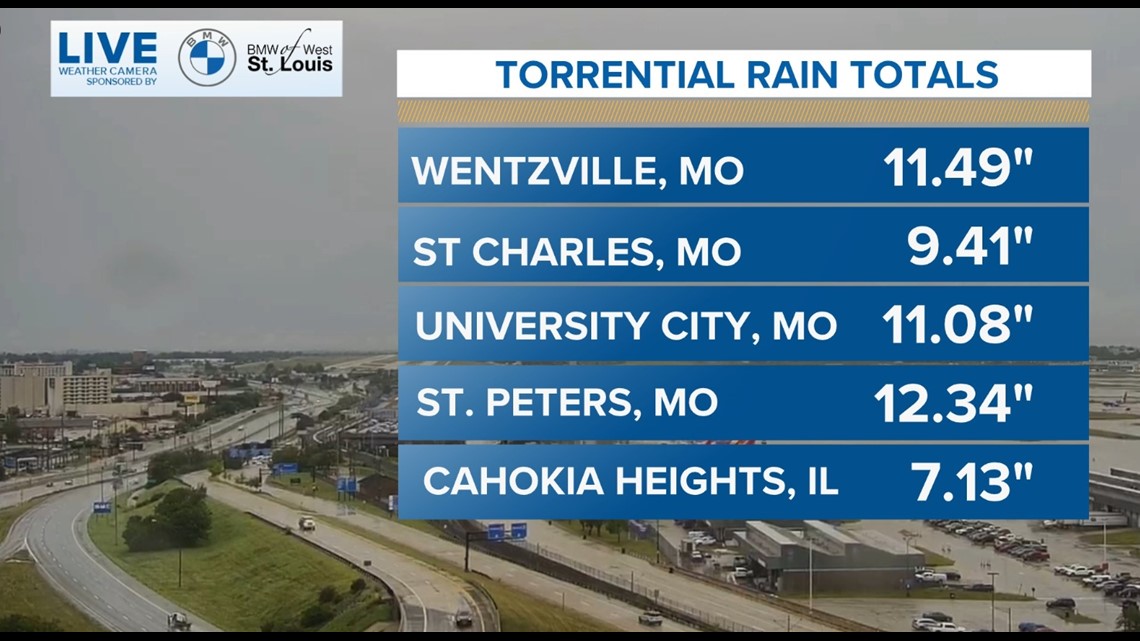 In addition to the roadways, residents across the area have also reported flooding in their homes. A few emergency shelters have opened up across the area for those who have been displaced.
Photos: Historic rainfall causes significant flooding across St. Louis area
Temperatures dropped significantly Sunday to Monday. The front that pushed the hot air came back toward St. Louis. That scenario was a setup for areas of thunderstorms that moved across much of the area with torrential rainfall.
Download the free 5 On Your Side app to get the latest watches and warnings and track conditions live with our interactive radar. Use the links below to download now.
Here's a look at how the flooding is affecting communities across the St. Louis region.
St. Louis
St. Louis Mayor Tishaura Jones declared a state of emergency for the city Tuesday afternoon.
St. Louis officials held a press conference just before noon Tuesday to give an update on the historic flooding's impact on the city.
St. Louis Fire Chief Dennis Jenkerson said the fire department had responded to about 70 water rescues.
At about 10 a.m., firefighters responded to the area of Skinker Boulevard and Rosedale Avenue, where there was more than 8 feet of water pooled in a low-lying area. A resident told them there might be someone inside a vehicle in the area.
As the water started to recede, the vehicle became visible and first responders pulled a person from the vehicle. They were pronounced dead.
The person's identity has not been released.
In the 2700 block of Hermitage Avenue, the St. Louis Fire Department said it rescued six people and six dogs via Zodiac boat while about 15 people chose to shelter in place.
A family on Odell Street was rescued after they were trapped in their attic due to rising flood water, St. Louis Fire Capt. Garon Mosby said.
Pershing Elementary School in University City became an evacuation point, with about 45 people arriving there for help Tuesday morning.
Jenkerson urged people not to drive into low-lying waters.
As of noon, there were still some areas in the city experiencing high water, includng Landsdowne and Chippewa, Enright and Skinker, the 100 block of Hodiamont, and Vandeventer near Ikea.
"Communities throughout our region were devastated by last night's record rainfall and flooding," said Mayor Jones in a release announcing the state of emergency. "My heart goes out to all those families who were impacted, and I remain in consistent communication with our partners at the county, state, and federal governments. This declaration of emergency will help us get the resources we need to begin our city's recovery."
A regional shelter was set up for evacuees was set up at 8001 Dale Ave. in coordination with the Red Cross. Pets are welcome. Residents can call 1-800-RED-CROSS for more information.
St. Louis County
St. Louis County Executive Sam Page declared a state of emergency in the county during a 3 p.m. press conference at the St. Louis County Office of Emergency Management.
Several water rescues were reported across the St. Louis area as roads quickly flooded early Tuesday.
5 On Your Side crew saw water covering Lindbergh at Loyola Drive, where several cars were stranded in the flooded road.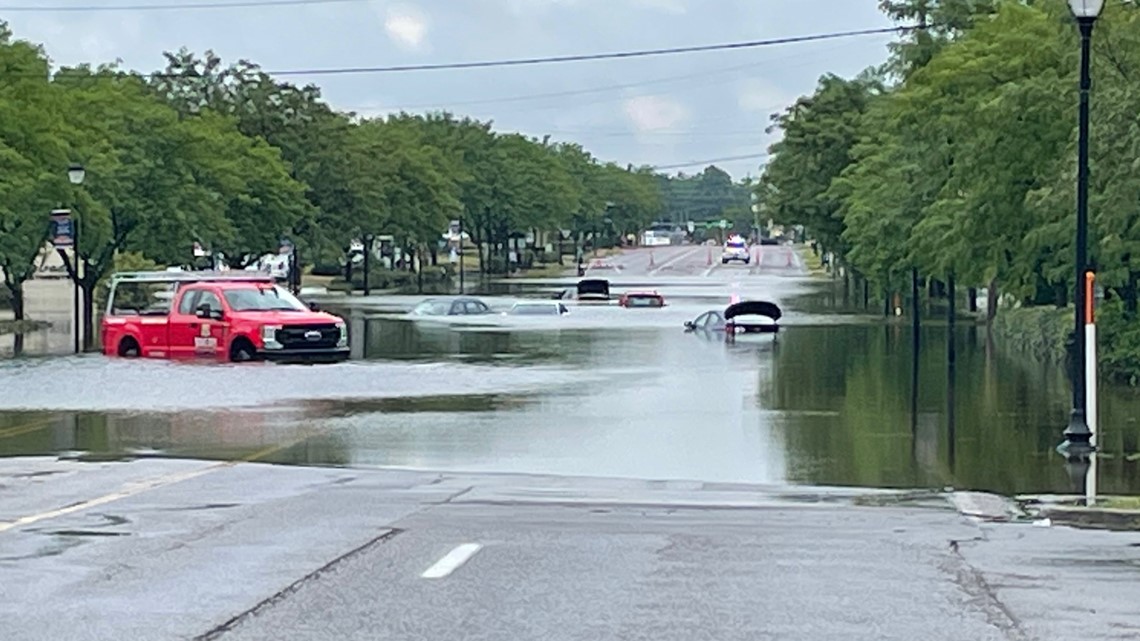 St. Charles County
In O'Fallon, Missouri, where nearly a foot of rain has fallen, the O'Fallon Fire Department has been working since 2:30 a.m. rescuing people from flooded cars and homes. More than a dozen people were rescued in the area of Belleau Creek Road and Veterans Memorial Parkway.
Heather Thiele said the water was strong enough to push through her basement window. she woke up in the middle of the night and saw water rushing into her home. The street outside had turned into a river.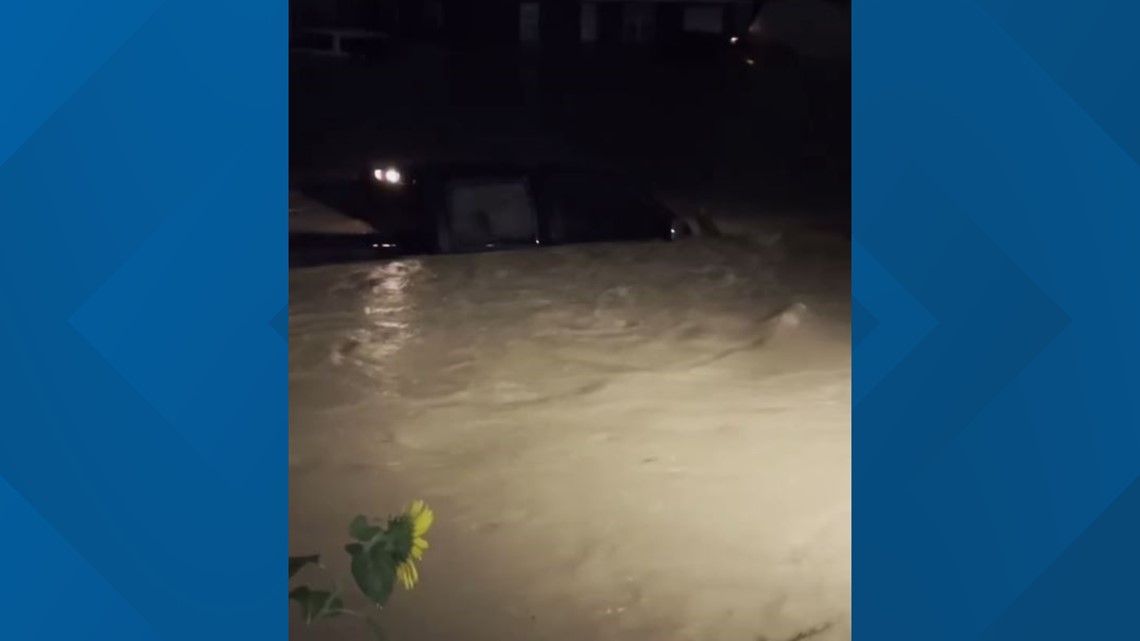 The St. Charles Fire Department said it responded to 50 flooding incidents from midnight to noon. They evacuated 25 adults and eight children from flooded buildings, 20 people from stranded cars, and one person who was trapped in the flooded basement of an animal hospital for three hours.
Elm Point Animal Hospital in St. Charles confirmed a dog drowned and 30 dogs were rescued when its facility flooded as Cole Creek rose out of its banks.
Co-owner Daniel Lang told 5 On Your Side's Rhyan Henson that two people who were working overnight risked their lives to save the dogs as water rose by the second. They said at times they seemed like they would be trapped, but they were able to escape.
One German shepherd mix that was being boarded drowned. The dog's owners have been notified.
One worker was hospitalized as a precaution, and several people on the staff were emotionally shaken by the scary situation and the loss of the dog.
Workers and volunteers were still barreling water out of the facility hours later.
Metro East
In Caseyville, rising waters forced evacuations Tuesday morning at the Caseyville Nursing and Rehabilitation Center. Residents in the area believe a levee may have been breached and water was rushing under an old railroad track and into town.
Another round of rain is expected to move through the St. Louis area early Wednesday morning, though rain totals are not expected to be as high as they were with the first round.
5 On Your Side will continue updating this story as the situation develops.