The warning goes into effect at noon and lasts until 8 p.m. With this warning, people can expect strong southwesterly winds, low relative humidity and dry brush due to recent drought conditions.
The warning encompasses all of the 5 On Your Side viewing area so outdoor burning is strongly discouraged.
Our relative humidity is expected to be as low as 20% Friday afternoon with temperatures climbing near 70 degrees. Sustained winds of 10-20 mph are expected with gusts that could top 30-40 mph. These conditions are conducive for the rapid spread and growth of uncontrolled wildfires.
Winds will relax for the upcoming weekend and humidity levels will increase slightly keeping fire danger away.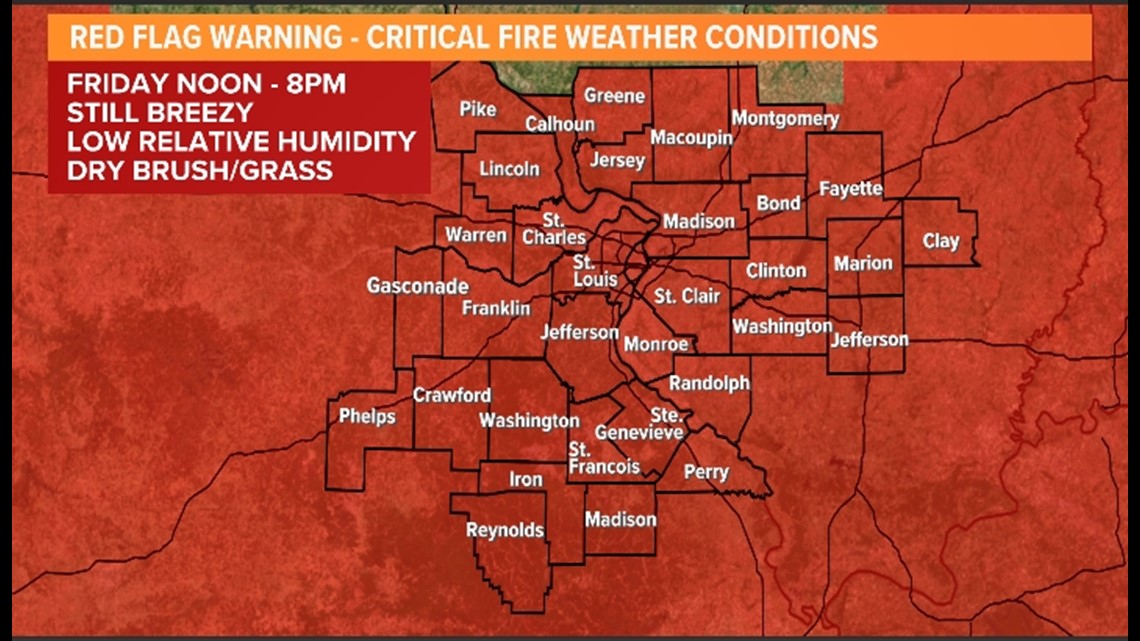 Red Flag Warning
According to the National Weather Service, a Red Flag Warning means warm temperatures, low humidity and strong winds produce an increased risk of fire danger.
Here are some tips to keep in mind during a Red Flag Warning:
If you are allowed to burn in your area, all burn barrels must be covered with a weighted metal cover, with holes no larger than 3/4 of an inch.
Do not throw cigarettes or matches out of a moving vehicle as they may ignite dry grass on the side of the road and become a wildfire.
Extinguish all outdoor fires properly. Drown fires with plenty of water and stir to make sure everything is cold to the touch. Dunk charcoal in water until cold. Do not throw live charcoal on the ground and leave it.
Never leave a fire unattended. Sparks or embers can blow into leaves or grass, ignite a fire and quickly spread.
St. Louis Forecast
Friday: Mostly sunny start, breezy and cool with afternoon clouds. Highs near 70.
Friday night: A chance of a sprinkle, mainly north of St. Louis, otherwise partly to mostly cloudy. Lows in the 40s, with 30s away from the immediate metro area.
Saturday: Mostly sunny to partly cloudy. Highs in the mid to upper 60s.
Sunday: Mostly sunny. Highs in the mid to upper 60s.
Monday: Mostly sunny and turning colder...highs in the mid 50s.
Tuesday: Morning freeze possible with temperatures starting near 32 with highs in the 50s along with sunny skies.
Wednesday: Sunny skies, but another round of freezing temperatures in the morning with highs in the upper 50s.
Thursday: Sunny, not as cold. Highs in the 60s.
To watch 5 On Your Side broadcasts or reports 24/7, 5 On Your Side is always streaming on 5+. Download for free on Roku or Amazon Fire TV.