ST. LOUIS — A strong line of storms blew through the St. Louis area Thursday afternoon leaving damage across the area.
According to the National Weather Service, an EF0 tornado touched down near Kirkwood. The storm caused tree damage, including one on a house. The Kirkwood fire chief said they had about six reports of wires down in the area.
On Dickson Street in Kirkwood, trees were uprooted. Children's play equipment was flipped on its side. On Bodley Avenue, it appears power lines that had fallen to the ground caught fire.
Mariah Toth was riding home from work in the storm.
"It was pouring down and I almost had to pull over because I couldn't see," she said.
She made it home but never imagined the damage she'd find when there.
"I was looking at the trees and I was like 'holy crap,'" she said. "It was split in half."
St. Clair County Emergency Manager Herb Simmons said multiple homes in the area reported roof damage due to the storms.
The National Weather Service reported possible debris on the radar in the area of Ladue, Kirkwood and Olivette. St. Louis County EMA said they have received reports of trees and wires down around the county.
The Belleville Fire Department reported roof damage to Faith Baptist Church on East Main Street.
"It was bumper to bumper. Nothing was moving," Danielle Favron told 5 On Your Side.
Flooding has also been reported in other parts of south St. Louis, including at the intersection of Bates and Arendes in the Holly Hills area.
"It was crazy man. Just chaos and water, water everywhere, " said Steven Cavin. "My wife and I were asleep when firefighters banged on our doors to let us know, 'Hey, the front of your house is flooded.'"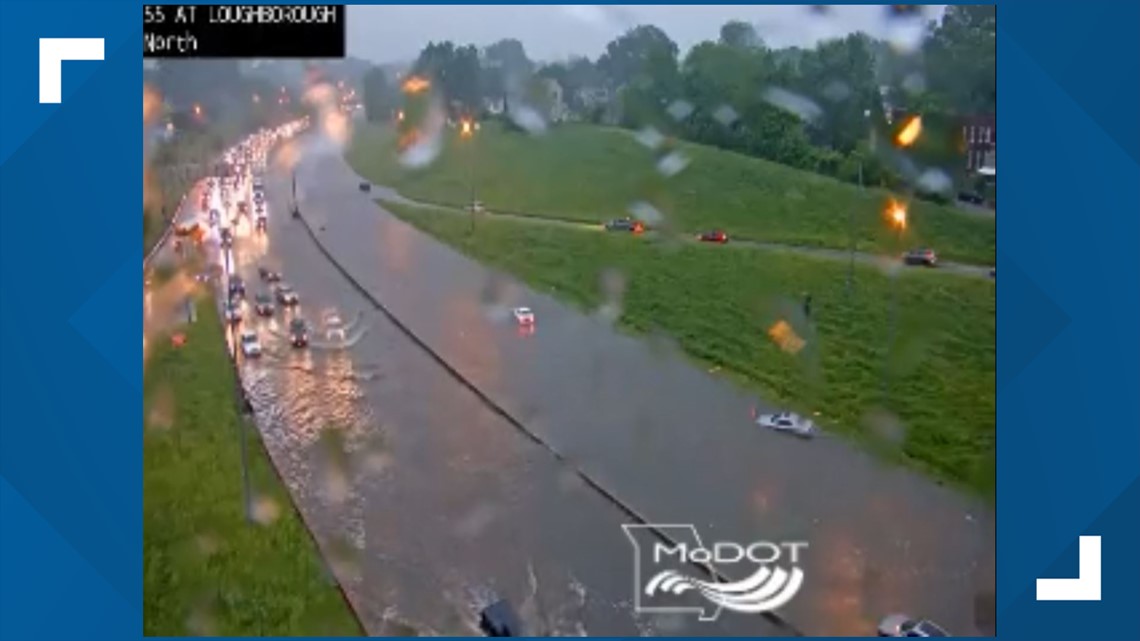 Viewer Todd Tiefenauer also sent in flooding video from the intersection of Meramec and Giles in south St. Louis.
Garrison R. shared a photo of a tree down on his house in the city of St. Charles.

St. Louis Lambert International Airport went into a shelter in place policy at around 5:15 due to the tornado warning.
The St. Francois County EMA director said there are confirmed reports of a tree falling onto a house in Bonne Terre and a tree falling on a house in Park Hill. No injuries in either incident.
Emergency managers in Franklin County reported a power pole and tree damage near Highway 185 in Beaufort and a tree onto a house near Parkway. There was also power line damage near Highway 50 and Highway AJ.