ST. LOUIS — Storm survey teams from National Weather Service offices across the storm-ravaged middle part of the country have begun the assessment of damage. Locally, the NWS St. Louis completed four storm surveys Saturday.

Damage from the tornado that touched down in St. Charles County, killing one and injuring two others, has been rated as high-end EF-3 damage on the Enhanced Fujita scale with top wind speeds of 165 mph.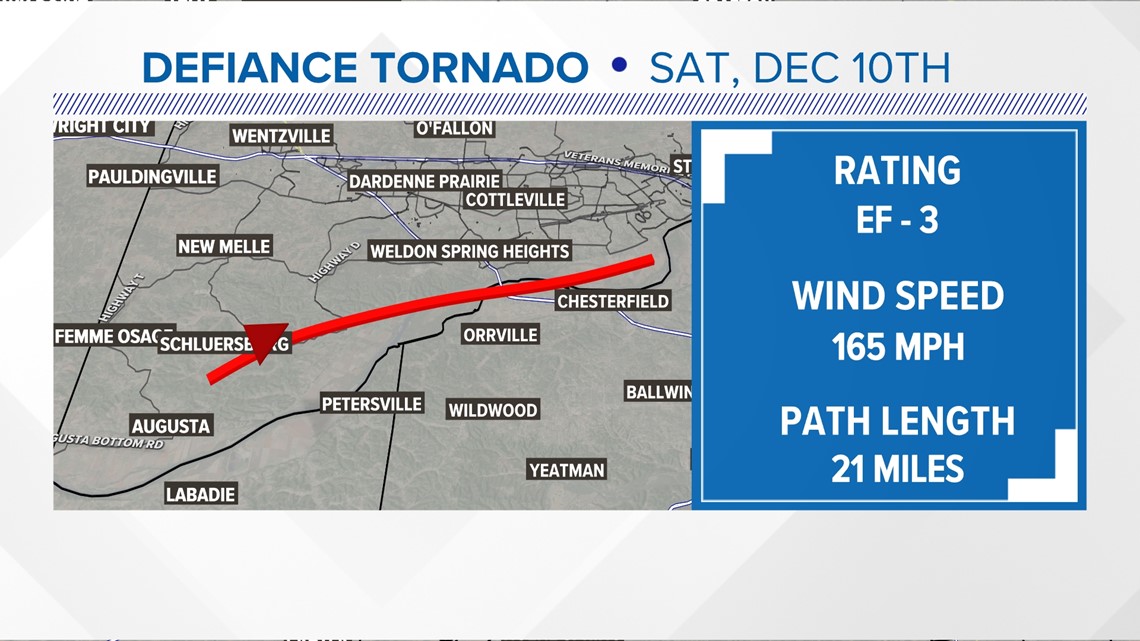 The tornado touched down two miles north of Augusta, Missouri, and traveled northeast for 21 miles crossing the Missouri River just west of the St. Louis Premium Outlet Mall. 20 cars were damaged on Highway 40/Interstate 64 as the tornado crossed the highway just northwest of the outlet mall. The tornado traveled back across the river into St. Charles county causing damage to trees and a few homes along Greens Bottom Road near the Katy Trail.
Another survey team in Madison County Illinois found an almost four-mile path of destruction from near Pontoon Beach into Edwardsville. This tornado tracked across an Amazon warehouse where structural failure lead to a rating of EF-3 with tops winds of 150 mph.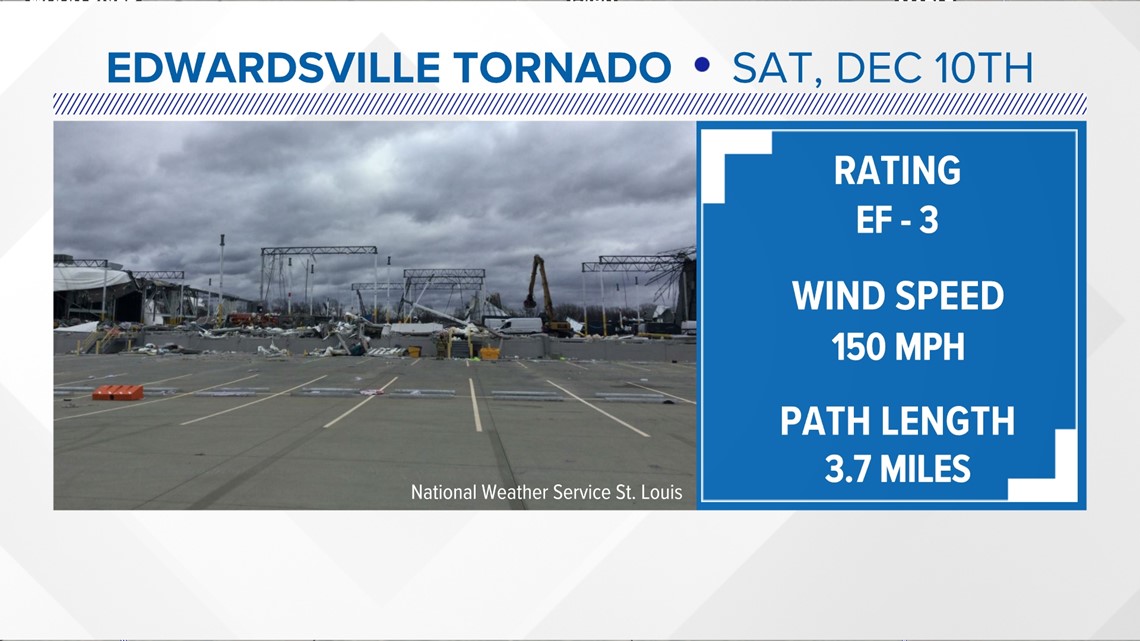 Six people died in the warehouse collapse. An unknown number of injuries was associated with this tornado.
Another tornado touched down near Sorento in northern Bond County Illinois and moved near Coffeen Lake to north of Ramsey and then toward Shelby county Illinois. From Bond into Montgomery and Fayette counties, the highest damage rating was an EF-1 with top winds of 110 mph.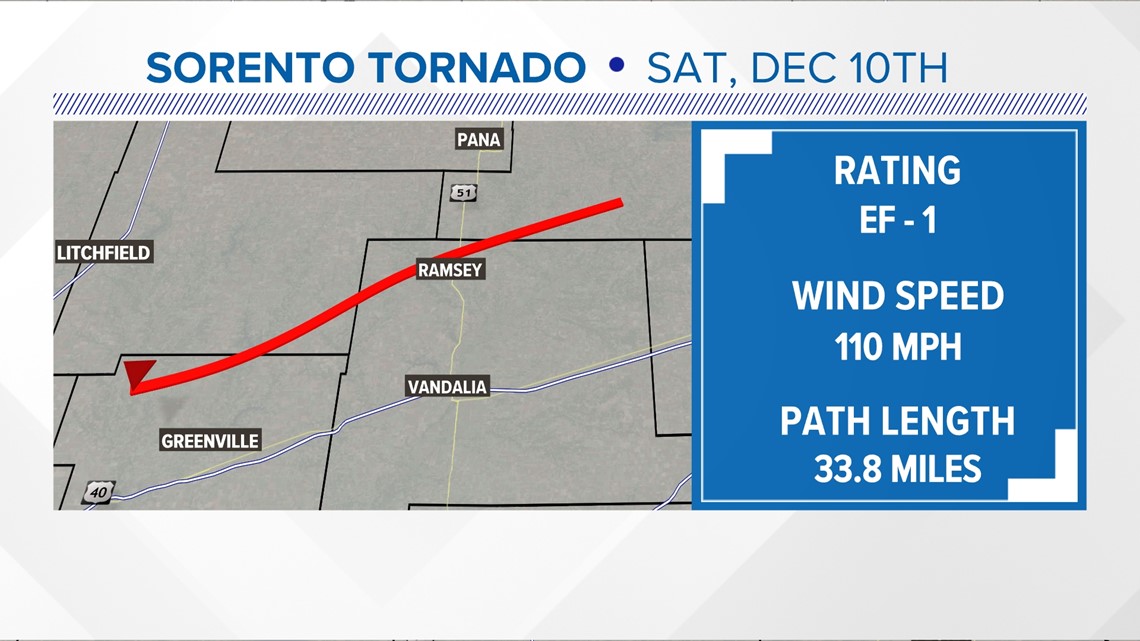 Most of the damage associated with this tornado track occurred to trees and power poles. The storm did strengthen to EF-2 after it moved into Shelby County.
The NWS St. Louis also found a tornado Track in Montgomery County Missouri between Wellsville and Middletown. The path was about a mile long and top winds were rated EF-0 at 80 mph.
Sunday, another survey team traveled to Reynolds County Missouri to survey damage there. Several homes and a barn had significant damage. The storm survey revealed an EF-2 tornado with top winds of 130 m.p.h. south of Redford to about the Iron Reynolds county line. The path was 6.3 miles.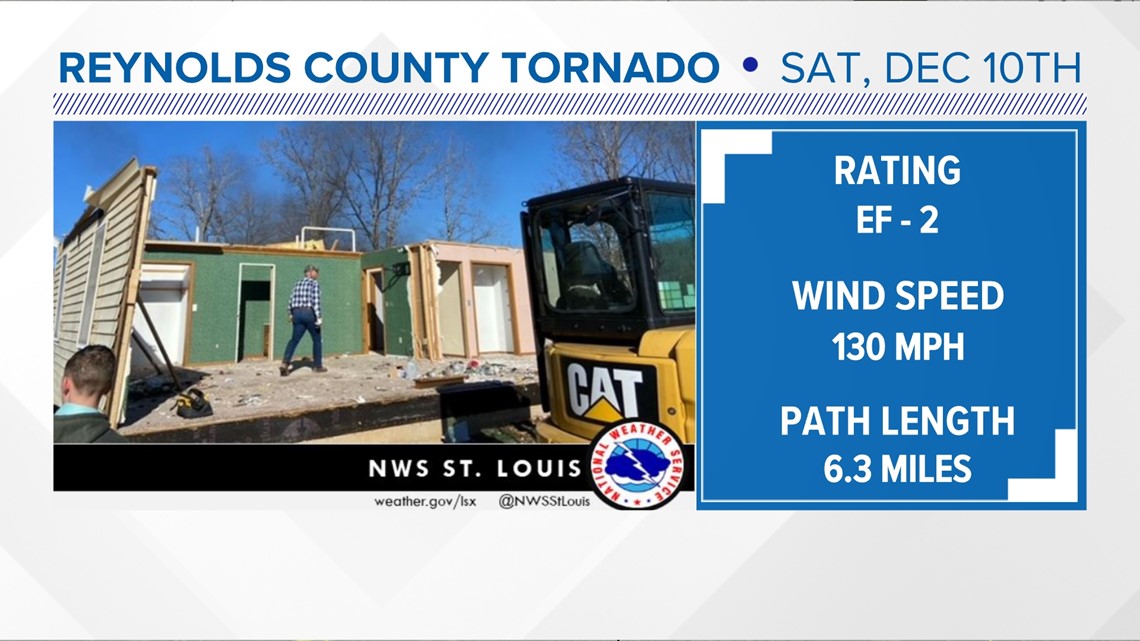 The National Weather Service in St. Louis will survey additional damage around the area in the coming days to see if additional tornado tracks exist.