ST. LOUIS — March came in quiet like a lamb with an entire week of sunshine. Now the cold air is in place and the snow has moved out.
Weldon Spring reported 1" of snow before it melted quickly. A coating, 1/2" to 1" is about all we had in the metro. Just as expected, not a big storm for us, and it moved through the area quickly.
The initial snow band faded and another band formed a bit farther south.
Most areas had under 1" of snow, mainly in the grassy areas, with some spots seeing little if any farther east of St. Louis.
Below are the snow totals from Friday March 11th, 2022.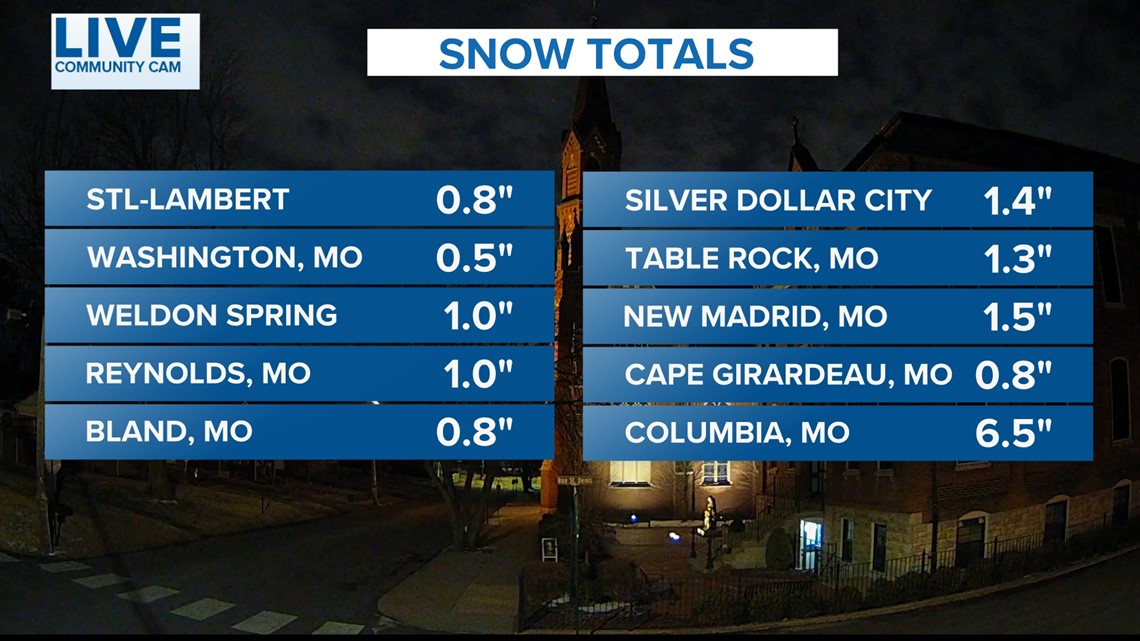 A noon, below is a snapshot of what it looked like in Cuba, Missouri and Richmond Heights, Wentzville and Highland, Illinois. The quick shot of overnight snow melted most of Friday.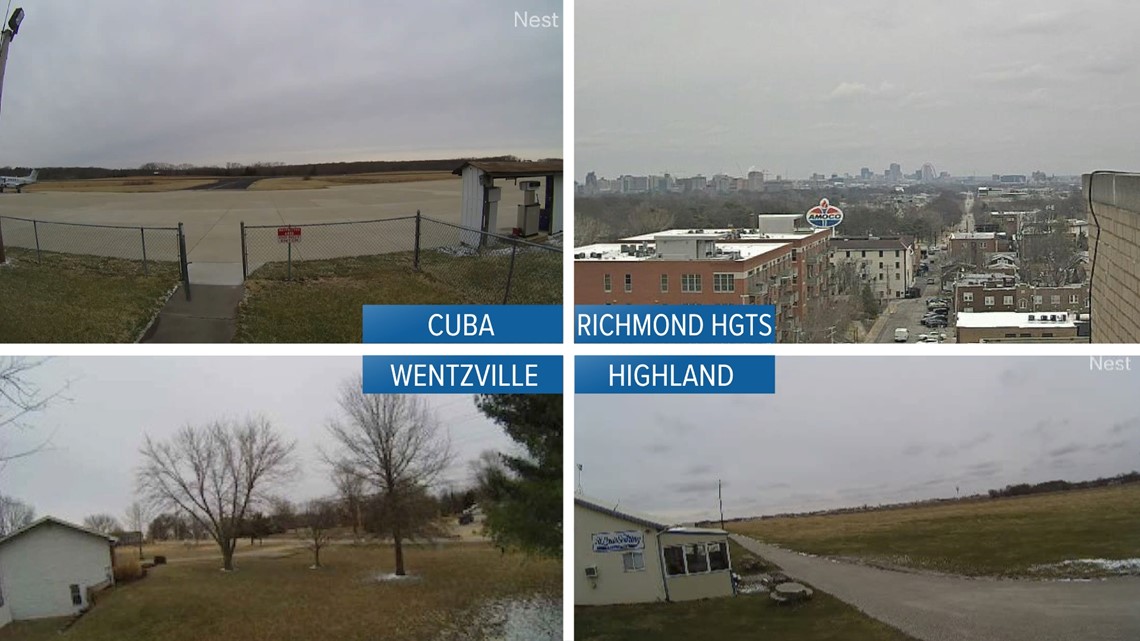 The arctic front moved through now and frigid air is surging into the area. Below are the forecasted lows for Saturday morning. We will be in the teens with wind chills around zero.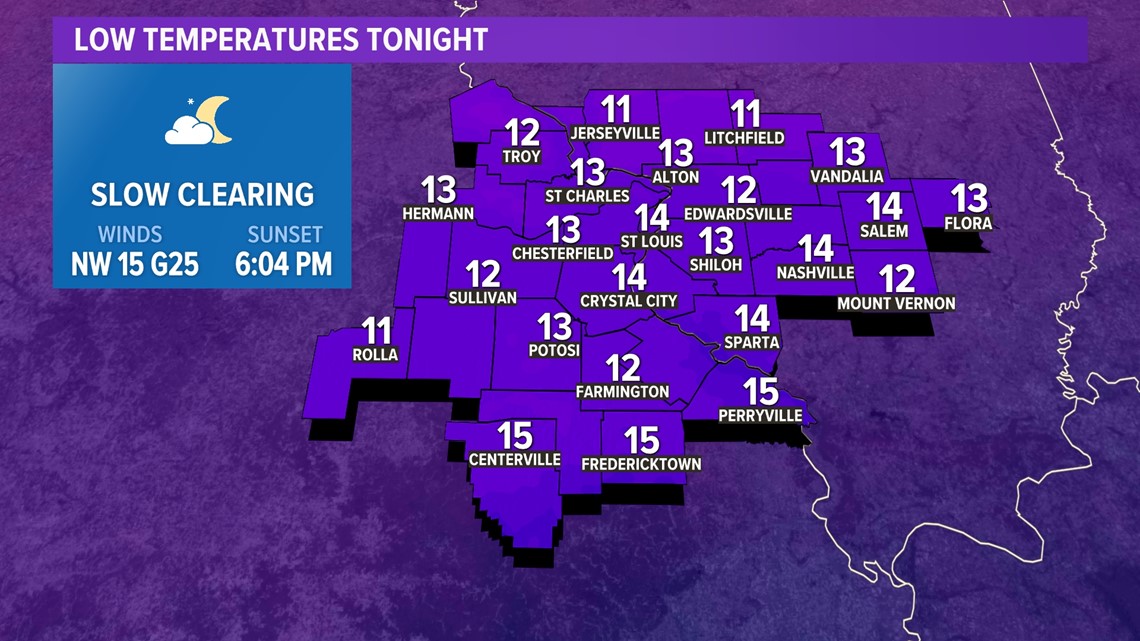 Below shows the wind chill near 0 degrees Saturday morning at 7 A.M., so dress in layers if you are heading out.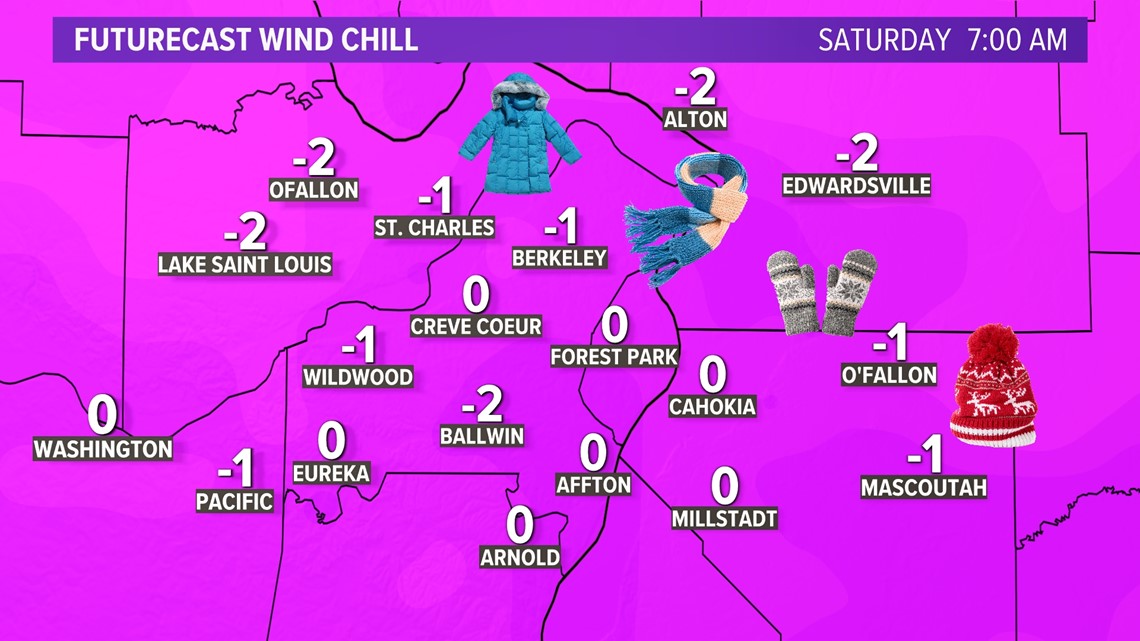 Stream 5 On Your Side: To add the 5 On Your Side app to Roku or Amazon Fire TV, search for "KSDK" to find the free app to add to your account. Get weather updates, the latest local news and special reports from 5 On Your Side.
Impacts to area roadways were minimal.
Morning lows on Saturday will fall back into the teens, so watch for icy spots on untreated roads and sidewalks. Wind chills will be around 0 degrees early Saturday and still in the teens when the St. Patrick's Day Parade kicks off in downtown St. Louis and downtown Belleville, Illinois, at noon Saturday.
Sunday marks the start of daylight saving time, so remember to "spring" forward those clocks by one hour Sunday morning.
Temperatures will warm up near 60 for Sunday. Next week, afternoon highs will be in the 60s and some 70s.
Download the free 5 On Your Side app to get the latest watches and warnings and track conditions live with our interactive radar. Use the links below to download now.