ST. LOUIS — 5 On Your Side is in Storm Alert as a winter storm has continued to move through the St. Louis area since early Wednesday morning.
We're providing live updates on weather and traffic as conditions continue to change throughout the day Thursday.
A crash closed the westbound lanes of Interstate 70 in Warren County Thursday night. MoDOT said the crash happened at around 8:30 at the Hawk Pointe exit.
MoDOT said it will take a few hours to clear the crash and restore normal traffic.
The second line of snow has moved out of the St. Louis area, so here are some of the highest snow totals from around the St. Louis area.
Harvester: 11 inches
Hazelwood: 9 inches
Hematite: 8.9 inches
Kimmswick: 8 inches
Ferguson: 8 inches
St. Jacob: 11.5 inches
Hillsboro: 8 inches
Wood River: 7 inches
Bethalto: 6.5 inches
Collinsville: 6.2 inches
St. Louis city offices will be open Friday with limited staffing. The city is also encouraging people to stay off the roads if possible while crews clear main roads.
Closures continue to pile up for Friday.
All three Missouri Historical Society locations — the Missouri History Museum, the MHS Library & Research Center, and Soldiers Memorial Military Museum — will be closed tomorrow, as will the Saint Louis Art Museum.
MetroLink service has been restored to the Memorial Hospital, Swansea, Belleville and College stations. The Shiloh-Scott station is the only station where shuttles are being used.
Elsewhere in Illinois, three Illinois State Police vehicles were struck while troopers were helping stranded drivers Thursday. The crashes happened in east and northeast Illinois, and none of the troopers or drivers involved in the incidents were injured. One of the crashes was move-over-law related, an ISP press release said. The move-over law in Illinois is also known as Scott's Law.
"During inclement weather, obeying Scott's Law is even more important," ISP Director Brendan Kelly said in the press release. "As the officers of the Illinois State Police (ISP) continue to put their lives on the line, we ask you, the motoring public, to help them out by Slowing Down and Moving Over while they do their jobs."
As snow continues to fall in the St. Louis area, MoDOT held an afternoon press conference to provide an update on road conditions. MoDOT Assistant District Engineer Michelle Forneris said continuing snow and wind has left their workers with lots to do.
"MoDOT crews still have a lot of work to do," she said. "We urge drivers please be patient, give those snowplow operators plenty of room to work."
She said workers will be on their third 12-hour shift as they continue to work to clear the roads.
Maintenance District Engineer Bob Becker said piles of snow and continuing winds have made it difficult to keep roads clean, even after plows have gone by.
"There are some areas we have been across that it looks like we haven't because of that snowdrift," he said.
Becker said crews will likely be working into the weekend to clear the roadways, and they are hoping a slight warmup and potential sunshine will help boost the effectiveness of their road treatments.
"Our chemicals don't work real well when its going to be in the teens tonight or single digits, they work a lot slower," he said.
Trooper Logan Bolton with the Missouri State Highway Patrol's Troop C said troopers have responded to more calls on Thursday. He said the increase was likely due to the "significantly worse" than they were yesterday.
In all, Troop C responded to 351 calls for service which included:
259 stranded motorists
53 non-injury crashes
5 injury crashes
Bolton thanked drivers for staying home when possible, and suggested they do it again on Friday.
"If you can stay home again tomorrow, please do so," he said.
He said troopers have gotten additional help in the last few days from the Missouri National Guard. He said national guard troops have helped push drivers back onto the road and direct traffic around crashes.
As the winter storm drags on in the St. Louis area, businesses and government buildings are announcing closures or hour changes for Friday.
St. Louis' 22nd Judicial District Court will open after a two-day closure, but the start time will be delayed until 10 a.m.
The St. Louis Zoo will be closed again on Friday. It has been closed since Wednesday due to the winter weather.
The Gateway Arch will remain closed through Friday as well. Ticketing and tram operations at the Gateway Arch will also be closed. Tickets will be refunded as soon as possible.
MetroLink extended service in Illinois and is now serving the JJK Center, Washington Park and Fairview Heights MetroLink Stations. Red Line service is currently operating from Lambert Airport to Fairview Heights Station, and Blue Line service is operating from Shrewsbury to Emerson Park Stations.
MetroLink shuttles continue to transport passengers by bus between the Fairview Heights and Shiloh-Scott stations, where passengers can expect a delay of up to 60 minutes.
Disney On Ice was canceled for Thursday night at the Enterprise Center. All other performances were expected to continue.
Schnucks and Dierbergs announced they were closing early Thursday for the safety of their staff.
Snow continues to fall across the St. Louis area. 5 On Your Side Meteorologist Jim Castillo said about 1-2 more inches will fall in the metro area and about 2-4 could fall south and east of St. Louis.
Fenton, MO – 5 inches
Barnhart, MO – 4 inches
Florissant, MO – 10 inches
Webster Groves, MO – 6 inches
All eastbound lanes of I-44 have reopened near Sullivan after a crash involving multiple tractor-trailers. Click here for updates.
The westbound lanes of Interstate 70 are shutdown between Bryan Road and Lake St. Louis Boulevard due to a tractor-trailer crash. Click here for updates.
The winter storm warning has been extended through 6 p.m. in the St. Louis area. Previously, it was set to expire at noon. Temperatures have reached the 20s but feels-like temps are still in the single digits.
St. Louis – 6.5 inches
St. Peters, MO – 8.5 inches
Villa Ridge, MO – 8.5 inches
O'Fallon, MO – 8 inches
Sullivan, MO – 8 inches
Wentzville, MO – 8 inches
Dallas Thompson with MSHP said Franklin County officials received a report of a crash involving eight tractor-trailers in the eastbound lanes of I-44 at the 227-mile marker. MSHP said troopers are working to clear one lane as soon as possible.
Thompson said it's unclear if there are any injuries.
Here's an update on snow totals:
Middletown, MO – 10 inches
O'Fallon, MO – 8 inches
Sullivan, MO – 8 inches
Elsah, Ill. – 7.5 inches
Maryland Heights, MO – 6.5 inches
Jerseyville – 6 inches
Shrewsbury, MO – 4 inches
Imperial, MO – 4.5 inches
De Soto, MO – 3.8 inches
Gray Summit, MO – 4.8 inches
Just before 9 a.m., MoDOT reported the exit at Interstate 55 and Richardson Road was Arnold is closed. Click here for more traffic updates.
Here's a look at a few more snow totals that have been reported in the last hour:
Downtown St. Louis – 4.5 inches
Festus, MO – 4 inches
Farmington, MO – 3.2 inches
Fairview Heights, Ill. – 2.5 inches
O'Fallon, MO – 7.4 inches
Lake St. Louis – 6 inches
Snow will continue to fall across the area today and should end at around 4-5 p.m. Temperatures remain in the teens and feels-like temps are in the single digits.
So far today, dozens of flights have been canceled at St. Louis Lambert International Airport.
MoDOT is reporting roads across the St. Louis area are still covered in snow. Crews are continuing to plow and treat the roads as the snow continues falling.
Data on accumulation is starting to roll in. Here's a look at snow totals so far:
Louisiana, MO – 11.5 inches
Columbia, MO – 9.7 inches
Wentzville, MO – 6 inches
Harvester, MO – 5.8 inches
Jerseyville, Ill. – 5 inches
Bonne Terre, MO – 6.5 inches
Wood River, Ill. – 5 inches
Washington, MO – 3 inches
De Soto, MO – 3 inches
Edwardsville, Ill. – 2. 5 inches
5 On Your Side Meteorologist Anthony Slaughter said most of the St. Louis area has seen 1 inch of snow per hour this morning.
He said St. Louis and areas to the south will see the heaviest amount of snowfall today. Areas to the north of the metro will see light snow that won't accumulate much more than a couple of inches.
The Missouri State Highway Patrol shared a 7:30 a.m. update on traffic incidents so far today. MSHP Troop C has responded to 76 calls for service, 48 stranded motorists and 13 non-injury crashes. There are no reports of injuries at this time.
MoDOT held a 6 a.m. press conference to give an update on road conditions. Officials continue to urge people to stay off the roads as much as possible. If you must travel, they ask drivers to give snowplow operators plenty of room to work.
MoDOT said it will take crews longer to clear the roads as there are not enough resources to clear the roads immediately. Crews are making interstates and high-travel roadways a top priority. All available crews are working 12-hour shifts throughout the day and night.
Dallas Thompson with the Missouri State Highway Patrol gave an update on traffic incidents from Wednesday. MSHP Troop C responded to 341 calls for service, 178 stranded motorists, 99 non-injury crashes and four injury crashes. There were no fatalities reported.
"Looking at the numbers, it looks like high numbers but it's really not for an event like we had yesterday," Thompson said. "We're thankful for the folks that were able to stay home and not be out on the roadways."
The National Weather Service said covered surfaces, especially areas with ice underneath the snow, will be slick. Due to high winds, blowing snow will most likely recover surfaces that were previously cleared.
The snow will become lighter in the afternoon and should end sometime between 3-6 p.m.
Heavy bands of snow are moving over the St. Louis area with up to 1 inch per hour falling in the metro. Meteorologist Anthony Slaughter says that blowing snow will continue through around midday with areas south of St. Louis seeing snow through Thursday evening before drying out.
MoDOT plows have been working to keep highways clear but the wind gusts and heavy snow are covering roads almost as quickly as they're cleared. MoDOT will have an update at 6 a.m. on road conditions across the area. Transportation officials are urging everyone to stay off the roads unless travel is absolutely necessary.
Heavy snow continues to fall across the St. Louis area. Temperatures are in the teens across the area with feel-like temps in the single digits. Wind gusts have been up to 20-30 miles per hour which has caused visibility to be limited.
The MoDOT Traveler Map is showing all interstates are completely covered in snow with a couple of crashes popping up. To see what traffic conditions are like in your area, visit the 5 On Your Side traffic map.
MetroLink is unable to provide service between the Emerson Park and Shiloh-Scott stations in Illinois due to ice accumulation on the overhead catenary wires. Shuttles are transporting passengers by bus between the two stations. Passengers traveling through this area should expect delays of up to an hour.
MetroLink crews made repairs overnight and resumed operations at Lambert Airport and UMSL South stations on a single track.
The second round of snow began falling in the St. Louis area at around midnight. Snow is expected to accumulate in the heaviest spots up to 1 inch per hour. Some areas are expecting an additional 5-8 inches of snow this morning.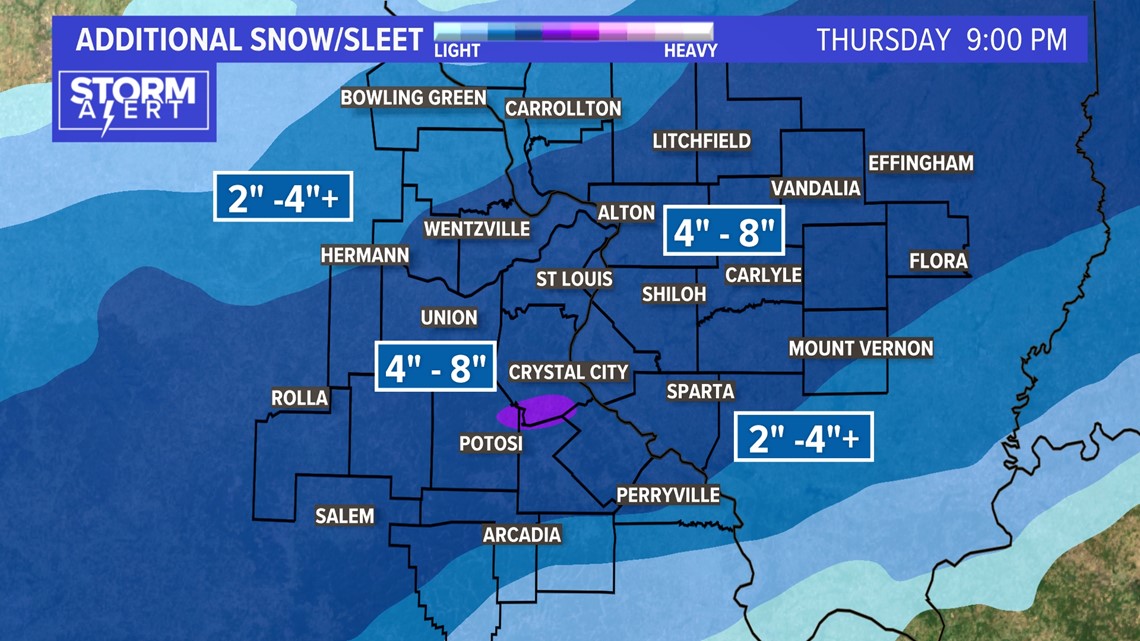 Hundreds of schools and businesses across the area have closed for the second day due to the winter storm. Click here to see the full list
PHOTOS: Winter storm arrives in St. Louis
How to add the 5 On Your Side app to your streaming device: Search for "KSDK" on your Roku or Fire TV to find the free app to add to your account. Another option for Fire TV is to have the app delivered directly to your Fire TV through Amazon.