ST. LOUIS — A strong cold front will move across Missouri and Illinois Wednesday evening. Temperatures ahead of the front are well into the 80s perhaps even touching 90 degrees ahead of the front. While it's not as humid as it typically is during the summer, strong winds aloft will help thunderstorms develop along and ahead of the cold front.
Some of the storms are expected to produce strong damaging winds and large hail. The tornado threat is lower due to the lack of humid air near the ground. Farther southeast across southern Illinois and southeast Missouri, there may be a bit more of a tornado threat as humidity levels there are a bit higher.
LATEST HIGH RESOLUTION FUTURECAST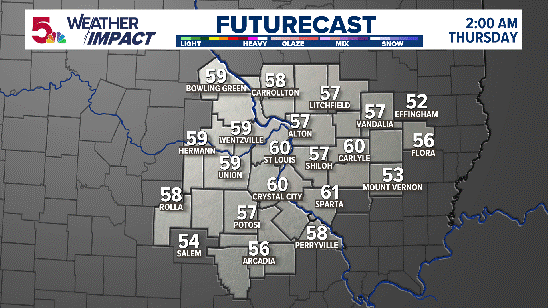 The Storm Prediction Center has issued a severe thunderstorm watch for portions of the area including metro St. Louis. The watch is in effect until 9 p.m. Stay inside and away from windows and doors as these storms pass through.

Download the free 5 On Your Side app to get the latest watches and warnings and track conditions live with our interactive radar. Use the links below to download now.
The severe weather threat will end once the cold front moves through. Much colder temperatures will return to our area later tonight and lasting into next week.
More weather stories