ST. LOUIS —
Heavy rain fell in St. Louis a little more than a week after historic rainfall hit the region, causing flooding. A storm with intense lightning moved through Wednesday night, and more storms fired up Thursday morning.
Thursday Morning
The National Weather Service has issued a Flash Flood Warning until 11:45 a.m. for central St. Louis County including Kirkwood, Maryland Heights, and Hazelwood.
Flash flooding was reported in Glendale, Missouri at Berry and Cliff-Side Drive around 8:20 a.m. This is near Shady Grove Creek.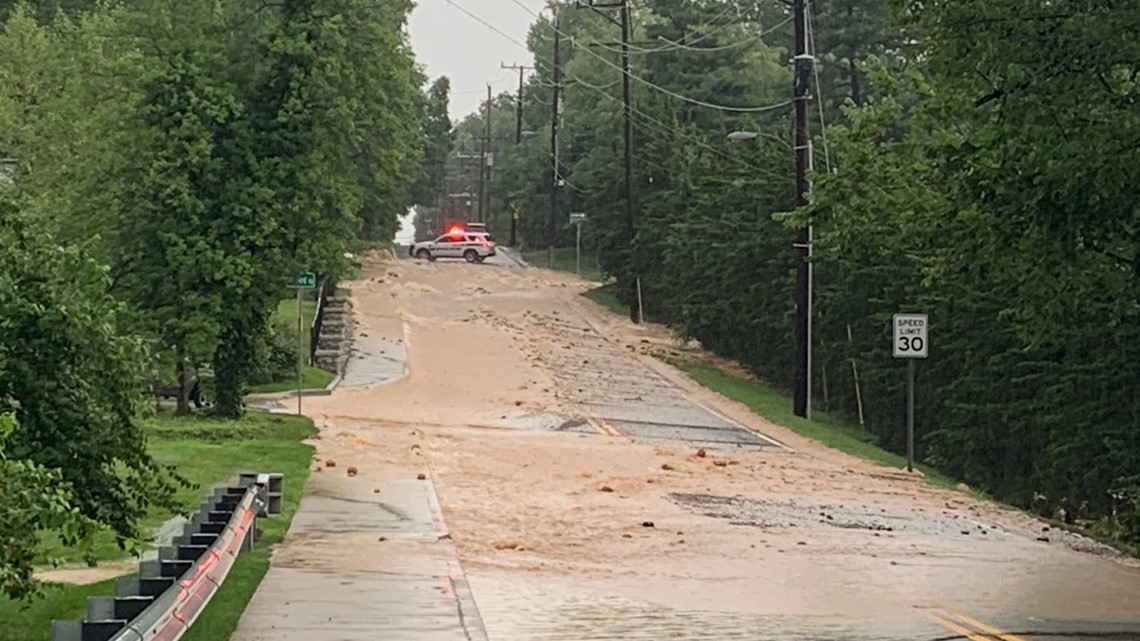 Flooding was also reported in the Oakland area at Big Bend Road and Sanders Drive from around 8 a.m. this morning.
Flooding near Brentwood at Manchester Road near the Train wreck Saloon was reported at 8:55 a.m.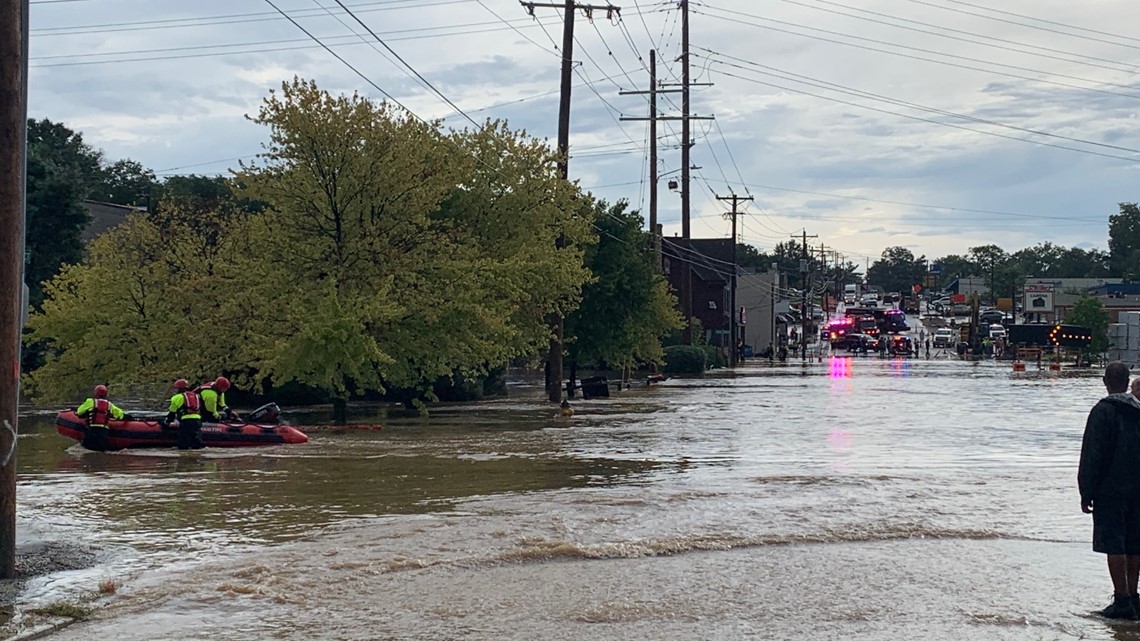 St. Louis County police tweeted out Reavis Barracks Road was closed as of 10:45 a.m. The tweet said it was impassible and shut down at Green Park Road. They told drivers to find another route.
Residents woke up to storm damage due to an overnight storm, lingering during the morning hours on Thursday.
Strong winds and several inches of rain caused trees to be down, flooding, and power issues.
Thousands of people in Missouri and Illinois were without power, and strong winds and heavy rain are causing damage around the St. Louis area.
Thursday morning, the Ameren Outage Map reported that more than 10,300 people in Missouri were without power from the overnight storms and rain this morning. As many as 11,000 in Illinois were without power Wednesday night, but this morning the map estimates more than 600 people are without power as of 8:30 a.m.
Most of the outages on the Missouri side are in the St. Louis metro area, while the Illinois outages are spread throughout the state.
The outages were due to a strong line of storms that stretches more than 500 miles from Missouri up to Michigan.
Kirkwood also reported outages for 17 people at Iris and Sugar Creek Ridge due to a tree down, knocking down powerlines and poles.
5 On Your Side report Travis Cummings reported damage in Soulard on Thursday morning.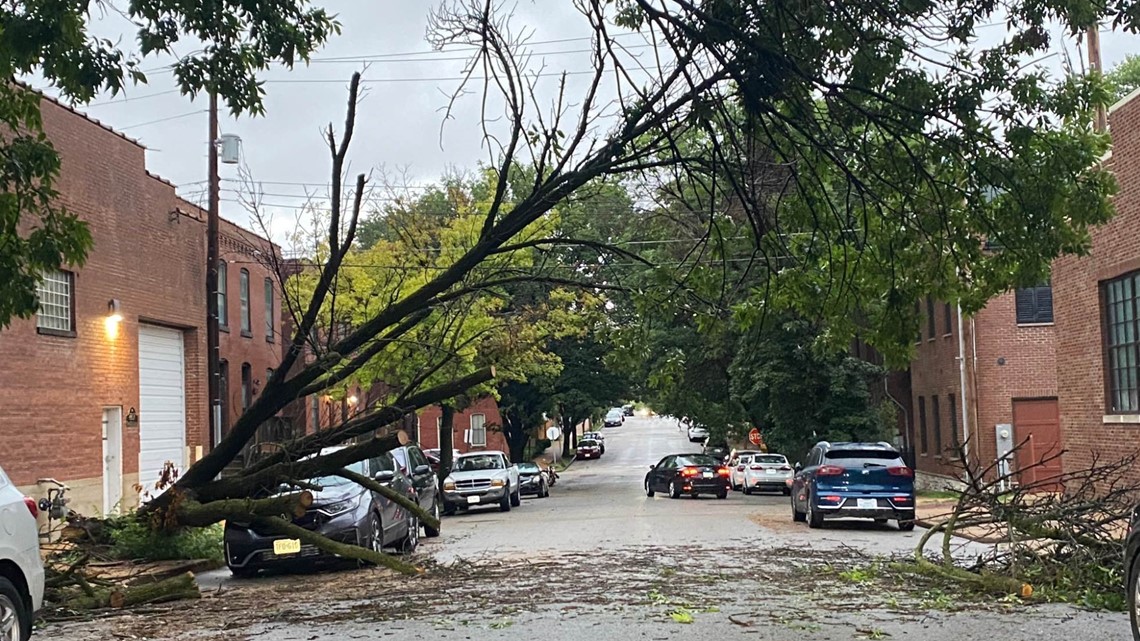 Keep up to date on traffic during the morning commute as rain continues to move out of the St. Louis area. Visit 5 On Your Side's website here.
Keep up to date on the forecast here.
Grant's Farm announced was closed Thursday due to the weather. They said they will reopen as scheduled Friday.
The Muny's opening night performance of The Color Purple was cut short at intermission by the weather Wednesday night. A post on The Muny's Facebook page said people can bring their Aug. 3 ticket to the box office to see the show on a different date.
Wednesday Night
A spokesman with the Florissant Valley Fire Protection District said firefighters extinguished a fire that appeared to be started by a lightning strike.
Strong winds caused damage in the St. Ann area Wednesday evening.
The St. Ann Police Department posted multiple photos of damage around the area, including large branches down in St. Anne park, and full trees uprooted on and downed over streets.
Photos: Strong storms causing damage in St. Ann
In Warren County, Missouri, heavy rain had caused flash flooding that covered multiple roadways. According to a Facebook post from the county's emergency management agency, the following roads were covered by water:
Concord Hill Road near State Highway 47.
Fallen Timber Road in Marthasville.
The 18000-block of south State Highway 47.
Many areas saw 50+ mph wind gusts at this hour. Minor roads were flooded and some trees are down as well.
Download the free 5 On Your Side app to get the latest watches and warnings and track conditions live with our interactive radar. Use the links below to download now.