ST. LOUIS — Thursday's severe weather spawned eight confirmed tornadoes between Missouri and Illinois around the greater St. Louis area. There were numerous reports of damage between both states including downed trees, power outages and flooded roads.
The National Weather Service in Weldon Spring confirms five tornadoes in Missouri and three in Illinois. Thousands were also without power Thursday as the storms moved through the Bi-State.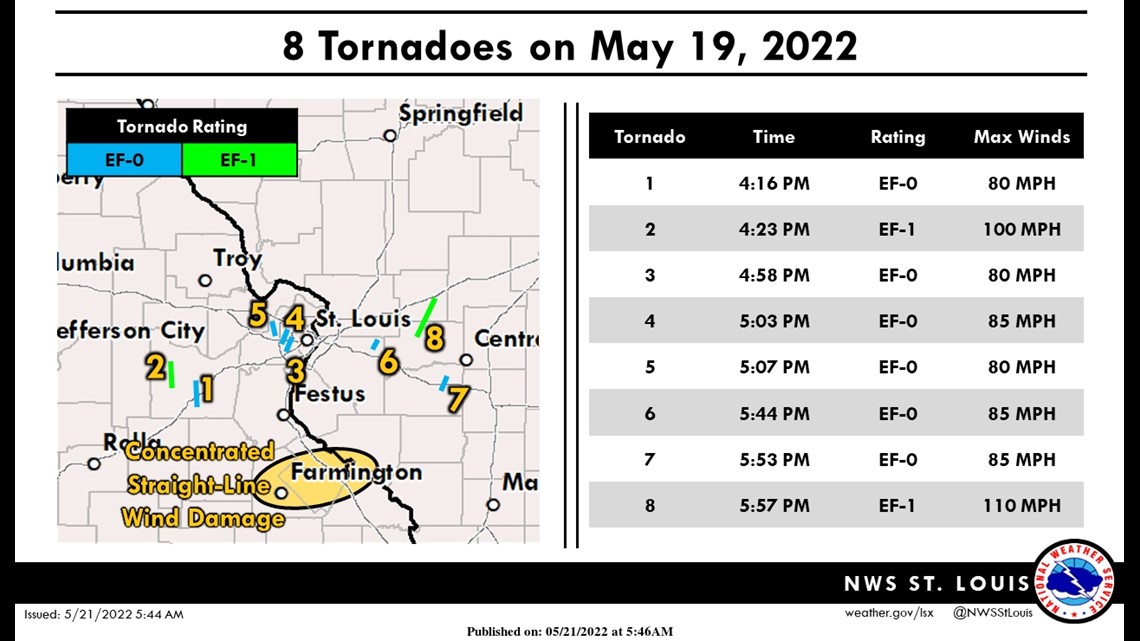 Missouri
The National Weather Service of St. Louis reported three tornadoes touched down in the St. Louis County area Thursday.
The National Weather Service of St. Louis confirmed another tornado touched down in St. Louis County Thursday, this one near Creve Coeur. This one was classified as an EF0 by the NWS. It caused some tree damage, it snapped power poles and a few homes also had damage because of falling tree limbs.
On Friday, the National Weather Service of St. Louis also confirmed an EF0 tornado touched down briefly in Frontenac Thursday evening between 5:03 p.m. and 5:04 p.m. This one went about 1.3 miles and lifted near Chaminade High School.
In Franklin County, the National Weather Service of St. Louis confirmed two tornadoes.
The first, an EF0, happened 1-2 miles southwest of St. Clair on Anaconda Road and lasted two minutes from 4:16 to 4:18 p.m., traveling 2.6 miles. The tornado caused tree damage, but no structural damage in the area.
The second tornado in the county was confirmed to be an EF-1, with winds estimated to have peaked at 100 mph. It caused severe damage to trees. This tornado touched down near Leslie, Missouri, south of the Bourbeuse River and traveled 1.3 miles with a maximum width of 100 yards, a NWS tweet said.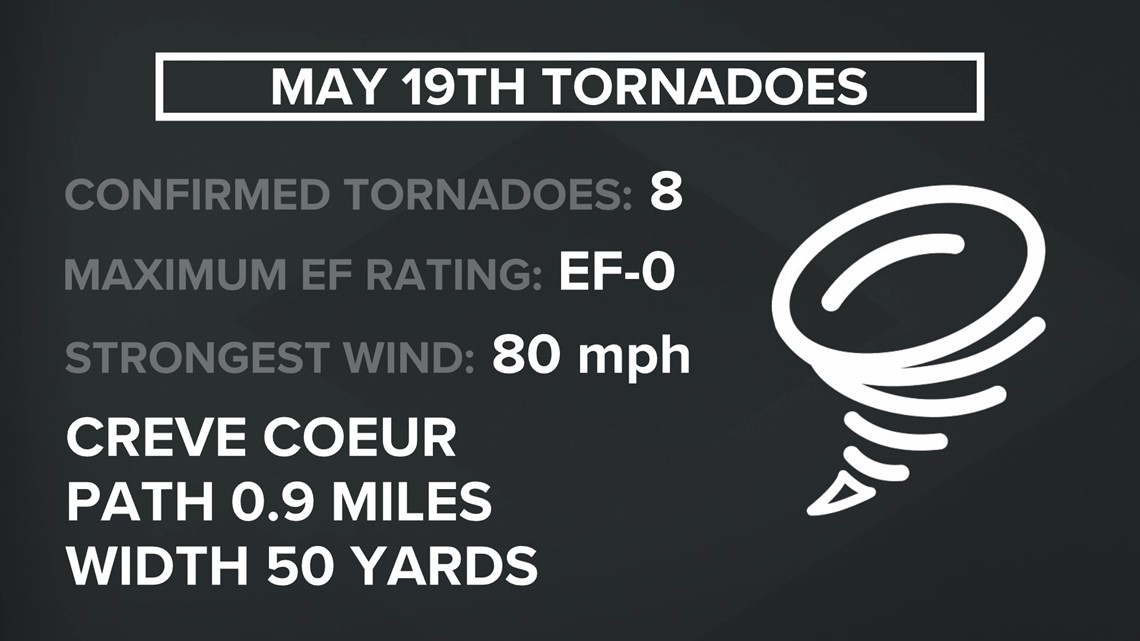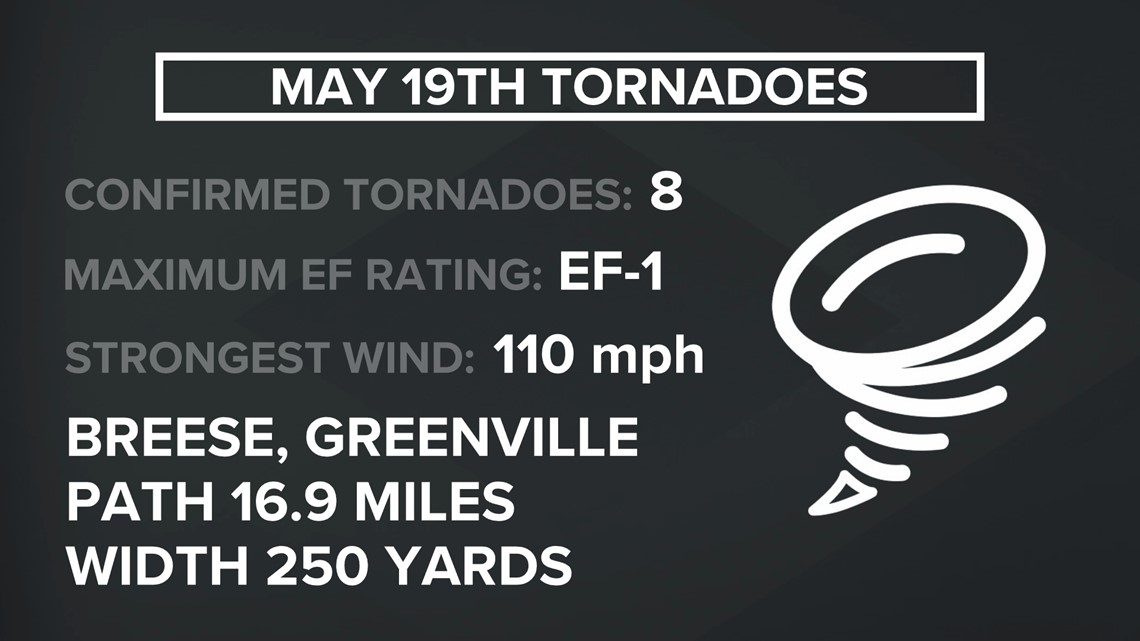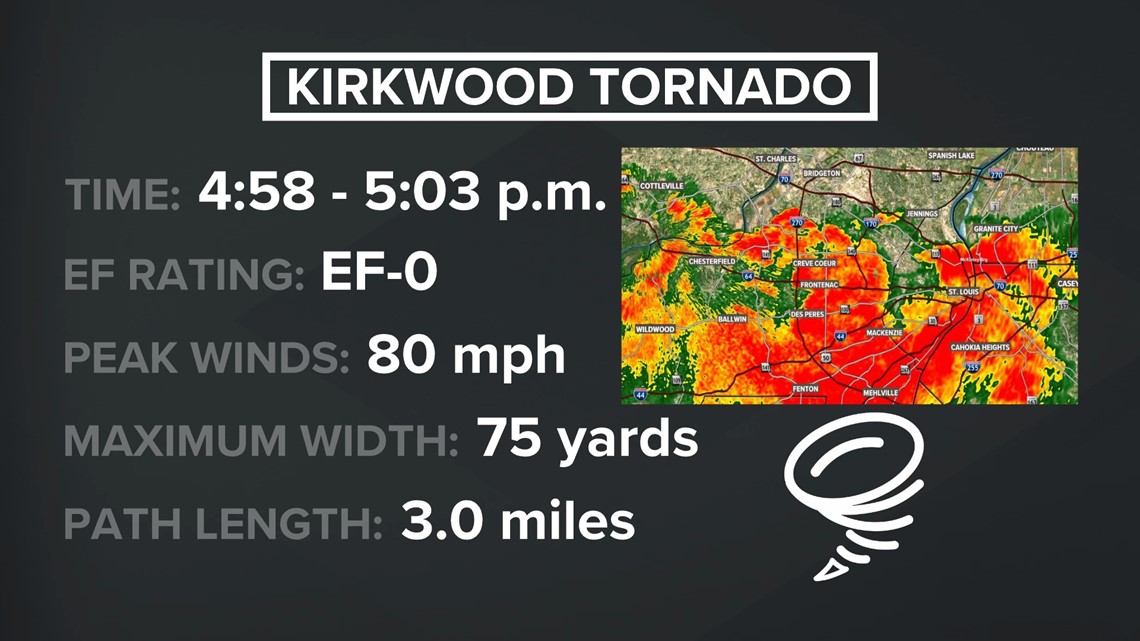 Ameren Missouri reported Friday that it had 15,900 customers without power between 6 and 6:30 p.m. Thursday during the severe weather. It said by 7 a.m. Friday 4,100 people still didn't have power and by 1 p.m. 2,500 people were without power.
Illinois
Three tornadoes in Illinois were confirmed by the National Weather Service of St. Louis.
An EF-1 tornado touched down and affected northern Clinton County and southern Bond County areas. It was the strongest and the widest of the tornadoes reported so far. It was also the longest, lasting from 5:57 p.m. to 6:16 p.m.
There was also a tornado that touched down near Okawville, Illinois Thursday evening. The National Weather Service of St. Louis said in a tweet it was an EF-0 tornado. It was on the ground for only one minute and damaged some farm outbuildings and wheat fields.
The third tornado in Illinois touched down near Summerfield, Illinois, in St. Clair County.
In Illinois, there were about 9,500 Ameren customers without power around 7 p.m. Thursday. As of about 2:30 p.m. Friday, Ameren Illinois' outage map showed about 1,600 people without power.
A bus used to take community members to service and other places also had a caved-in roof. Debris and downed trees and power lines lined the streets surrounding the church.
"It's pretty crazy. Thankfully nobody was injured," Pastor Rick Koonce said Thursday.
Many 5 On Your Side viewers shared photos of the storm and damage where they were. Here are some of those photos:
There are limited chances for severe weather Saturday evening. The main threats are large hail and wind gusts to 60 mph.
Storms end before midnight for the entire Bi-state with clouds lingering into the night. Lows will be chilly in the mid 40s to low 50s.