FREDERICKTOWN, Mo. — Tornadoes tore through towns across Missouri and Illinois Sunday night.
Storm damage survey crews with US National Weather Service St. Louis found at least two or three tornadoes on Monday.
The highest-rated was an EF-3 in Fredericktown, Missouri with a maximum wind speed of 140 MPH.
Driving along Route 72, the damage is seen on both sides of the road.
At 72 West Motors & RV's, there are usually 50 to 60 used and new RV's in the lot.
With the tornado coming through, almost all are damaged now.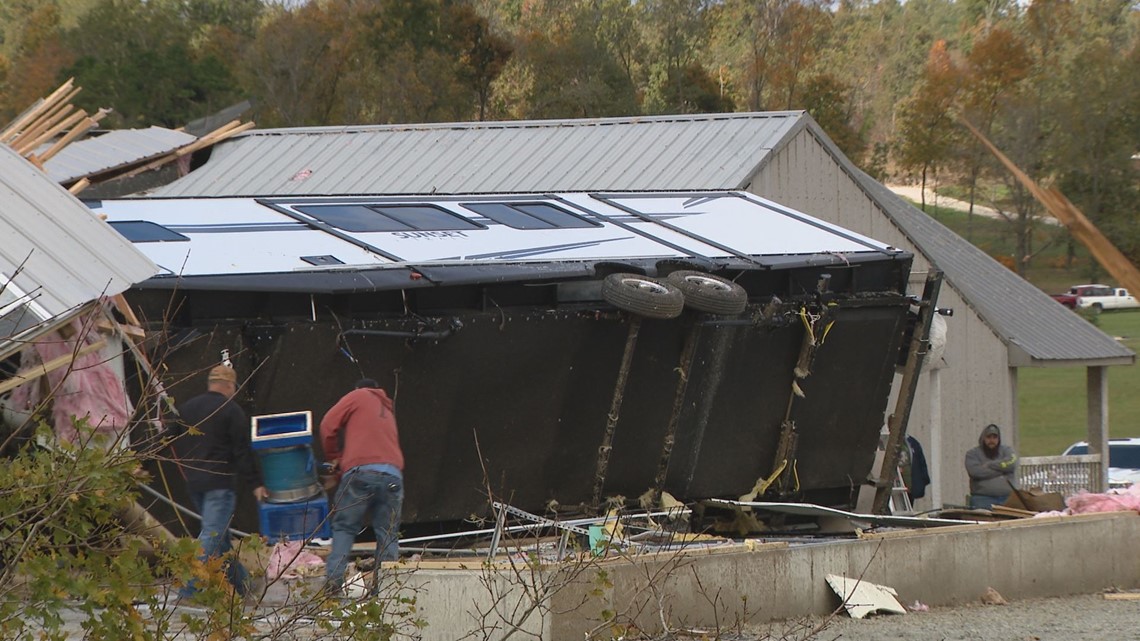 Gerry Stephens built his business in 2011 from the ground up.
"I started with nothing, the building right there was sitting in the middle of the field as a barn and I started right here, yeah it's hard," Stephens said.
Sunday night, not too far from the shop, he was at home. Soon though, he got a call that RV's were scattered on the road.
"I came here last night and walked around with a flashlight until 2 a.m.," Stephens recalled. "Everything upfront here is all my new stuff, basically all of it has something. Debris coming from the buildings went into them and that's what really damaged them."
In a state of shock, Stephens is still able to feel gratitude.
"I'll be alright, I'll make it, I'll start over. The support is overwhelming, it's a great community. Nobody got hurt, that's the main thing, none of my workers got hurt and that's the most important thing. We can build another dealership, we can't replace a person," Stephens said.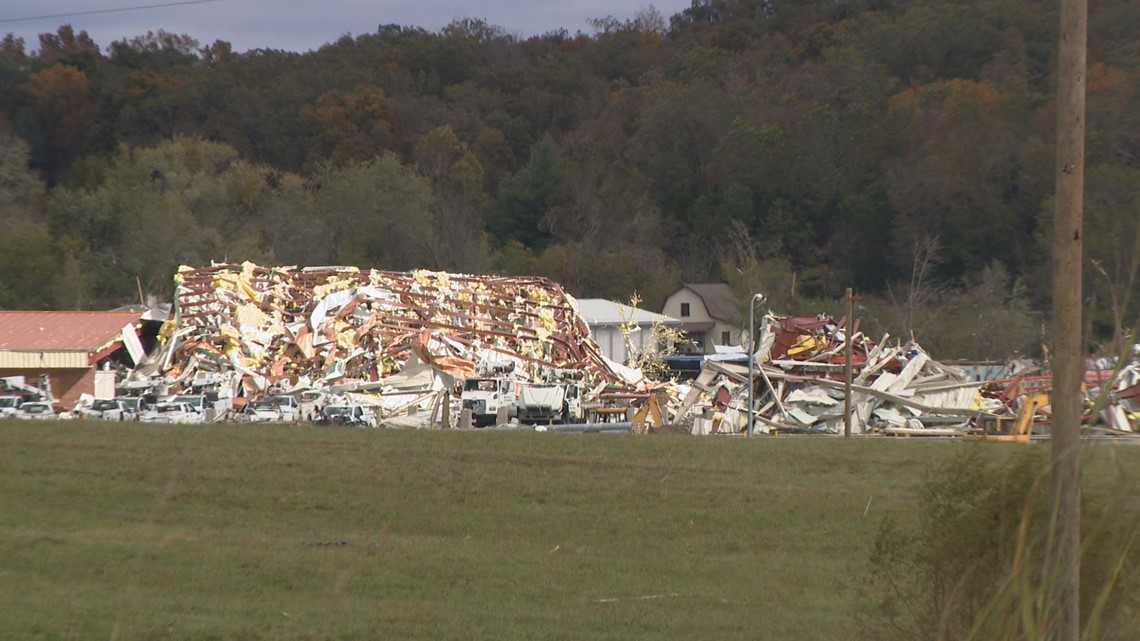 Down the street from the dealership is the Black River Electric Cooperative.
The electric company is seeing damage in the main office, warehouse, dispatch center, and nearly all of its trucks.
Fortunately, no one was hurt and they were still working hard throughout the night and day.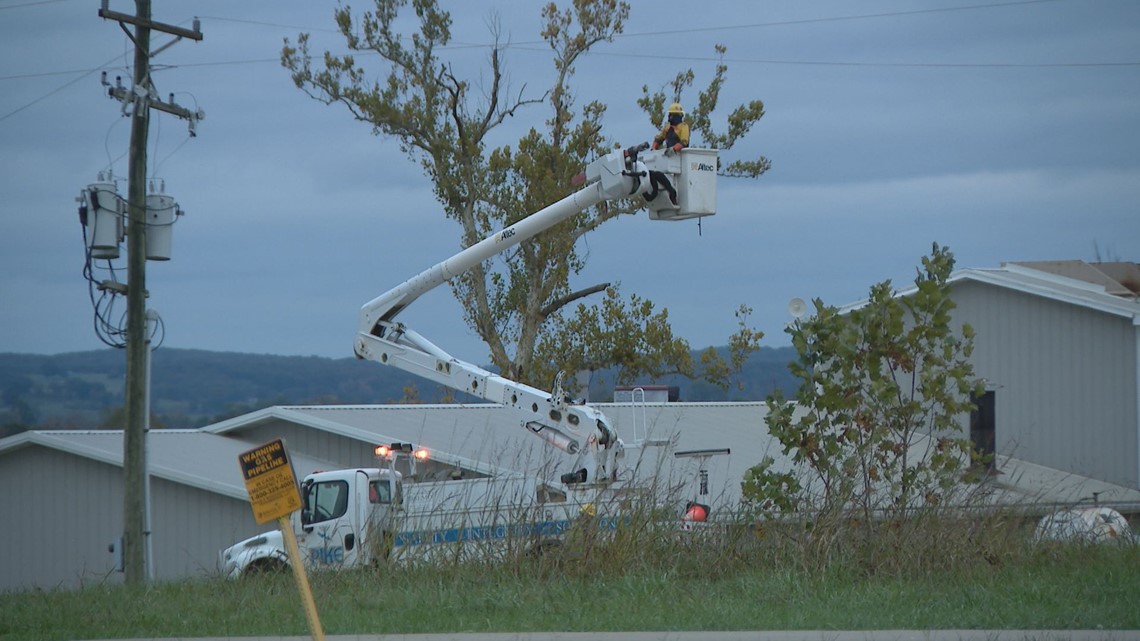 Crews will need to replace an estimated 50 broken poles and twisted wires.
In a press release, Black River Electric CEO John Singleton said, "It's a struggle because of the number of vehicles that were damaged. Several contractor crews on our system and a few neighboring ones came in last night and have made a lot of progress. Our crews worked all night. There were 6,500 out at the peak. We are down to just 1,100 this evening."
Due to the community-wide power outages, Fredericktown R-1 Schools canceled classes Monday.
To help, trucks and lineworkers from Black River's Ellington and Marble Hill offices moved to the Fredericktown area on Sunday.
Black River is also being assisted by electric cooperatives out of the storm's path:
Cuivre River Electric Cooperative, Troy
Crawford Electric Cooperative, Bourbon
Howell-Oregon Electric Cooperative, West Plains
Intercounty Electric Cooperative, Licking
M&A Electric Power Cooperative, Poplar Bluff
Ozark Border Electric Cooperative, Poplar Bluff
Pemiscot-Dunklin Electric Cooperative, Hayti
SEMO Electric Cooperative, Sikeston
Singleton asks for patience as crews work and urged extreme caution in areas where downed power lines may be.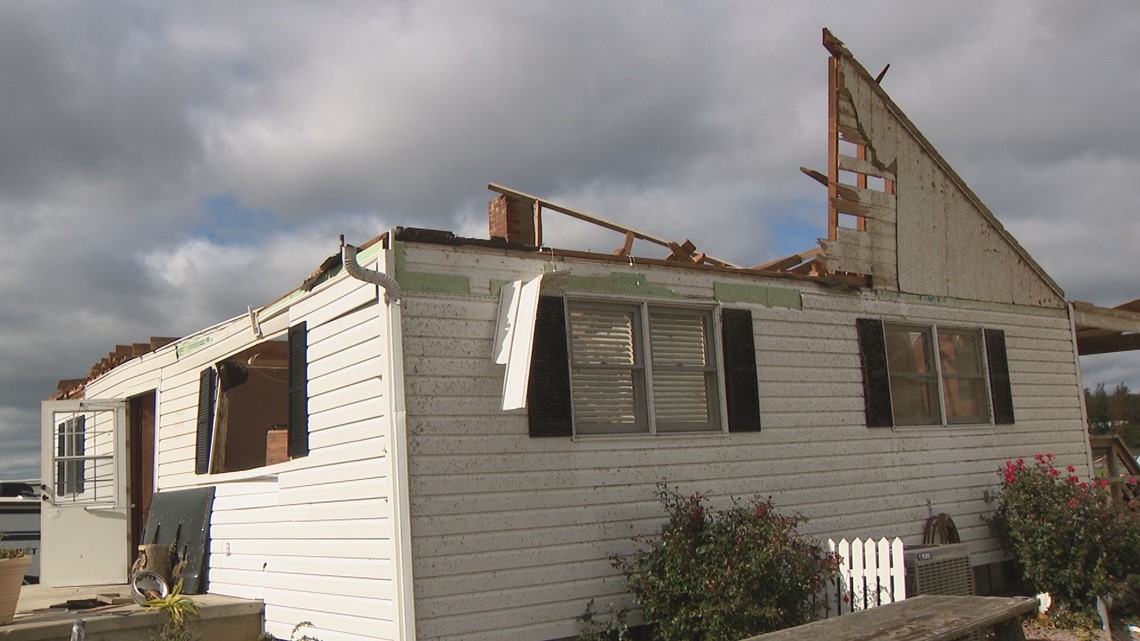 As far as homeowners, next door to the 72 West Motors & RV's is Anthony Smith's home with a family of five.
Smith explains he saw the wind pick up and told his family to rush to the basement.
"I literally said I think we need to start to go downstairs and when I said that, a bomb went off and all the insulation from the attic was blowing around, we couldn't see. I felt like I was in an action movie," Smith added.
He knew right away before rushing to the basement, he had to grab his dad.
"My dad does dialysis, he has kidney failure and he takes sleep medicine to help him sleep and he took it, I ran and I scooped him up like a baby. As I was doing that, the bedroom roof ripped off and got him downstairs," Smith explained.
After being buried in the basement by debris, a neighbor dug them out and now, is letting the family stay there.
Smith tells 5 On Your Side he moved to Fredericktown over a year ago to turn his life around and to help his dad.
His dad hasn't been working since he's needing a kidney transplant and has been on the waitlist for three years.
Smith has been working at the Tattoo Company in Potosi, Missouri, to pay for the bills.
Yet, in the last six months, his mom was diagnosed with stage 4 cancer and is in hospice currently.
"It's one thing after another, it just gets really crazy, I hope it's the end of the storm. No pun intended," Smith chuckled. "Last night I was having a hard time, an anxiety attack and I went into shock for a while. It was getting bad for me, everything we worked for is gone. But I am just happy we are all alive, the material stuff doesn't mean anything in the end."
Even though his home is destroyed, he's thankful, they are okay and for the community support.
Jamie Crocker is the owner of the Tattoo Company and he's also become best friends with Smith.
Now, he's trying to help Smith out, after losing everything.
He says with every $20 donation, you'll be able to enter to win a $500 tattoo.
To donate on Venmo, you can go to: @ajsmithtattoocompany or CashApp: $AJSmithTATTOOS
If you'd like to help families in the area, Sgt. Clark Parrott with the Missouri State Highway Patrol says to call Madison County Sheriff's Office or Madison County Health Department.
To donate, you can call 1-800 RED CROSS or text the word REDCROSS to 90999 to make a $10 donation or donate online here.
Those needing assistance can call 1-800-Red-Cross or go here for more information.