ST. LOUIS — A large storm system is bringing heavy rain and snow to the middle part of the country early this week. By Monday evening, some areas had already seen over an inch of rain across parts of Missouri and Illinois. Stronger thunderstorms rolled across far southern Missouri and into Arkansas during the afternoon.
As the complex upper level pattern evolves over the Midwest through Wednesday, colder air will work into the back side of the system providing an opportunity for accumulating snow for portions of Missouri, Illinois, Iowa, Indiana, Michigan and Ohio.
High Resolution Futurecast for the next 12 hours: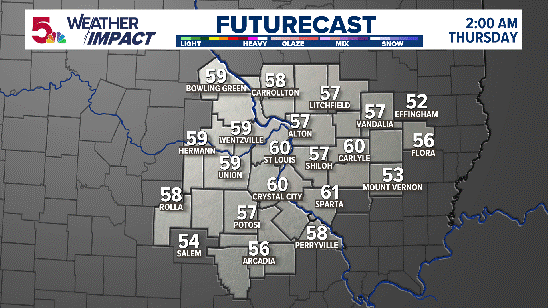 While there is a chance some snow may mix in to the north of the metro area by early Tuesday, temperatures will remain too warm for any accumulation.
By Tuesday evening into early Wednesday, it will become cold enough for the rain to change to all snow across the 5 On Your Side area.

Download the 5 On Your Side app to track the wintry weather with radar and get the latest updates for your area:
Even so, the ground is warm and air temperatures are expected to remain just above freezing in most areas until around daybreak Wednesday. With the cold air generally lacking and the warm ground, accumulations should be limited to mostly grassy or elevated areas. The exception to that may be farther north and northwest of St. Louis where temperatures drop just below freezing by early Wednesday.

Accumulations will range from nearly nothing southeast of the metro to perhaps 2 or 3 inches near Bowling Green, Missouri.
Gusty winds will drive wind chills into the teens and 20s Wednesday afternoon as the snow showers pull away from the area.
READ MORE: