ST. LOUIS — Looking for an outdoor adventure to get away this summer?
You might have been camping before, but what about 'glamping?'
Glamping is camping, but with what some may call a "glamorous" touch. Here are several spots for you to try out and they're all just a road trip away from the St. Louis area!
Editor's note: the video attached to this story is from 2017
On Airbnb, it has a 4.96 rating with more than 300 reviews. It can fit up to six guests and includes four beds and one bathroom.
"The tipi is tucked away in the woods on a 16-acre property where secluded forests envelope the maintained grounds. You will have plenty of solitude and space to hang your headdress, Yes, it's true, we supply free firewood, and a s'mores kit, too," the hosts wrote on Airbnb.
One of the reviews said, "one of the most amazing experiences you will have."
And for additional fees, the hosts officer hot tub access, wedding services, vow renewals and more.
According to 'Visit Missouri', there are several Missouri state parks that offer yurts, which are circular structures supported by a wooden frame and covered with fabric. There are also windows and a dome skylight for ventilation.
Lake of the Ozarks State Park offers an alternate camping experience with its yurts. The yurts feature a log futon, log futon bunk bed, a dorm-size refrigerator, microwave, coffee table, lamp, air conditioner and heater. The units can sleep five with a maximum occupancy of six.
Guests must bring their own linens and sleeping bags. Guests can bring up to two dogs as well! There's also a table to dine at, fire ring and grill for barbecuing or campfires. A casual restroom and shower house are located within walking distance.
Each yurt has a log futon, log futon bunk bed, a dorm-size refrigerator, coffee table, lamp, air conditioner and heater. The unit sleeps five with a maximum occupancy of six. Tents or other alternate lodging accommodations are not allowed in the rental areas. Up to two dogs are allowed in certain yurts as part of the Cabins for Canines program.
The premium yurt includes two bedrooms, air conditioning and heating, a full bathroom with a tub and shower, kitchen, living room, televisions, deck with lake view, dining table, cooking grill and outdoor fire ring. Linens are also provided.
Pets are not allowed inside the yurt, according to Missouri State Parks website.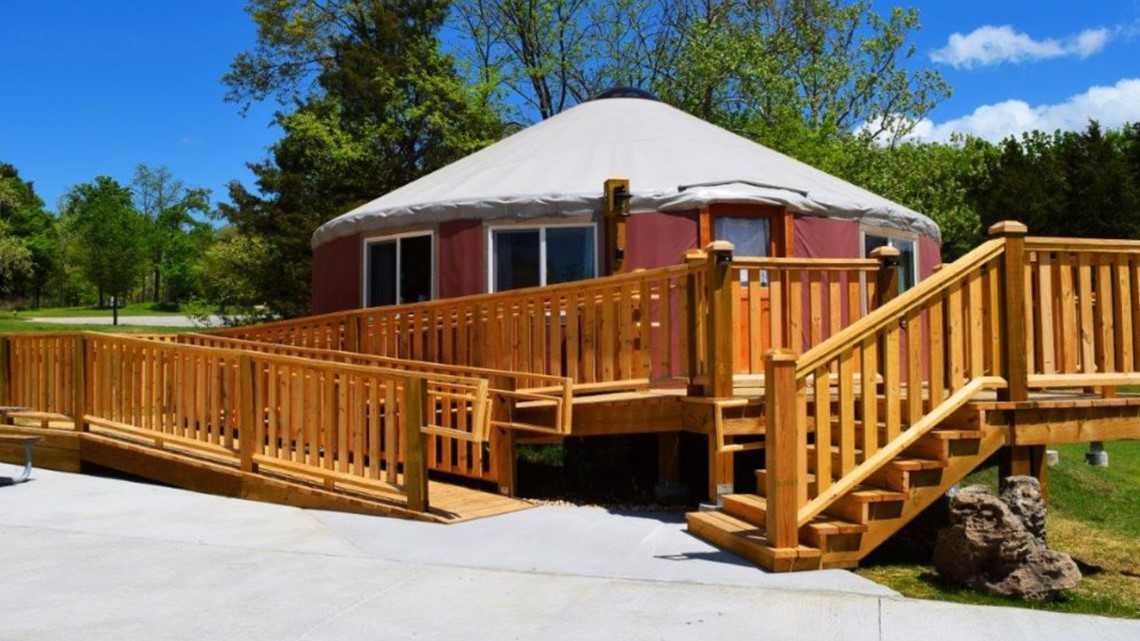 There are several options to choose from at Branson Treehouse Adventures.
The 'Grist Mill' has two private king size bedrooms, fully furnished kitchenette, shower, living and dining area and a secluded four person Jacuzzi on the back deck.
Pets are not allowed, according to its website.
Hawley Farm is a "secluded, luxury, boutique" glamping resort near Kansas City. It's located in Hamilton.
There are several different options and amenities include: coffee and breakfast delivered each morning, gardens and trails, pond fishing, swimming and row boating, bedding and linens, porta-potty and solar shower at each site and s'mores for a sweet treat!
Reviews on the resort's website called it "an amazing experience!"
There are several options at the site in St. Charles tucked away on the Mississippi River: glamping tents, cottages and a vintage Airstream. Guests can enjoy boating, fishing, biking, bird watching and scenic drives. What's unique about this spot is that there are "floating" glamping tents right on the channel to the Mississippi River.
Several reviews on Facebook called this spot, "relaxing and very accommodating."
The River of Life Farm is located at "The Falls" in the heart of the Wild Tour Management Area of the North Fork of the White River.
There are several options. The 'Treetop Cedar Chest' includes a queen bed, whirlpool tub, fireplace, kitchen and bathroom.
The tree house can fit up to eight guests and includes a half-bathroom and a private kitchen. It also has an air conditioning window unit.
It has a 4.9 out of 5 rating with 17 reviews on GlampingHub.
"Guests will climb a 10-foot ladder to find a cozy cabin loft that is a popular favorite. The loft has a super reader, writer, sleeper, or lover's nook with a twin bed made from pines of the land. Guests can look up through 2 skylights to see the huge pines. There is a queen bed, three twin beds, and one air mattress when needed," the host said on GlampingHub.
Glamping units at Camp Long Creek combine camping and comfort. There's wood floors, a king bed and a chandelier hanging above. There's also cooling and heating along with a private bathroom, table and chairs, a refrigerator and coffee maker. The units are pet-friendly.