ST. LOUIS — Thursday starts off cold with temperatures in the 10s and 20s, but winds have relaxed overnight and should remain calm through the early morning hours. High temperatures will stay cool with lower to mid 40s across both Missouri and Illinois with winds picking up a bit by the evening with gusts up to 20 mph. Friday is expected to be a bit warmer and breezy with mostly cloudy skies as a cold front approaches. That front will slide overhead Friday night and could produce a few light showers through the pre-dawn hours of Saturday morning.
Saturday looks to be cold and breezy with a mix of sun and clouds as the front quickly pushes east. Temperatures will fall from the 50s in the morning with 40s by the afternoon hours. Early Sunday morning, another system will slide in from the south, but with the cold air in place, there is some question as to what type of precipitation could fall. One or two hours before sunrise on Sunday, if precipitation can develop, there is potential that some of it could fall as freezing rain. If this develops, it would occur in extreme southern Missouri, but impacting some of the 5 On Your Side viewing area. Counties included: Phelps, Iron, Reynolds, Madison, St. Francois, Ste. Genevieve, Perry (MO). Details on the freezing rain potential will become more clear through the next couple of days and if any freezing rain does develop it should be light, less than .10", but again this is not certain just yet. Stay tuned for updates on this.
As temperatures warm on Sunday into the 40s, showers should be all liquid through the day and should remain south of St. Louis. Monday widespread rain is more likely.

LATEST HIGH-RESOLUTION MODEL FORECAST FOR THE NEXT 12 HOURS
Today: Sun & clouds, not as windy. Highs in the mid 40s.
Tonight: Mostly clear. Lows in the 30s.
Friday: Increasing clouds with breezy winds. Highs near 60. A spot shower or sprinkle overnight.
Saturday: Clouds clear early, then mostly sunny with a cold wind. Temperatures will fall from the 50s early in the morning into the 40s by the afternoon.
Sunday: Mostly cloudy with a chance of rain south, maybe some light freezing rain early before changing to all rain. Highs in the 40s.
Monday: Showers likely...highs near 50.
Tuesday: A few lingering showers possible, otherwise mostly cloudy and breezy. Highs in the 40s.
Wednesday: Partly cloudy. Highs around 40.
Download the free 5 On Your Side app to get the latest watches and warnings and track conditions live with our interactive radar. Use the links below to download now.
The Weather First Team will use "Storm Alert" to refer to life-threatening or major-impact weather conditions in our region. "Weather Alert" refers to nuisance or disruptive weather and is indicated by orange icons and bars in our weather graphics on TV and online.
To watch 5 On Your Side broadcasts or reports 24/7, 5 On Your Side is always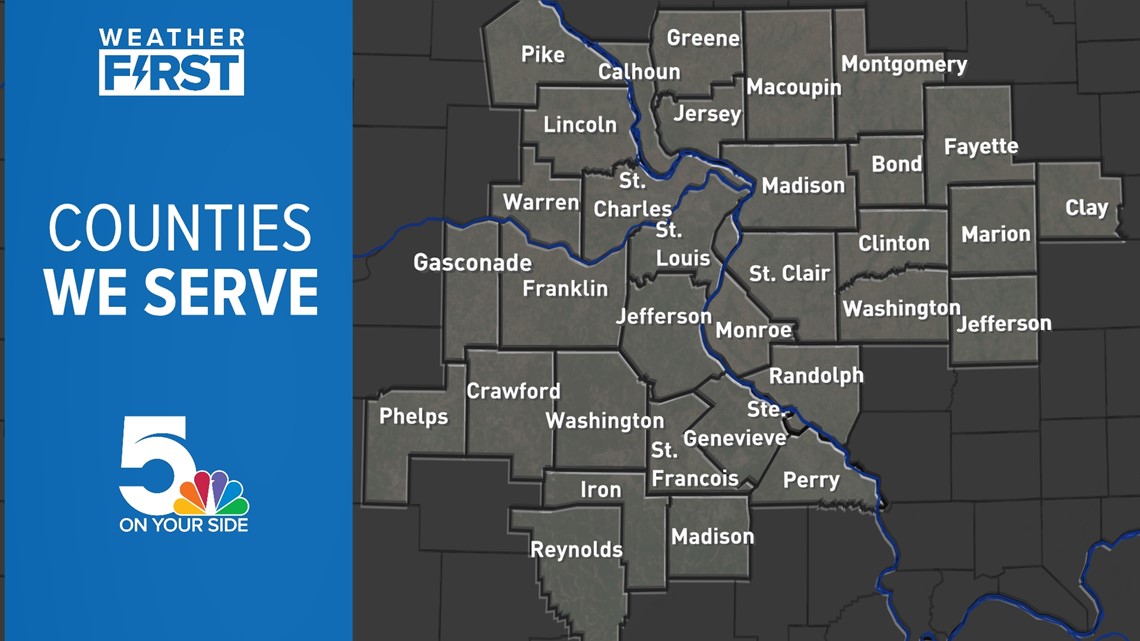 In Missouri, we serve these counties: Crawford County, Franklin County, Gasconade County, Iron County, Jefferson County, Lincoln County, Madison County, Perry County, Phelps County, Pike County, Reynolds County, St. Charles County, St. Francois County, St. Louis City, St. Louis County, Ste. Genevieve County, Warren County and Washington County.
In Illinois, we serve Bond County, Calhoun County, Clay County, Clinton County, Fayette County, Greene County, Jefferson County, Jersey County, Macoupin County, Madison County, Marion County, Monroe County, Montgomery County, Randolph County, St. Clair County and Washington County.