ST. LOUIS — Our temperatures have been well above average through the month of September and the first few days of October this pattern continues. Our average high temperature this time of year is in the mid 70s and our highs will be about 10-15 degrees above average through Wednesday.
A cold front is set to arrive Wednesday night/AM Thursday and another one Thursday night/AM Friday. This will bring us our next opportunity for rain and a big seasonal shift. With the two cold fronts pushing through the area, we are hoping to see .25" to .75" of rain and we will see a dramatic cool down in our temperatures. Morning lows in the 40s and afternoon highs in the 60s are expected next weekend.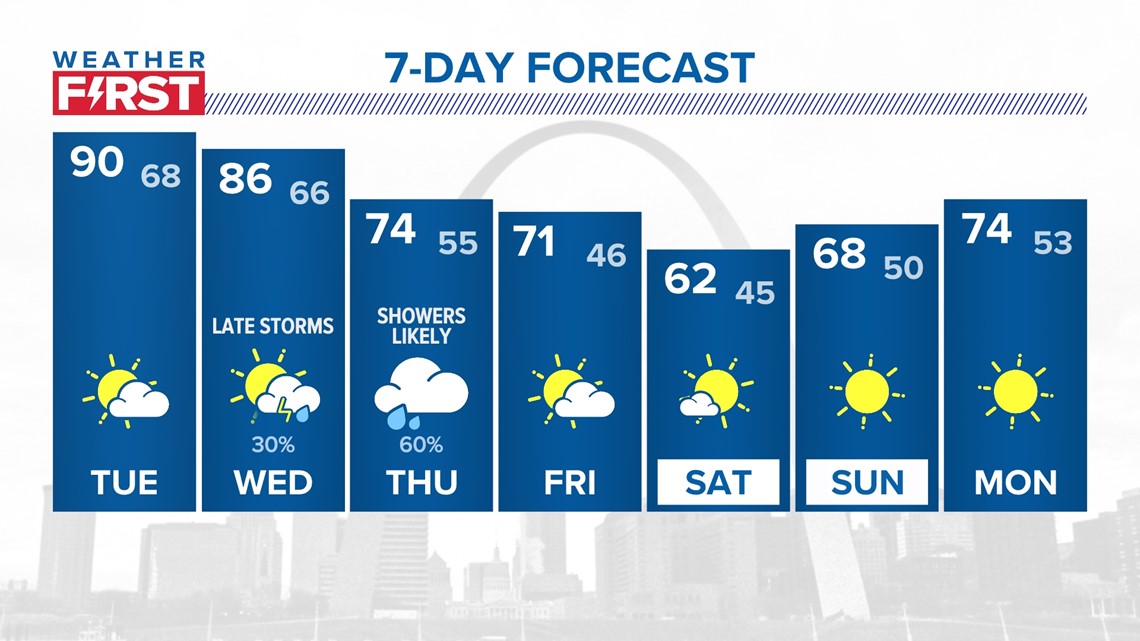 Tonight: Mostly clear...lows in the 60s. 50s outside of St. Louis in the cooler spots. Also patch fog for some.
Tuesday: Partly sunny...highs near 90.

Wednesday: Clouds increase with a few showers and storms possible by late Wednesday. Highs in the 80s.
Thursday: Showers likely, otherwise mostly cloudy. Highs in the 70s.
Friday: Partly to mostly sunny and cooler. Highs in the low 70s.
Saturday: Sunny, with a chill in the air...highs in the lower 60s.
Sunday: Sunny...highs in the upper 60s.
Monday: Sunny and cooler. Highs in the low 70s.
Latest High-Resolution Model Output:
Download the free 5 On Your Side app to get the latest watches and warnings and track conditions live with our interactive radar. Use the links below to download now.
The Weather First Team will use "Storm Alert" to refer to life-threatening or major-impact weather conditions in our region. "Weather Alert" refers to nuisance or disruptive weather and is indicated by orange icons and bars in our weather graphics on TV and online.
To watch 5 On Your Side broadcasts or reports 24/7, 5 On Your Side is always streaming on 5+. Download for free on Roku or Amazon Fire TV.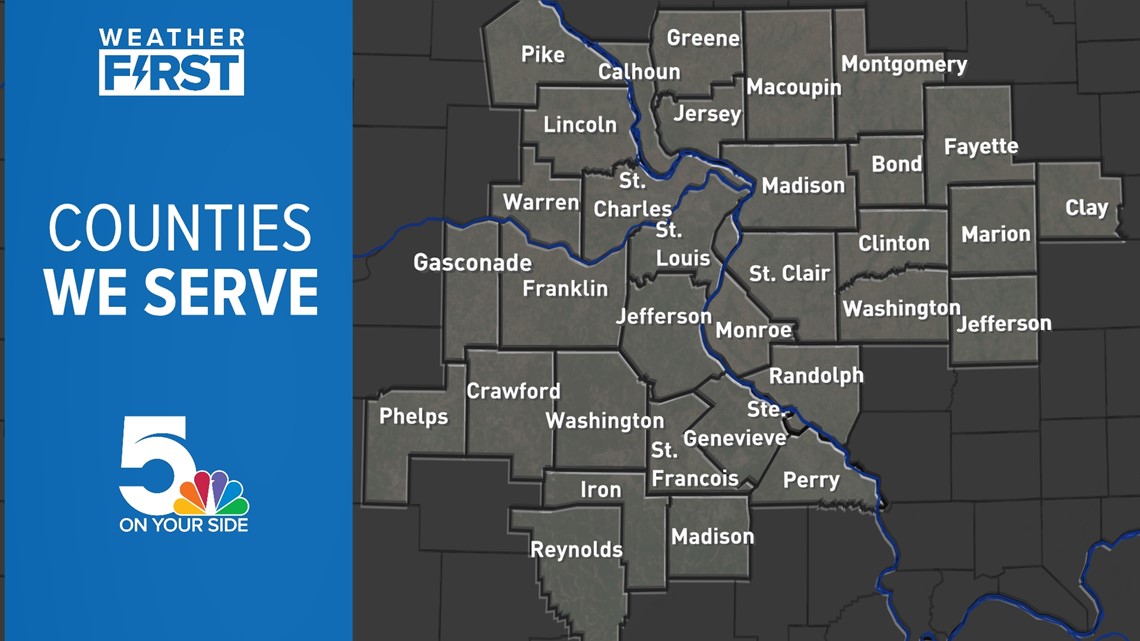 In Missouri, we serve these counties: Crawford County, Franklin County, Gasconade County, Iron County, Jefferson County, Lincoln County, Madison County, Perry County, Phelps County, Pike County, Reynolds County, St. Charles County, St. Francois County, St. Louis City, St. Louis County, Ste. Genevieve County, Warren County, and Washington County.
In Illinois, we serve Bond County, Calhoun County, Clay County, Clinton County, Fayette County, Greene County, Jefferson County, Jersey County, Macoupin County, Madison County, Marion County, Monroe County, Montgomery County, Randolph County, St. Clair County, and Washington County.