ST. LOUIS — Temperatures haven't moved a whole lot over the last few days, but that has been OK for the most part with us being between 45-50 degrees. Light drizzle and fog will once again be prevalent the first part of today. Some brief sunshine will be a welcome sight for many, before clouds increase again later this evening ahead of our next system Saturday.
That system will bring another chance of rain to the area. The heaviest rain is expected from the I-70 corridor and southward, but pesky showers will continue through the early afternoon. Sunday is expected to be dry with lots of clouds and perhaps some sunshine into the afternoon, especially north.
Our wet pattern sticks around into next week with yet another system bringing rain by late Monday night into Tuesday. It will be quite windy by Tuesday and this dynamic storm system may even bring a few thunderstorms. Temperatures will climb well into the 50s.
Behind that system, colder air will start to filter into the Bi-state by the end of next week.

LATEST HIGH-RESOLUTION MODEL FORECAST FOR THE NEXT 12 HOURS
Today: Mostly cloudy in the morning with an early shower, then partly sunny...highs in the low 50s.
Saturday: Showers into the early afternoon, otherwise mostly cloudy. Highs in the upper 40s
Sunday: Mostly cloudy to partly cloudy. Highs near 50.
Monday: Mostly cloudy with rain chances overnight. Highs near 50.
Tuesday: Windy with rain likely and a chance of thunderstorms. Highs in the 50s.
Wednesday: Mostly cloudy with shower chances mainly in the morning. Highs near 50.
Thursday: Partly cloudy, colder. Highs near 40.
Download the free 5 On Your Side app to get the latest watches and warnings and track conditions live with our interactive radar. Use the links below to download now.
The Weather First Team will use "Storm Alert" to refer to life-threatening or major-impact weather conditions in our region. "Weather Alert" refers to nuisance or disruptive weather and is indicated by orange icons and bars in our weather graphics on TV and online.
To watch 5 On Your Side broadcasts or reports 24/7, 5 On Your Side is always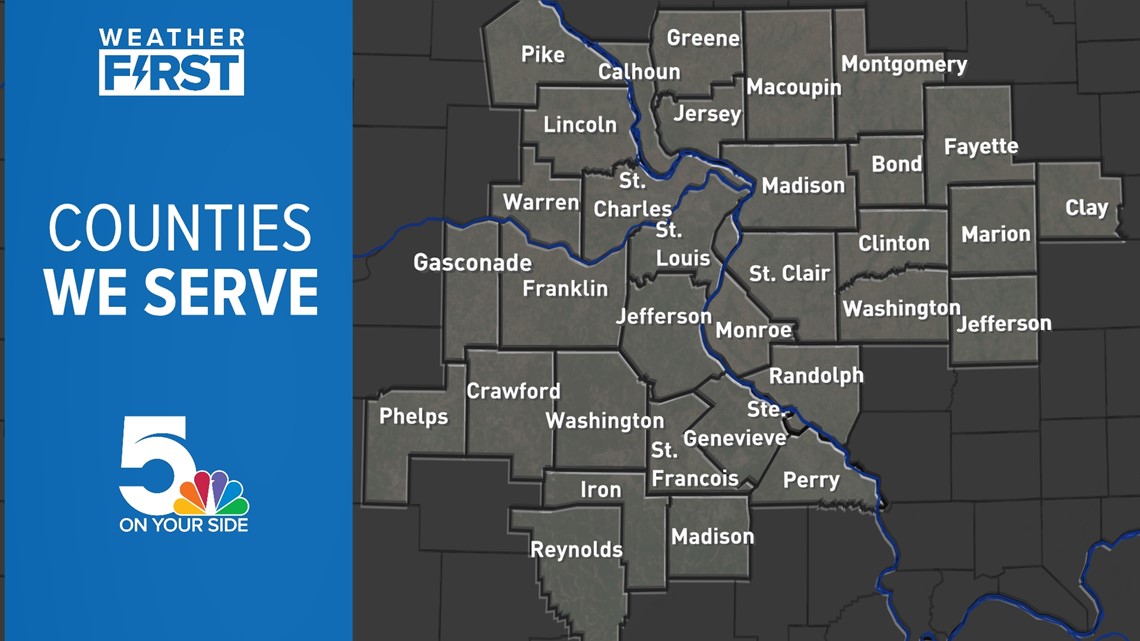 In Missouri, we serve these counties: Crawford County, Franklin County, Gasconade County, Iron County, Jefferson County, Lincoln County, Madison County, Perry County, Phelps County, Pike County, Reynolds County, St. Charles County, St. Francois County, St. Louis City, St. Louis County, Ste. Genevieve County, Warren County and Washington County.
In Illinois, we serve Bond County, Calhoun County, Clay County, Clinton County, Fayette County, Greene County, Jefferson County, Jersey County, Macoupin County, Madison County, Marion County, Monroe County, Montgomery County, Randolph County, St. Clair County and Washington County.