TOWN AND COUNTRY, Mo. — The happiest day of Dennis Price's life was when Van Halen made him an honorary fifth member of the legendary rock band even though he only had the use of his right arm.
He kept a picture of the moment in his room at every nursing home he lived in following a motorcycle accident that left him severely disabled at the age of 24.
In it, his smile beams across his face. His right arm rests on Eddie Van Halen's shoulder. Sammy Haggar has his arms around Price and Michael Anthony while Alex Van Halen kneels next to Price, using Price's wheelchair as an arm rest.
It's that smile and moment of true happiness his family members have clung to following his death at Delmar Gardens West in Town and Country – a death his family is hoping will become a catalyst for stricter regulations at nursing homes and higher standards for those who work in them.
"I can tell you from a front-row seat, the minimum standards are too minimum," said Melissa Smith, Dennis's younger sister. "There needs to be higher standards (for the people who work there). There needs to be training and there needs to be inspections, not only when somebody complains, there needs to be inspections constantly and people need to be held accountable."
Dennis Price's family reported its concerns — which included urine-soaked bedding, a lack of monitoring in dining rooms, prolonged lapses in the oxygen canula that he was supposed to wear constantly — to the Department of Health and Senior Services following his death in August 2022.
The state conducted an inspection and didn't substantiate any of the family's claims.
"I was unable to verify a regulatory violation had occurred, related to dietary safety, oxygen safety, inadequate assessment/monitoring, or family not notified of change in condition, based on the lack of sufficient evidence gathered during the investigative process," wrote Rachel Nicoll, a registered nurse who conducted the state's investigation.
Delmar Gardens West sent a statement to the I-Team about the situation, which read:
"First and foremost, our staff strive to deliver excellent care to all of our dear residents that we are privileged to care for. Delmar Gardens has a rich tradition of providing loving and compassionate care to seniors for the past 55 years. Concerns are taken seriously, and we review each carefully and act accordingly … Delmar Gardens West was investigated by the Department of Health and Senior Services (DHSS) after a complaint was lodged. After a four-part, onsite investigation by DHSS, the complaints were not substantiated, and the facility did not receive any deficiencies."
Motorcycle accident
Dennis Price spent a year in the hospital following the crash.
In the 38 years since, he's only regained some of his abilities.
"Over the years, he's been in and out of nursing homes," Melissa Price said.
For the last four-and-a-half years of his life, he lived at Delmar Gardens West in Town and Country.
"We were always told after the research, and everybody we all talked to, that it was the best," Melissa Price said.
Soon, the family started having doubts.
They said they, their mother and their other sister visited Dennis every day.
"We would get there multiple times and he would not have his oxygen on," said Teresa Bomkamp, Dennis's younger sister. "And they all knew his oxygen was 24/7."
Other times, they said he would be soaked in urine.
They were often the ones serving meals to their brother and other residents.
"At one point, when Dennis was in the hospital, my mom got a call from the kitchen and they said, 'Is one of you coming tonight?'" Melissa Price said.
The I-Team found in 2020, a family sued Delmar Gardens West alleging their loved one choked to death in a dining room that was supposed to be monitored.
In its response, Delmar Gardens West denied any wrongdoing and the lawsuit is still pending.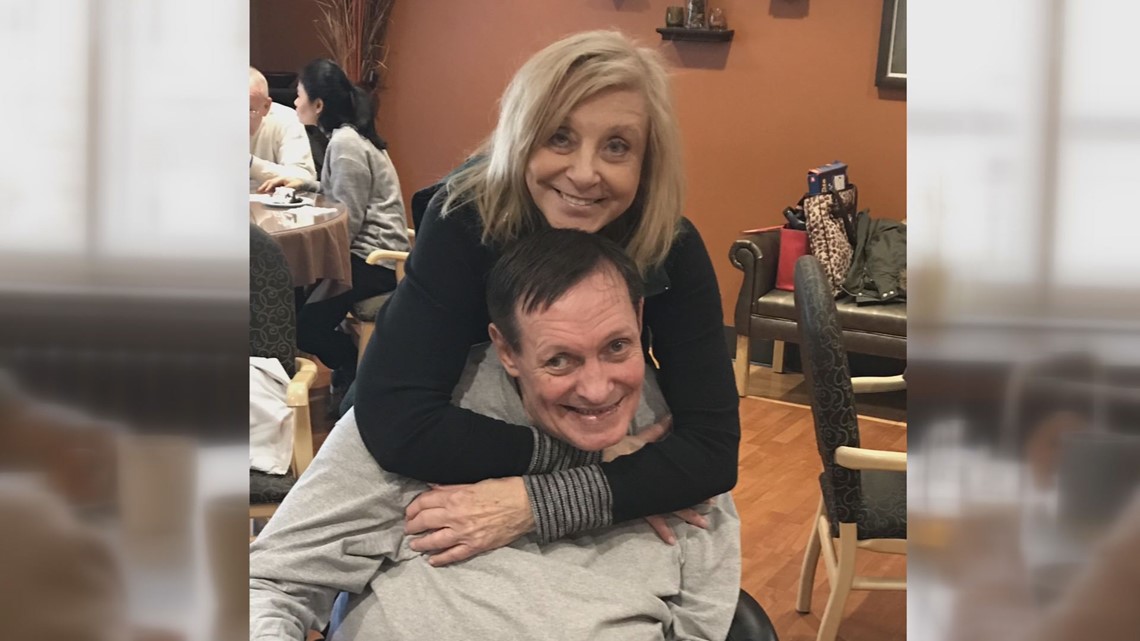 State inspection
Still, the sisters said they didn't feel like they had any better options when it came to where their brother should live.
"We would ask around at other nursing homes and the comment was always, 'This is normal for nursing homes,'" Melissa Price said. "This can't be normal for nursing homes."
On Aug. 26, 2022, Dennis' mother got a phone call from Delmar Gardens West staff telling her Dennis had died.
"She had dinner with him the night before," Teresa Bomkamp said of her mother, who was too distraught to talk about the situation with the I-Team.
His death certificate lists pulmonary thromboembolism as his primary cause of death.
It's a condition that causes a blood clot to form and lodge in a person's lung. It can be fatal if untreated or undetected until it's too late.
Melissa told state investigators she talked to his aide about his final moments over the phone.
"She said, which I wish I could get out of my head, 'No, he wasn't asleep. He was in horrible pain. He said he couldn't breathe. He told her he was giving up,'" Melissa Price said.
The sisters called the state's hotline to file a complaint with the Missouri Department of Health and Senior Services.
The state sent the family a letter following its inspection, summarizing an interview conducted with the same aide Melissa Price spoke to.
"The aide was asked several times if she thought he was actively dying that night, but she said, 'No,'" according to the letter. "She asked if he was in pain or if he needed anything, but he said he was fine and did not want anything."
The aide also told the state she was concerned Price was in pain because he had a "congested rattle," so she called a nurse in to check his vitals.
The family wants to know why no one called them.
"They all knew us, they knew my mom so well, they knew us and our other sister, they didn't bother to call anybody," Melissa Price said.
The aide also told the state she checked on Dennis Price at 5:30 on the morning he died, "To make sure he was clean because sometimes he was wet."
That's when she found him dead, according to the letter.
Number of inspections
There are 1,154 assisted care facilities in Missouri alone.
The Department of Health and Senior Services told the I-Team it inspects all of them once a year.
It also investigated 15,000 complaints similar to the one Dennis Price's sisters filed during the past three years.
There are only 128 investigators to do it.
The sisters said patients similar to their brother deserve better.
They're haunted by the residents their brother also considered to be his family who still live there.
The sisters said they thought one way to hold Delmar Gardens West accountable was to file a lawsuit.
Civil attorneys have told them their brother's life didn't have any economic value, so they have not been able to find an attorney to take the case.
"We're not in this for money," Melissa Smith said. "We're in this to make change."
It's the faces of the residents their brother considered his family that the sisters can't forget.
"Things have to change, and they count on us not talking about it and not telling people what we saw there," Melissa Smith said. "We're not going to stop talking about it until a change is made.
"We owe it to our brother, to his legacy and to the people that are there," she said.
Some of those people also include staff members at Delmar Gardens West, who the sisters said cared for their brother and the patients there, who often grew frustrated, overwhelmed and burned out.
"They deserve better too," Teresa Bomkamp said.
The family held Dennis Price's funeral at Delmar Gardens West, so his closest friends and the staff members who cared could attend.
They played the song "Distance," written by Wolfgang Van Halen, at the end of the ceremony.
"It says, 'I'm so happy that you found a place that's better than this rock we're living on,'" Melissa Smith said. "And we're so happy he's in a better place.
"But we know we know he would want his voice to still be heard and to make a change for the people who are still here," she said.
To watch 5 On Your Side broadcasts or reports 24/7, 5 On Your Side is always streaming on 5+. Download for free on Roku or Amazon Fire TV.