WENTZVILLE, Mo. — The St. Louis Board of Aldermen and a Missouri state representative are the latest to join people at picket lines at GM in Wentzville, Missouri.
"The Board of Aldermen stand united with our UAW brothers and sisters," Board of Aldermen President Megan Green said during a press conference Monday.
Democratic Missouri House Representative (District 83) Sarah Unsicker greeted and stood with people at Gate four on Monday. She urged local and state leaders who can't join the fight to donate household items to employees who are facing financial burden.
"I understand the plant has to profitable but the profits need to be shared equitably and not just from the top down," Rep. Unsicker said.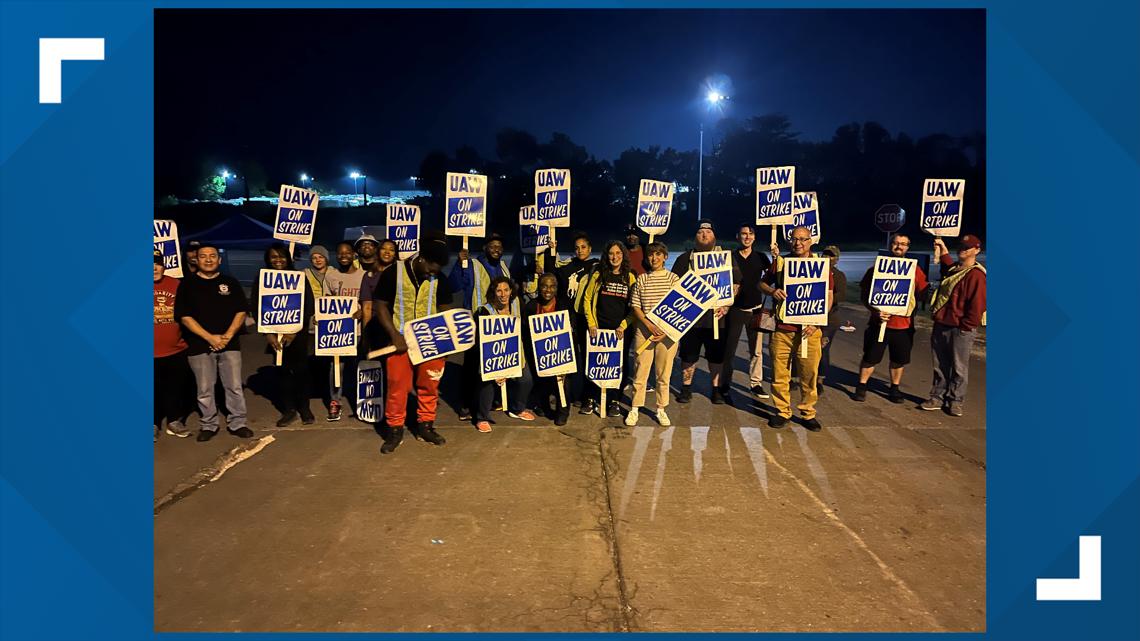 "It's a very unselfish thing for them to be out striking. They could be in there making their regular paycheck but they're going to face economic damage for striking," Rep. Unsicker said.
In Wentzville, Missouri, 5 On Your Side learned that this strategic strike plan could cause temporary layoffs to workers who are not striking because the local facility is a stamping plant, which means it helps provide other facilities with parts. Employees without the parts they need at other plants could soon join their fellow UAW workers on the picket lines.
The GM Fairfax assembly plant in Kansas City, Kansas, could be the first plant nearby impacted by the ripple effects of the strike, which would include temporary layoffs of 2,000 people. GM said it expects to run out of parts in Fairfax as soon as the coming week.
Katie Deatherage was elected to serve as UAW Local 2250's president in May. She's the first woman to do so in 40 years. She said the GM Fairfax plant is part of the strategic strike plan.
"We're stamping some of their parts in Kansas City, Kansas, that build the Malibu & Cadillac. So, they're going to run out of parts and then they will then be on strike with us at that point," Deatherage said.
Workers are on strike around-the-clock outside the gates that surround the GM plant in Wentzville. Deatherage fielded the phone call from the UAW's international president asking to make Wentzville a battleground for this historic strike.
"When we start losing momentum, you start losing hope and you start losing faith. We see this momentum continuing here. And he's (UAW International president Shawn Fain) fighting for us and we're down here supporting him," Deatherage said.
Seventeen years ago, James Barlow got a job making cars at the GM plant in Wentzville.
"Things were different then," Barlow said.
He's 62 now, almost ready to retire, but he joined a picket line Sunday as a picket captain demanding better benefits for workers coming behind him.
"They started us out at $21 an hour as a temporary employee then so it's a lot different. People are coming in now at $15 to $16 hour. In these times, it's not a sustainable wage if someone has a family," Barlow said.
"Strike, stand with us. We all got to stand together," Barlow said.
The UAW is on strike for wage increases, shorter work weeks and restoration of benefits like pensions and retirement plans. The latest update from GM comes from a Sept. 15 statement:
"The UAW has informed GM that they are on strike at Wentzville Assembly in Missouri as of 11:59 p.m. on Thurs, Sept. 14. We are disappointed by the UAW leadership's actions, despite the unprecedented economic package GM put on the table, including historic wage increases and manufacturing commitments. We will continue to bargain in good faith with the union to reach an agreement as quickly as possible for the benefit of our team members, customers, suppliers and communities across the U.S. In the meantime, our priority is the safety of our workforce."
Top St. Louis headlines
Get the latest news and details throughout the St. Louis area from 5 On Your Side broadcasts here.