FERGUSON, Mo. — Today in St. Louis is exploring all the Ferguson-Florissant area has to offer during this Friday's "Meet Me in the Metro" show.
5 On Your Side's Sydney Stallworth dug deep into the soil of a community farm in Florissant growing fresh, affordable food for residents in the area and budding new relationships along the way.
"We want to grow food and provide food for the community," said Tiffany Brewer, the managing director of EarthDance Farm. "But, it really is about the health."
For Brewer, health is wealth, and the soil at EarthDance Farm is rich.
"That's absolutely why I got involved with EarthDance," she said. "That's what you're seeing here: abundant, fresh produce."
From the vegetables, fruit and herbs to even the flowers, everything growing at EarthDance Farm is certified organic.
"It's fresh and hasn't lost that nutritional value because it's been preserved," Brewer said.
It's the kind of food, the farm workers said, is hard to find in Ferguson.
"There's not a lot of grocery stores in this area and fresh vegetables," said Margaret Gerker, operations manager at EarthDance Farm.
Fresh comes at a fraction of the price at the farm's pay-what-you-can produce stand, where "you can find anything from tomatoes to squash to paw-paws, which go really quickly," Gerker said.
City residents stop by, shop the produce and pay however much of the total cost they're able to. Nobody gets turned away.
"We've seen a lot of impact these past couple of years," Gerker said.
The farm is opening the gateway to good health for all, one veggie at a time. It's been doing it for the last 15 years.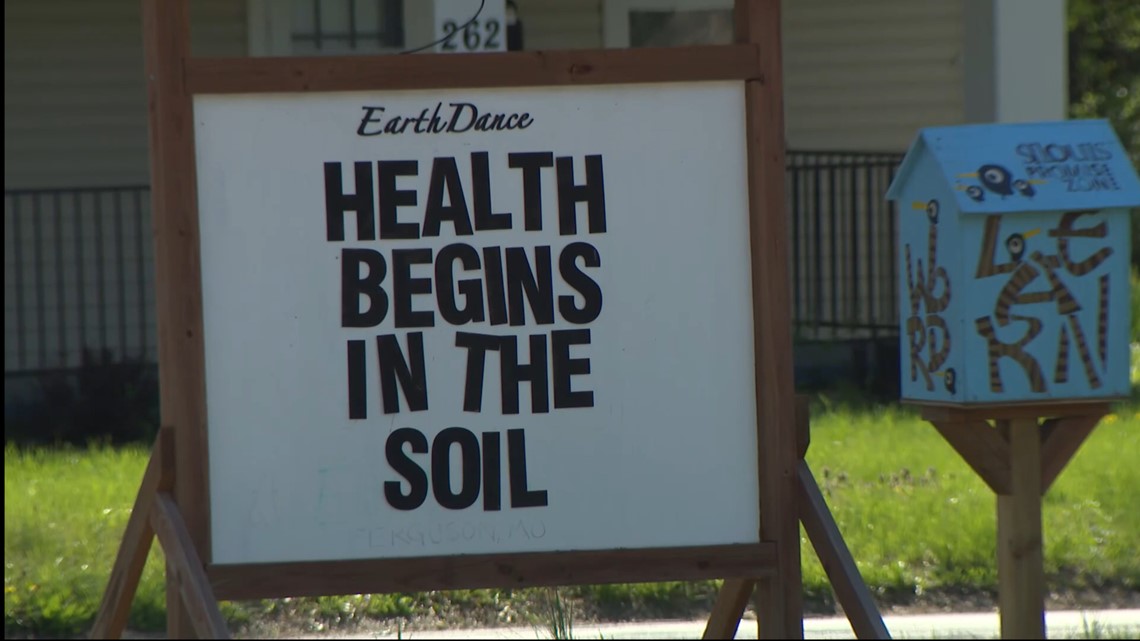 "We really don't want finances to be a barrier," Brewer said. "The empowering feeling you have when you have control over your food source. That's really irreplaceable"
Unfortunately, that empowering feeling is foreign to many Ferguson families. In a 2016 survey, EarthDance found about a third of the people who live in Ferguson struggle to afford food at some point during the year, but more than half of the residents said they want to learn how to grow it themselves.
Brewer said growing your own fresh produce helps "take back some of that power and not have to rely on what's provided in grocery stores so heavily."
Eager, "agro-curious" volunteers are taking back that power with hard-working hands at the farm. The volunteers work side by side with experts in the field as part of EarthDance's farm school.
Volunteers do just about all the responsibilities that exist on a farm, Brewer said. "Transplanting things into the ground, weeding, composting … They do it all."
Volunteers learn how to take a tiny seed from the plot to the plate.
With Brewer's help, Stallworth put her green thumb to the test, lending a hand to the mission: planting a promise rooted in something much deeper.
"It's what we call a 'good food movement,'" Brewer said.
While Stallworth and Brewer plant some new seedlings, Brewer said, "You can taste it- literally."
"You can taste the love," Stallworth said.
Brewer laughed and agreed, "You can literally taste the love."
The farm will host a Healthy & Happy Hour for Give STL Day, with farm tours and activities on May 10.
The pay-what-you-can produce stand reopens for the season on May 5.
To watch 5 On Your Side broadcasts or reports 24/7, 5 On Your Side is always streaming on 5+. Download for free on Roku or Amazon Fire TV.