It may be Halloween season, but the 5 On Your Side I-Team wants to warn you about another kind of masquerade-- a scam that can cost you thousands of dollars and even leave you broken-hearted.
Carla Miller wanted passion, adventure. And one day, it seemed she'd found it.
"I thought 'there's someone who really likes me,'" said Miller, a long-time divorcee who lives in Maryland Heights.
That 'someone' called himself James Lachapelle. He was handsome, and better yet, a marine. They met on a dating site, writing about their hopes and confessing their dreams for hours.
The only cloud in this sunshine of romance was that her beau was stationed In Libya protecting our nation and as he claimed, accidentally discovering a fortune.
"Several of them found some money. Supposedly it was Gaddafi's," said Miller.
But the marine said he didn't have enough money to ship the dictator's "coin" back to the U.S. So Miller helped her "boyfriend" out with a kindness she would regret.
She wired him $30,000, and soon after, her marine became harder and harder to reach. Until one day, he stopped answering his messages.
In fact Miller's dream marine, in uniform, in love, and in need of her help, was a phony. He was part of a growing army of scammers posing as serviceman online to take advantage of your patriotism and loneliness.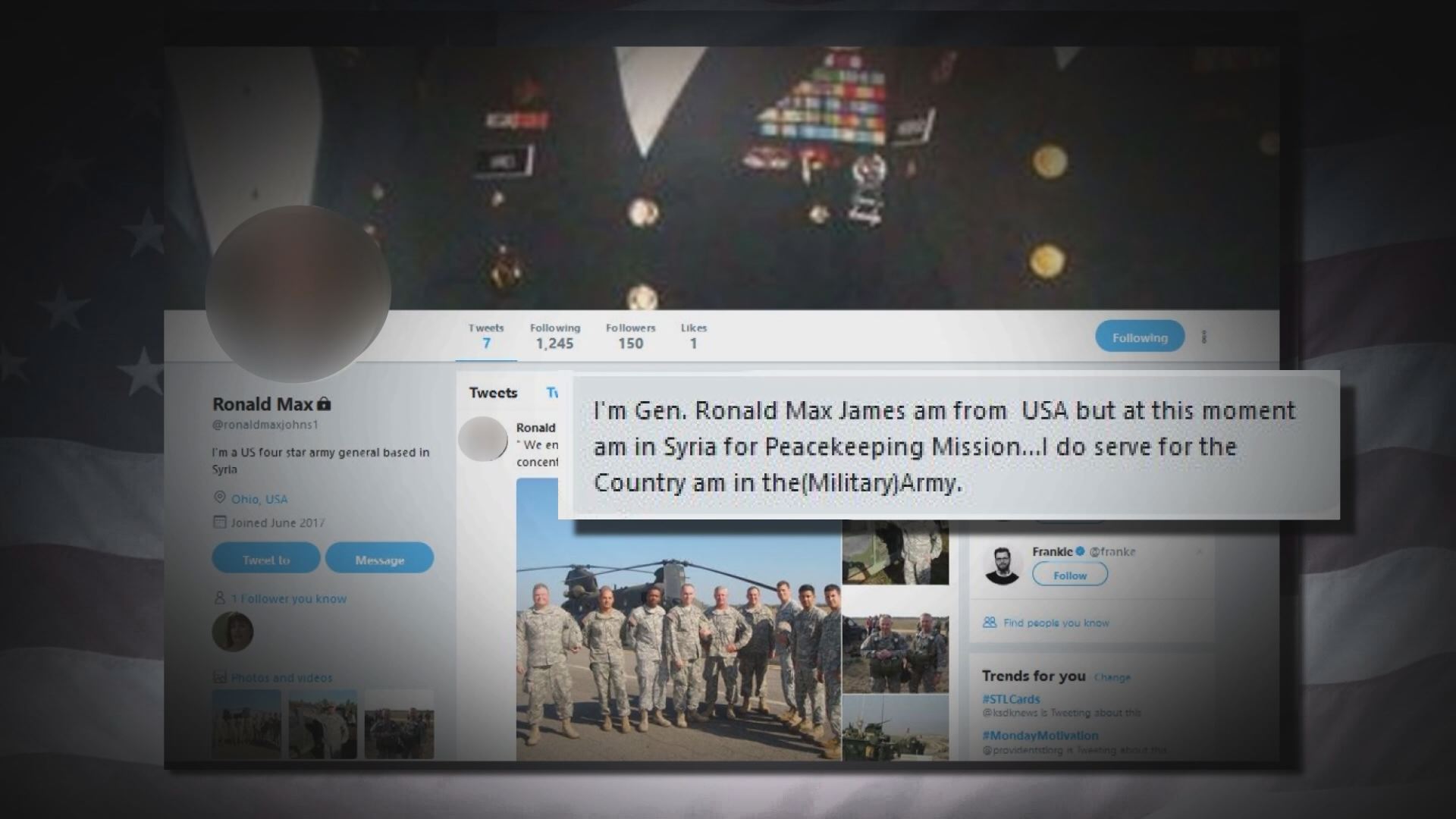 So where do the pics come from?
"The photographs are taken from a lot of different sources," said Christopher Grey, director of Public Affairs for the U.S. Army Criminal Investigation Command.
Grey is the real thing-- an Army officer and investigator.
"They're on the internet; you have people's personal social media platform or maybe they were in a press story where they have a heroic act they did in combat. We've even seen a soldier who was killed in action and they were using his name and his photograph for quite a while until we shut it down," said Grey.
And Grey says it's not just low-ranking servicemen who get used.
"We've seen some of the top generals in the Department of Defense; their photographs have been used, you name it," said Grey.
One ambitious scammer even tried to claim he was four-star retired general David Petreaus.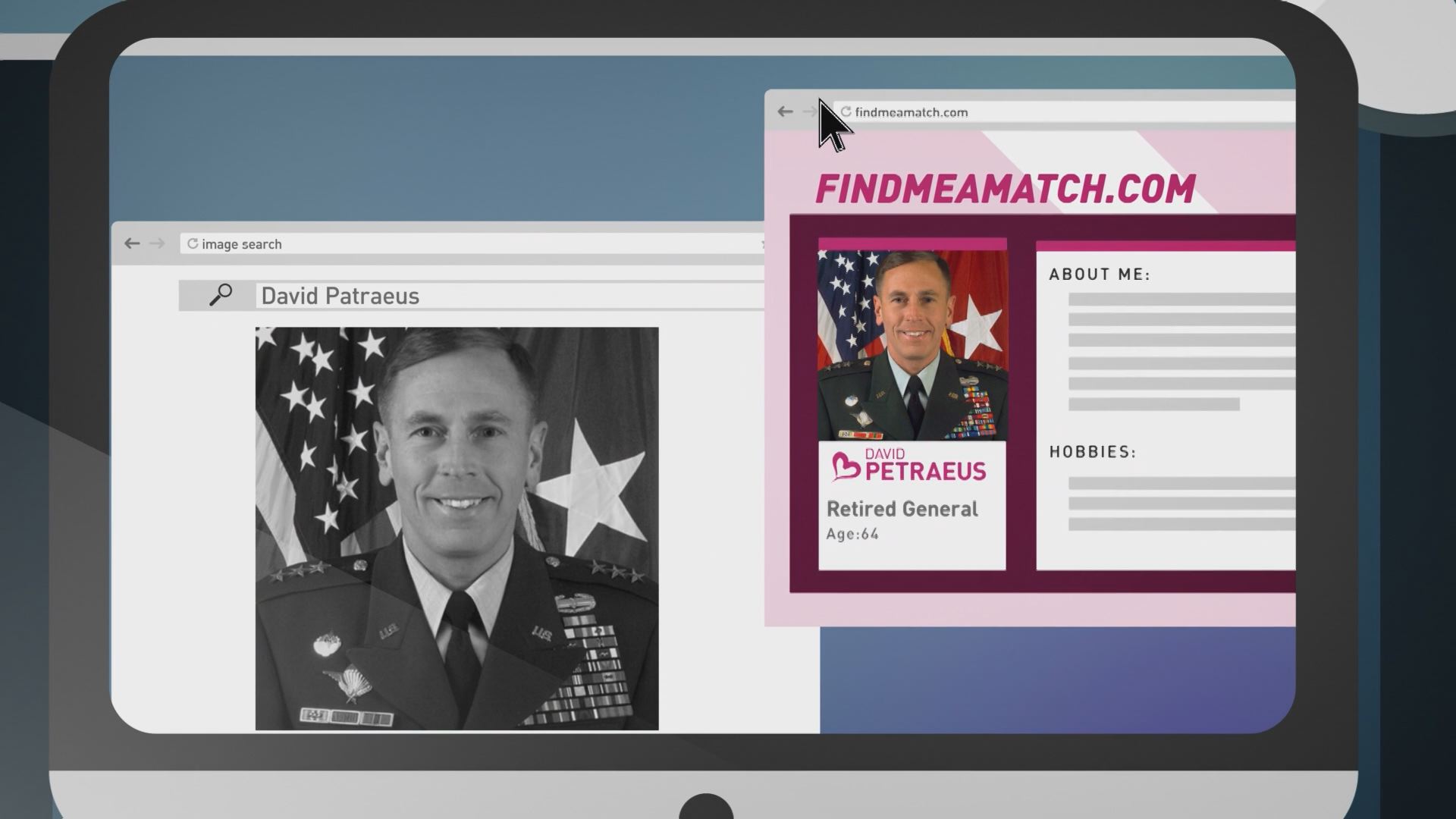 Needless to say, the military is not happy about these con-artists.
"I'm convinced they have almost an equivalent of a call center where they're using scripted cards to talk to ladies," said Grey.
In fact, Grey and others have traced the majority of these military romance scams to Nigeria.
"I had one of the scammers call me threatening me, telling me do I know who he is, how much he makes, that type of thing. I have no doubt this is a very lucrative business," said Grey.
Which brings us back to Miller.
"I believe in the world, there's definitely nice people out there," said Miller.
But she was never able to get her $30,000 back.
Her warning? In the world of online dating, watch your back. Or you could end up saying so long to a lot of money.
Tips to avoid military romance scams
1. Look for an official military email address
"One thing I tell everybody, even if they're madly in love and you can't convince them this is a fraud, I tell them to ask that person to send them an email from their military email address. And that should end with ".mil", short for military and nothing after that. [Scammers] can't do that because they're not in the military system so they'll come up with excuses that they're on a secret mission, they don't have email and that's a sure fire way to find out they're not in the military," said Grey.
If the person you're talking to has sent you a photo, you can use a reverse image search like the ones at images.google.com or www.tineye.com to see where else that photo has been saved on the internet.
Check out the video below to see how to do a reverse image search.
3. Check out military romance social media pages
4. Check online to see if documents sent to you are legitimate
Some scammers send fake documents to back up their lies. Here are some of the false documents that have been used in online dating scams.
Fake documents used by scammers