A St. Charles County teen made headlines around the world when he survived unscathed after falling through ice on a frozen lake.
John Smith was under water for more than 15 minutes, and his complete recovery has come to be known as the "miracle on ice."
Now, life for John and his family is about to change in another big way.
"How could we not be emotional. Here was the child whom the entire medical community had told us over and over had no brain function and would be a vegetable if he lived."
Joyce Smith is reading from the book she wrote about her son. In it, the love, fear and hope that lives in every mother's heart, is poured out on each and every page.
"Even though I had not accepted this diagnosis I felt overwhelmed to see my son recognize someone," Joyce reads from the book.
The Impossible: The Miraculous Story of a Mother's Faith and Her Child's Resurrection, is the title of the St. Charles County mom's page-turner. It hits book stores November 7th. Humbled every day by the miracle she knows God worked for her, Smith admits putting the words down for the world to read was still very difficult.
"But I feel like this is something God asked us to do," said Smith, "and how do you not do it?"
"It's hard to believe that it's me sometimes," said John Smith.
He was 14 on Martin Luther King Monday of 2015 when he ventured out with two friends onto the frozen surface of Lake Ste. Louise.
"That photo with the three boys is taken right in this area," said John as he peers into the lake on a recent warm weekday.
Venturing out on the surface when it was partially frozen was a near-fatal mistake. John fell through the ice and spent a minimum of 15 minutes at the bottom of the lake.
"The screams I can still hear," recalls John. "And you know when you're in a pool and you're coming up and you're floating there and you see the water rising above your eyes and below your nose? I kind of remember brief moments of that."
It's the moment where The Impossible begins. A single mistake triggered what can only be described as a waterfall of miracles.
The first miracle happened at Lake Ste. Louise. Wentzville firefighters train all the time for situations just like these, but Captain Tommy Shine says he knew when he went into the water he had a less than one percent chance of finding John.
"When we arrived from Wentzville he was under the water approximately 13 minutes," said Captain Shine. "It's unbelievable still to this day."
Shine was in his wet suit, poking the bottom of the lake 12 feet down with a pike pole, looking, he says, for a needle in a haystack.
"I noticed something different," said Shine, "and I decided at that point it wasn't normal and I'd never felt anything like that. At that point, I made the decision to pull up what I was hoping was John, had no idea, was completely clueless on what I'd found. It could have been nothing, or at this point, we now know that it was John Smith, who was completely lifeless, limp as a noodle, no breath, no nothing. Again, lifeless, and it's terrible to hear, but that was what it was. He was completely lifeless."
Rushed to the emergency room, doctors and nurses tried to get a heartbeat for 45 minutes before calling Joyce in and pronouncing John dead.
Chief Mike Marlo, of the Wentzville Fire Department picks up the story.
"Mrs. Smith because of her strong will cries out 'Dear Lord please,' and if this doesn't send chills for the second part of this miracle after that a nurse yells out to the doctor who was already walking out of the room we have a pulse."
"Then the heartbeat came," recalls Captain Shine, "and the emotion, and the shock and awe that took place in that emergency room is indescribable."
Miracles kept coming in the days to follow. John's lungs so full of lake water, cleared and started working. His brain function slowly but steadily returned to normal.
"Sixteen days from when he went in," says his father Brian, "he was back out under his own power. Everything is normal, no tell-tale signs."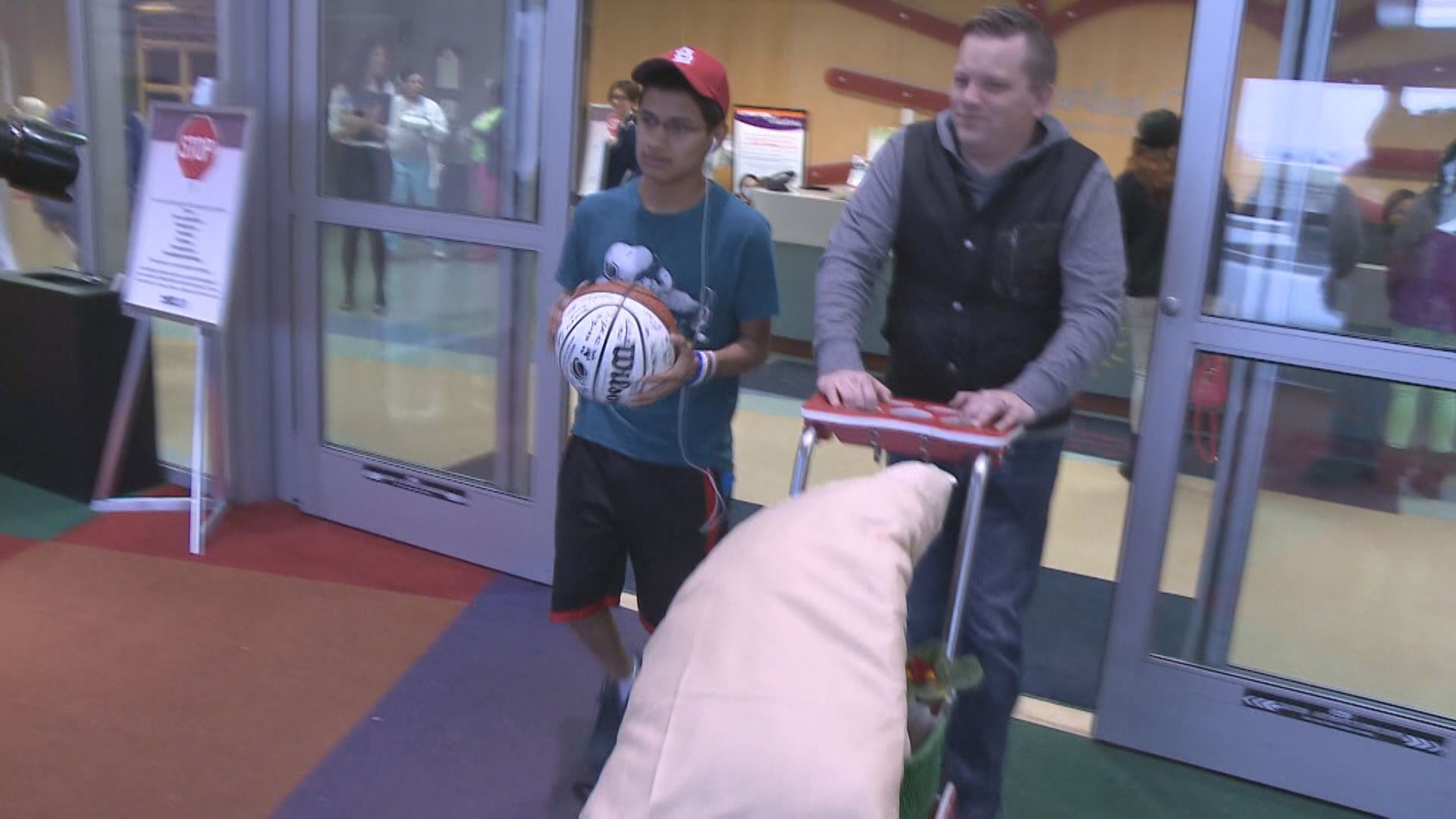 John's story went viral, and spread around the world. His parents, Joyce and Brian, recently sold their story to 21st Century Fox. A feature length movie about The Impossible is expected to be released in the winter of 2018.
"It did not occur to me that when I put my hands on John's cold dead feet that God wasn't going to answer my prayer," said Joyce. "For me, to this day, I watched it, I lived through it, but it still takes by breath away. I cannot explain it."
Already strong in faith, John Smith now speaks to church groups and banquets, and has plans to become a minister.
"I truly call it the miracle on ice because that is what it is. The three of us, we stared death in the face," said John.
Joyce hopes by sharing The Impossible, others will realize what is possible.
She begins reading aloud from her book again: "The entire room exploded with tears and noise all at once, and we were talking to John, and praising God, and laughing and whooping. The noise got Wendy's attention, and with a flash she was in the room and ready to attend to what had gone wrong. But nothing had gone wrong, it had all gone wonderfully and amazingly right."