Editor's note: The photo above is a previous mugshot of Hupp. Court did not allow cameras in Wednesday's hearing and a new photo of Hupp has not been provided.
ST. CHARLES, Mo. – Pamela Hupp pleaded guilty to first-degree murder and armed criminal action in the death of Louis Gumpenberger.
In 2017, she entered a not guilty plea.
Gumpenberger, who had a traumatic brain injury, was killed at Hupp's home in O'Fallon, Missouri in August 2016.
The hearing was moved to a bigger courtroom because of how many people showed up on Wednesday afternoon.
Hupp entered an Alford plea in court. An Alford plea means she accepts the fact that the state had enough evidence to convict her of the murder of Gumpenberger.
She agreed to the guilty plea in exchange for taking the death penalty off the table.
"She will never spend another day of her life outside a prison cell," St. Charles County Prosecuting Attorney Tim Lohmar said.
In a press conference after the court hearing, Lohmar said the state's evidence was so overwhelming there would be no doubt that she would be convicted. Lohmar said he has no problem with the Alford plea and the end result is the same – she's locked up in prison for the rest of her life.
"I don't think she has the courage to say that she did it, she has shown that she's a coward and she's manipulative from day one, so it doesn't surprise me that's how we got there," Lohmar said.
The full press conference in below
Lohmar said Gumpenberger's family was happy with this decision.
She's set to be sentenced on August 12.
Prosecutors said in 2016 Pam Hupp lured Gumpenberger over to her home and shot and killed him while telling a 911 dispatcher he had held her at knife point and chased her into her home.
They said one of the first things she told investigators after shooting Gumpenberger was that he said he was after "Russ's money."
Prosecutors believe that was all part of her plan to distract from another investigation in Lincoln County where Russ Faria's wife Betsy was murdered in 2011. Russ spent two years in prison for her death before he got a new trial and his freedom - when the finger was pointed at Pam Hupp. Hupp collected Betsy's insurance money and reportedly later told investigators she was also her lover.
Below is part of the note prosecutors said Pam Hupp planted on Louis Gumpenberger detailing her staged plot to make it look like she was target.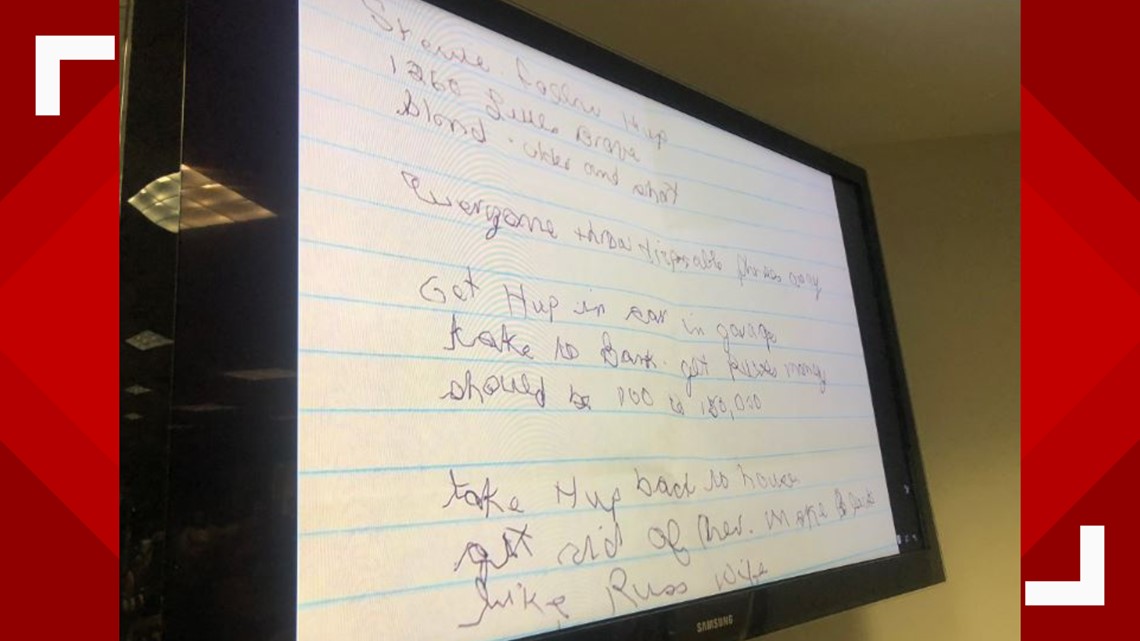 Hupp has previously insisted shooting Gumpenberger in her home was self-defense.
The story has gathered national attention, including multiple investigations by NBC's Dateline.