ST. LOUIS — When bullies teased about her differences, Grace Strobel wasn't going to take it sitting down.
She decided to fight hate with education. With the help of her mother, she spent weeks researching and organizing a presentation aptly titled #TheGraceEffect which she presented to her peers.
Grace has Down syndrome. Though the Down syndrome is widely recognized, the biology behind the condition is not as commonly understood.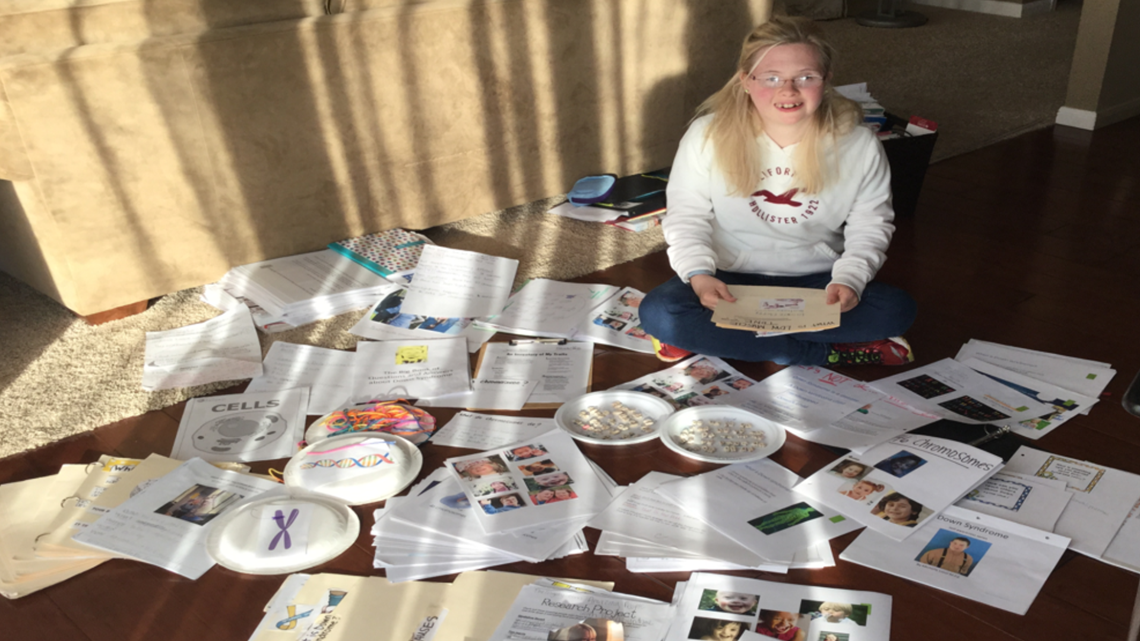 Grace's presentation gave others, including those who bullied her, an look into what it's like living with Down syndrome. She hopes by helping others understand the condition, they'll be more accepting of her and others that may act and look different than themselves.
"A couple presentations you could look out at the audience and see kids crying. One teacher actually said, 'That's great. Those two girls have been creating drama the whole year and they've realized what they've been doing,'" recalled Grace's mother, Linda. "Kids relate to her because it's not a parent or teacher, it's Grace."
Grace has now presented #TheGraceEffect to thousands. By now, breaking stereotypes surrounding Down syndrome isn't anything new to the 23-year-old.
"When I was born the doctors told mom and dad that I would not achieve much. That I would never be able to read or write or even tie my own shoes. But I am here today to tell you they were wrong," Grace said.
Wrong is an understatement. Grace has not only proved her doctors wrong, she has also broken glass ceilings by spreading a message of equality.
"[People with Down syndrome] want what everyone else wants. [We want] a good education. We want people to believe in us and give us opportunities to succeed. We want to be included, have friends, a good job and to belong," Grace said.
Grace wants those with Down syndrome to have the same opportunities as others; a message which she shares by example. When Grace was researching Down syndrome for #TheGraceEffect, she came across a model with Down syndrome and was inspired to try modeling herself.
Her parents were completely supportive
"My parents always held the bar high for me, believed in me and worked hard with me to achieve things. I know I have to work harder at things than most people, but I am determined," Grace said.
"When the world says, 'No,' we find a way around it," said Linda.
Grace's photos quickly garnered attention online with many applauding the change in the fashion world's strict beauty standards. The viral photos helped Grace land appearances in multiple magazines and a spot in a runway show during Atlantic City Fashion Week.
Linda and Grace hope the next step in her modeling career is to get signed by a brand. Through greater exposure, they hope to create change and help create new perspectives on people with disabilities.
"So much struggle in life has been because of those outdates perceptions that people with disabilities or Down syndrome cannot achieve much. There are actors, swimmers, models," Linda said. "Don't let anybody put limitations on your child."