ST. LOUIS — Nobody would have blamed Alexis Bohannon if she disappeared into obscurity, devoting all of her time and attention to raising her three young children after her husband and the father of their three children was shot and killed in the line of duty.
But she's doing just the opposite.
In an interview with 5 On Your Side, Alexis Bohannon shared how she is finding a way forward from tragedy.
It includes the creation of a nonprofit foundation in her husband's honor that will provide free counseling services to children of other fallen first responders. She says it's her way of honoring the sacrifice her husband made not only on the day he was killed, but also the sacrifices he made so she could go to school and finish her degree in social work.
"To sit around and do nothing with that would be a disservice to his memory," she said.
The prankster
Alexis Bohannon said she met Tamarris Bohannon when they were just high schoolers at Oakville High School.
She was a sophomore and he was a freshman when he first caught her eye.
A school girl smile returns to her face when she recalls their early years together.
"T was goofy, he was so funny, like he was the prankster, he always had a joke for you," she said.
Things got serious when Alexis became pregnant with their first child, a daughter, Tamara.
Tamarris Bohannon, 29, started talking about joining the military. Both of his parents were veterans, but the idea of being shipped or stationed far away from home held him back, Alexis said.
"His main thing was he wanted to be somewhere close to home," she said. "And so policing seemed like the best choice for both.
"He could go out in his own community, do what he had to do and come home every night."
He graduated in 2009 and joined his bride at a community college to study criminal justice so he could become a police officer.
Alexis said she had a heart-to-heart with her husband about the career choice.
"It's a dangerous job and this was before the whole Mike Brown situation," she said. "So even then, it's like, 'This is kind of a serious move. Are you sure this is what you want to do?'
"It was dangerous then. It's even worse now. So that was my main concern, like, 'Are you sure that's what you want to do?' But I promise you, that was all he ever talked about. I know that's what he wanted to do for the rest of his life. It was, 'I want to be a police officer,' he was dead set on it."
And he insisted on staying in St. Louis.
"He was always like, 'This is my home. My parents live here. I want to make sure that I'm protecting them and my family is here,'" she said.
Tamarris Bohannon grew up in Dutchtown. He and his wife settled in Bevo Mill. He joined the St. Louis Police Academy in 2017. Baby number two and three, Ayden and Tylor, shortly followed.
Alexis Bohannon said she continued to struggle with her husband's career choice.
"To me, it was like an added level of stress, something that was different for us, something that we didn't, expect," she said. "And I just wanted to prepare myself for it a little bit better.
"And I think he wanted me to prepare as well for the … the what ifs, the maybes. There's a possibility he can't come home. And so we tried our best to prepare for that as best as we could."
But once Recruit Bohannon became Officer Bohannon, his wife said everything changed.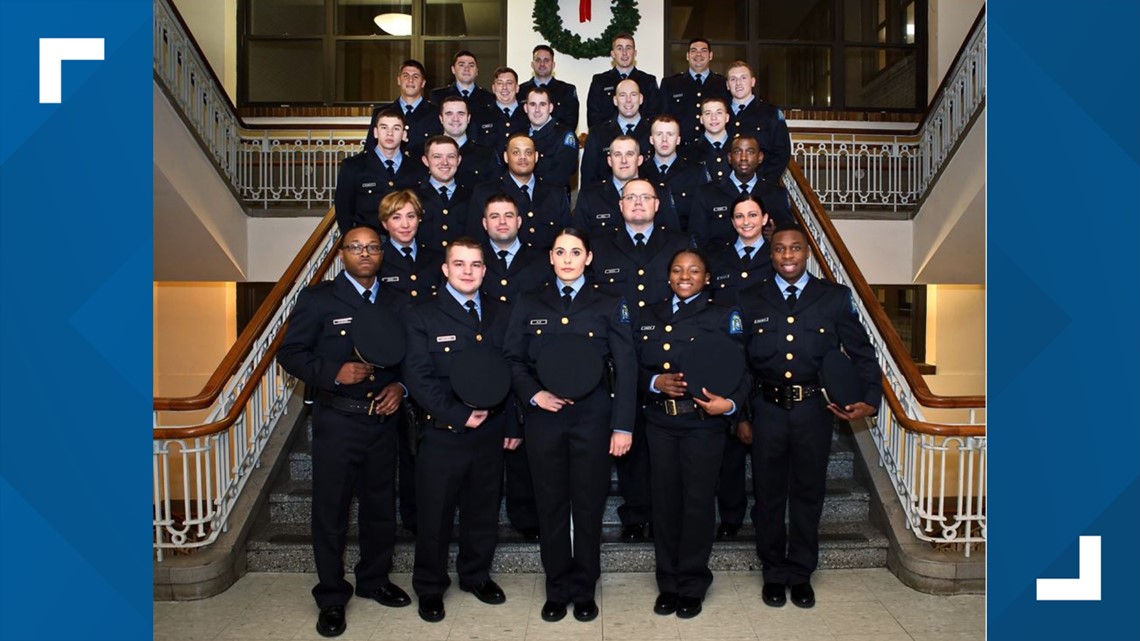 "When he started coming home with the awards and the flags and the acknowledgments, I'm like, 'Oh, we are on to something,'" she said. "He was the type of officer that really went above and beyond.
"Every job has stress, but when he comes home and he's actually excited to tell me about his day and, 'Oh, man, I got into this,' and, 'I did that,' hearing all of those things, it really made me feel better about his decision and me supporting his decision."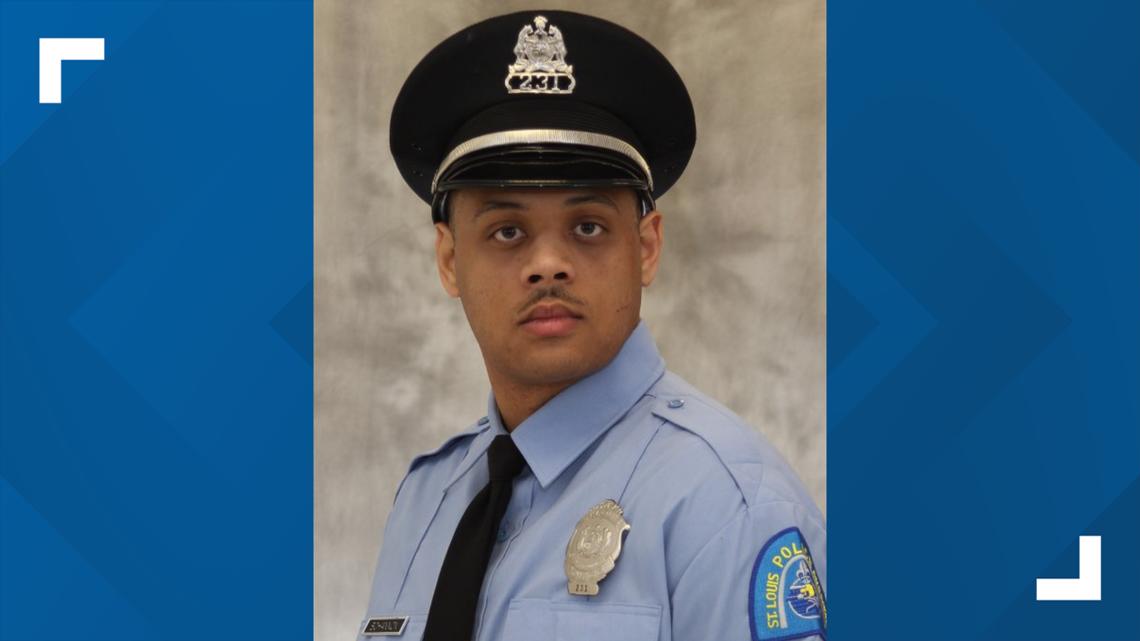 Life changes
The mundane conversation she had with her husband before he went to work for his afternoon shift on Aug. 29, 2020 is etched in Alexis Bohannon's mind.
"Do you want me to save you some food?" she recalled asking him.
"No, don't save me anything because I'm going to get some tacos with the guys," he told her.
She gave him a kiss, and he walked downstairs where their kids were playing video games.
He gave all of them kisses and walked out the door. She quickly grabbed her phone. They forgot one part of their routine, a prayer.

"I had to keep it short and simple because he was driving," she said.
The couple texted with each other throughout that afternoon – even until about 30 minutes before he responded to a call in the Tower Grove South neighborhood.
"He was his regular self, like he was joking with me," she said. "We were tagging each other back and forth."
She remembers sitting on their bed when her cellphone started ringing with unknown phone numbers.
After the fourth one popped up, she finally answered.
An officer shouted into the phone so she could hear him over the sirens screaming in the background.
"I need you to get ready. Something has happened with Tamarris and we need to get you to the hospital."
"Do you have someone to watch the kids?"
"I can call my sister over here."
She started getting ready to leave.
"I put on that face for the kids and I told them, 'Hey, I got to go meet up with Dad. I'll let you guys know what's going on.'"
"Is everything OK?" she remembers them asking.
"Everything's fine. No big deal," she told them.
Her sister and the officers who took her to the hospital arrived at the same time.
As soon as her husband's parents got to the hospital, that's when she was told what really happened: He had been shot in the head. They didn't know whether he would survive.
"I just remembered kind of being in a fog," she said. "I do remember when I first saw him in the hospital bed.
"That really shocked me. But he wasn't hooked up to anything. He was kind of breathing on his own and everything when we first got there. So I felt optimistic that things would or could turn around."
His hand moved when his children came to see him.
His wife's mind started turning to a life of helping her husband recover from a brain injury.
"I would rather just do rehab for the rest of our lives, and I would joke like, 'I don't mind wiping your butt for the rest of your life,' whatever I have to do," she said. "That was kind of like our little joke. But I was ready for that.
"And I actually I think I said that to him when we were in the hospital. I kind of whispered that in his ear, like, 'Come on out of this and we'll be fine.' Like, we can do it together because that's how it's supposed to be. It's just me and him."
Doctors tried to stop the swelling on his brain with surgery.
Alexis Bohannon said she and her husband's parents spent the night in the waiting room.
"I couldn't eat, I couldn't sleep, I couldn't drink," she said.
As the hours passed, so did hope.
A CAT scan showed Tamarris Bohannon had been having strokes. Doctors told Alexis Bohannon if she kept her husband on the machines keeping him alive, he would likely have a heart attack.
The couple's children, then ages 6, 7 and 10 gathered around their father's bed and cried along with their mother and grandparents.
They all said their final goodbyes.
"I just didn't want any more stress to his body because I wasn't sure what he could and couldn't feel," she said. "That is the hardest decision I've ever had to make was to just let him go.
"And I still kind of battle with that."
That battle is made somewhat easier by the memories of conversations she wanted to avoid when he was in the academy.
"I remember he always said, 'If I'm ever like in a vegetative state, like I can't speak for myself, I know it's going to be hard, Alexis, but just let me go,'" she said, stopping tears from falling from her eyes. "You know, back then, I'm thinking we shouldn't talk about this kind of thing.
"And I know a lot of couples do that, like, 'Don't talk about that. It's not going to happen,' but it is always a possibility when you're a police family, or a first responder period. It's always a possibility. You just put it in the back of your brain and hope it never comes up again."

Moving forward
Alexis Bohannon described the weeks that followed as a fog, the police funeral, the outpouring of well-wishes from complete strangers from across the country.
"Everyday there was something in my mail," Alexis Bohannon said. "It was also very humbling for me that I'm not in this alone and that I didn't have to be isolated or feel isolated.
"And even still, I struggle with it. I still struggle with isolation. And I think part of that is my grieving process where I just I don't want to be bothered. So I just closed myself off."
Her children, now 7, 8 and 11, struggled, too.
During their first few days home after the hospital, one of her young sons would run away from their house before he would go inside.
"The inner counselor in me is trying to figure out what's going on, and I'm like, 'Is this house triggering to you?'" she recalled. "It was very hard for him to come home and his father not be there.
"And I think for all of us, it was a time when we couldn't even go sleep upstairs in the bed, we just would fall asleep on the couch downstairs."
Ultimately, she decided to move.
The Backstoppers, Inc., a St. Louis nonprofit that pays off any debts the family of a fallen first responder, helped her move to a new house in St. Louis County so her kids could stay in their same schools.
She's been there for months, but most of the walls remain bare. She knows the pictures she wants to hang, but it's still hard for her and her children to look at pictures of her husband.

"I'm slowly starting to kind of find a balance not just for myself, but the children as well," she said.
Two days before Tamarris was shot, Alexis Bohannon finished the credit hours she needed to complete her degree in social work and interviewed for jobs on Zoom.
"And he was right here, kind of off to the side of me giving me the thumbs up and being like, 'It's OK. You got it,'" she recalled. "And being as encouraging as he could be, as I'm doing my meetings.
"And so I just feel like for me not to use my degree to some extent would be a disservice for him and his hard work and his dedication and him putting in all those extra hours at work so that we can pay the bills and still live comfortably. So honestly, I think that's what got me out of bed and pushed me forward to do this."
By "this," she means the Tamarris Bohannon Memorial Foundation.
"Part of the reason why I decided to do what I'm doing now is our last two years was a huge struggle," she said. "But he supported me one 1,000 percent with going back to school and finishing my bachelor's.
"It was not an easy task, but we made that decision together in order for us to progress and move forward and grow because I did feel stagnant for a time. I think that with his support, I was able to go back to school full time and complete my degree in social work."
She saw the difference counseling made for her children, too, but found it difficult to find the right fit.
"I'm a big advocate for counseling," she said. "It's something that I've realized over the course of not only my life, but my schooling, that there's definitely a need for it and there's a lack of access to it, I find, especially within certain communities in certain areas, but also because more recently, following my husband's passing, it was very hard for me to get counseling services for my children."
Alexis Bohannon said the death of a first responder carries with it a different type of grief for the children left behind. The funeral is very public. Their parents' faces and names are used in public memorials, news stories and other ways that come up unexpectedly, she explained.
Everyone knows their parent died. How they died. When they died. Why they died.
Alexis envisions the foundation focusing on counseling for children of first responders, but eventually growing to build houses in low-income communities to provide free and affordable housing.
She thinks her husband would be proud of her newfound purpose.
"Anything that I say I'm going to do, he was supportive of, so I think he would be fine," she said. "It's something tangible that I could pass on to my children so that they always know what their dad was and what he did.
"He made his mark in this world."
And now, it's his wife's turn.
Donations to the Officer Tamarris Bohannon Memorial Fund can be made at any First Community Credit Union, and for more information, emails can be sent to officerbohannonmemorial@gmail.com.
Want more top stories delivered straight to your inbox? Sign up for the 5 On Your Side STL Lunch Break newsletter.