ST. LOUIS — Schnucks Rewards members can finally rejoice. Schnucks and Eatwell Market stores are now allowing customers to redeem rewards points and purchase gift cards at self-checkout kiosks.
The two new self-checkout features will be available at a vast majority of Schnuck Markets' stores, according to a news release.
Previously, customers could only redeem points and purchase gift cards when in the traditional checkout lane.
"We continue to listen to our customers' feedback and work to bring them more efficient shopping experiences in our stores," Schnucks IT Director Michael Wait said in a statement. "Shoppers who prefer the convenience of self checkout can now enjoy the same perks and products as those who use our traditional check lanes."
In order to redeem Schnucks Rewards points at self-checkout, customers will need to tap the "Schnucks Rewards" button on the screen when ready to pay. Then, they will need to open up their Schnucks Rewards mobile app, select "My Rewards" on the app home screen and scan the barcode provided.
To sign up for the Schnucks Rewards program, which gives customers $1 back for every 500 points earned, click here.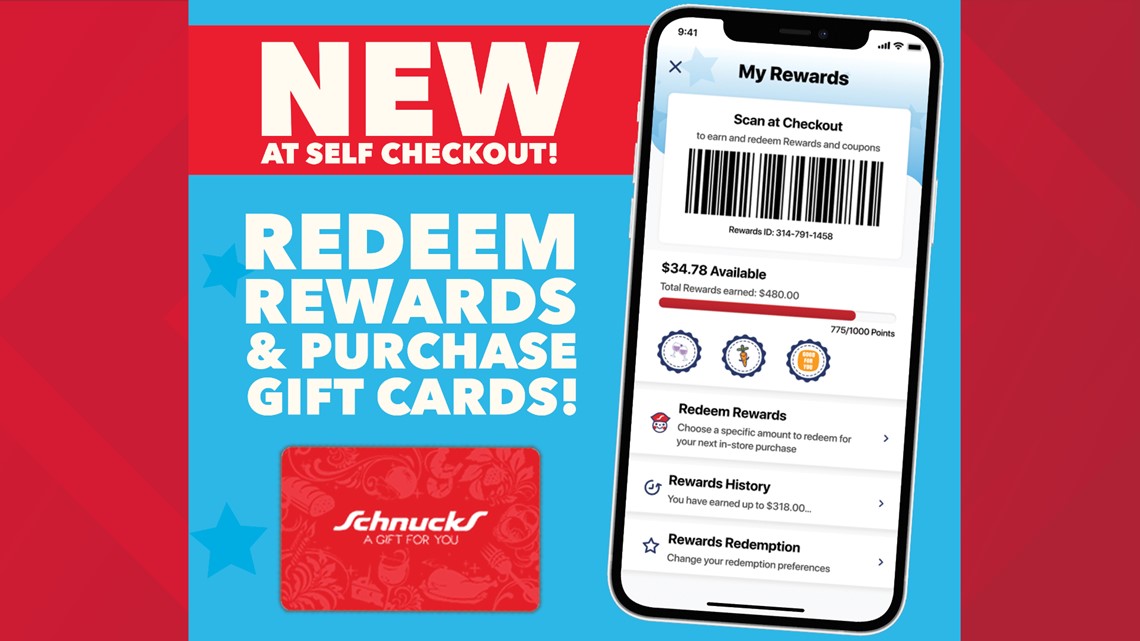 When purchasing gift cards for Schnucks and other retailers at the self-checkout kiosk, customers are limited to $200 per gift card and $1,000 per customer per day.
The family-owned grocery retailer currently operates 115 stores across Missouri, Illinois, Indiana and Wisconsin.