ST. LOUIS — A man has been charged in connection with a deadly triple shooting that left a mother and her two young daughters dead in south St. Louis Thursday morning.
On Friday, the Circuit Attorney's Office issued at-large warrants for three counts of first-degree murder and three counts of armed criminal action against 34-year-old Ronald Marr.
Marr was taken into custody in Effingham, Illinois Thursday afternoon and is awaiting extradition to Missouri. No bond was allowed.
The St. Louis Metropolitan Police Department responded to a "shots fired" call at around 7 a.m. in the 4100 block of South Grand Boulevard. This is in St. Louis' Dutchtown neighborhood.
When officers arrived, they found a 1-year-old girl, 8-year-old girl and 30-year-old woman suffering from gunshot wounds. All three victims died, St. Louis police chief John Hayden confirmed.
Kezia Walker identified the victims as her younger sister, Kanisha Hemphill, and nieces, Jakari, 1 and Journey, 8.
Marr is Hemphill's ex-boyfriend, according to charging documents. Family members told 5 On Your Side he is also the youngest child's father.
After the murders, Marr discarded his cell phone and purchased a new one. He then bought a Greyhound bus ticket and fled the state of Missouri, documents stated. He was captured about 100 miles away in Illinois.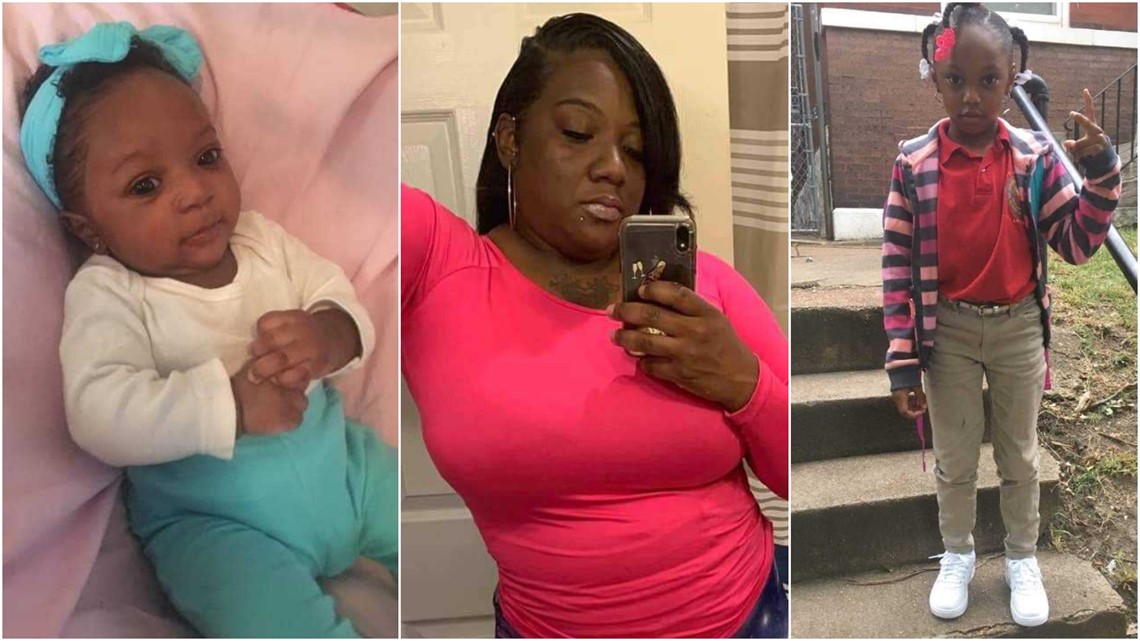 Police records show officers responded to that address twice within a span of three hours Tuesday for a domestic disturbance.
Walker said her sister worked as a Certified Nursing Assistant, and they had just texted with each other Wednesday. The last text she sent her said, "I love you."
"I don't even know how to feel right now, that was my little sister," Walker said, standing near several police cruisers lining the street in the residential area of South Grand Boulevard.
Walker said she had just got off work when a friend told her her sister's house was on the news.
"When we got over here, detectives winded up telling us they were all deceased," she said. "She was beautiful, kind and someone who always lights up the room when she walks in.
"She was funny and always joking, she would embarrass you too in a hurry. She was just playful."
Walker said she and her sister recently laughed together about the dance videos her niece Journey had started making for Tik Tok.
Hayden described the shooting as a "very tragic situation, a very gruesome scene." He said it is not being investigated as a suicide.
"As you can imagine, if somebody was shot and there's a lot of disturbing evidence inside, and it's very disturbing, I'm sure it's traumatic to the officers that went inside," Hayden said.
The police chief pleaded for anyone with information to come forward and call police.
Police have not released the victims' names or the circumstances that led to the shooting.
Walker, too, said she hopes anyone with information will call the police, but she's doubtful anyone will.
"We know what goes on, we know what goes on here, but if somebody were to see it, they call it snitching, but this is how things go in the Black community, if they did see anything, they're not going to say anything," Walker said. "I'm in the middle of Grand and didn't nobody see anything.
"We want somebody to speak up and say if they saw anything."
This is a developing story and will be updated as 5 On Your Side confirms more information.
Watch Hayden's full press conference in the video player below.