ST. CHARLES COUNTY, Mo. — St. Charles County reported 105 new COVID-19 cases Thursday, a new single-day record as cases there continue to rise.
"I'm pleading with people, please wear a mask," County Executive Steve Ehlmann said.
Ehlmann said he's "very concerned" about the spike.
There have been 453 new cases over the last 14 days compared to 119 new cases over the 14 days before that, which is a 281% increase.
Ehlmann said the bump is due to people in the 20-to-40 age group. He said in the 20-to-30 age group, from the beginning of May until July 9, the number of cases is quadruple what it was.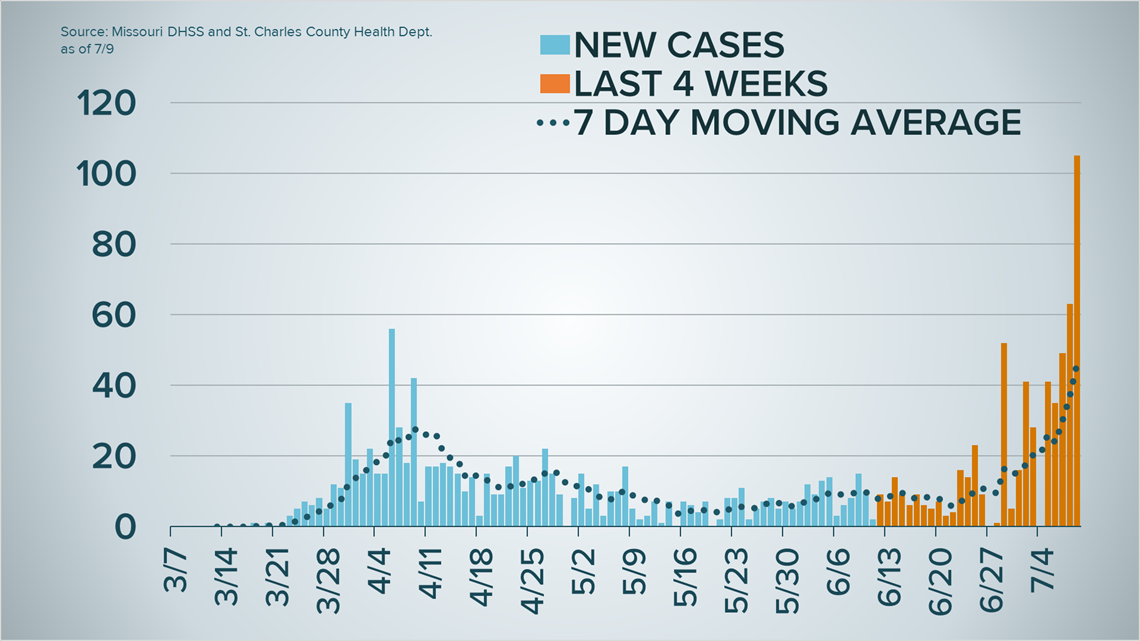 He noted he's seen young people in bars not wearing masks or social distancing.
"People thought we could just go back and party like we did back in the good old days of 2019," he said.
Ehlmann said when St. Charles County began reopening on May 4, there was a decline in the number of cases for those first three or four weeks.
To get back to that, "we're considering everything," he said, including the possibility of closing businesses where coronavirus is likely to spread.
"We've been trying to increase people's freedom to do what they think is right. And we don't want to have to go backwards on that," Ehlmann said.
"But with freedom comes responsibility. And while you have the freedom to go places, maybe that you didn't have back in April… you also have the responsibility that when you do you wear this mask, because that's the, that's one thing we know one way we know that we can keep the spread of the virus under control."
Ehlmann said the county began giving away 250,000 masks this week, but he isn't planning to issue a mandate. He said there's no way to enforce one.

"Whether you order it or ask for it, we're depending on people to do the right thing because it's the right thing to do."
But it might not be that simple.
Outside of a bike night, we met a group of friends not wearing masks or social distancing.
"If it's a crowded area or if it's already mandated somewhere, then yeah it's fine," Devin Olds said.
Olds said he wears a mask at work on his construction job and at Home Depot in Chesterfield -- where it's mandated -- but not always in St. Charles where he lives.
He said that would change if there were an order in St. Charles County.
"Yeah I guess I'd have to if I wanted to go anywhere. I mean, I don't like it, obviously, nobody does," he said.
Ehlmann said contact tracing is also a key factor in fighting the virus' spread.
Contact tracing is revealing those with coronavirus have been close to many more people than months ago during stay-at-home orders, and that means more people are forced to quarantine, Ehlmann said.