O'FALLON, Mo. — A family is desperate for help after a gas explosion last year kicked them out of their home. The explosion damaged 40 homes in the area, including the home of the Stouts, who lived next door.
They said the companies that should be helping them are passing the buck. They're speaking with our I-Team exclusively.
On March 1, 2022, a home exploded after contractors hit a natural gas line. They were installing fiber optic cable.
"We warned them that they would probably hit a gas line, but they didn't care," said Chris Stout, an O'Fallon resident.
Soon after, an investigation by the Occupational Safety and Health Administration (OSHA) determined the company did not violate OSHA standards or regulations and determined the contractors followed the utility markings provided by the utility company.
That gas company, Spire, told the I-Team areas to dig were marked correctly.
"I'm just angry that nothing's getting done," said Stout.
There were no major injuries, but Stout said she and her family are hurting emotionally and financially. Ten months after the explosion, they still can't go home.
"The blast went through the house," she said.
She believes no one is taking responsibility.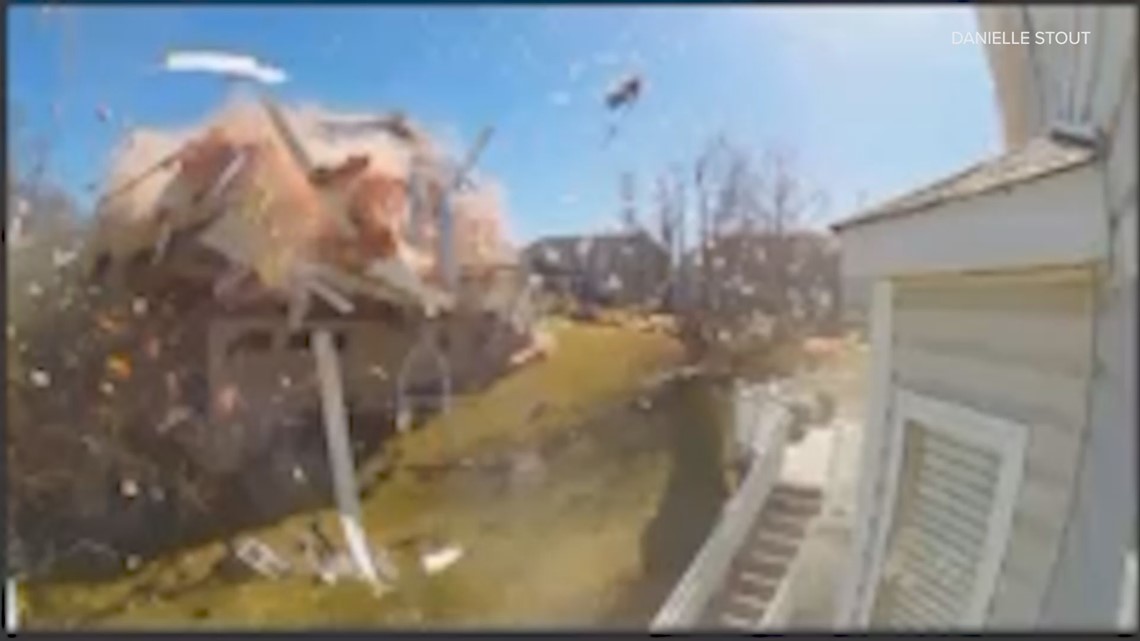 Stout moved to the home 20 years ago to raise her family.
"My youngest was four years old. My oldest was seven. Everything they've learned, they've done here," she said.
Her home, once filled with happy memories, is now a money pit. Stout said it needs about $400,000 in repairs.
"It's a kind of a nightmare. I mean, the expense to have a rental house plus pay this payment. And the rental house is twice the payment of this," she said.
The Stouts did have insurance, but with the depreciation of their home's original value, the insurance company is offering a little over $60,000.
It's too little, but she can't just walk away.
"We have too much money in it. Too much money to just let it go," she said.
People in the area said more than 40 homes have been damaged by last year's home explosion, with some as far as about a mile away.
The I-Team's Paula Vasan asked what the Stouts want city officials to be doing that they're not doing.
"I think they need to monitor and make sure that these people are trained. They need to make sure that they have enough insurance because the company that hit this gas line only had $1 million in insurance," said Stout.
Neighbors said that money will likely go to the family whose home exploded. They sold their lot and moved on, while homeowners like the Stouts are stuck fighting it out in court.
Those court battles aren't cheap. It's draining the Stouts of their retirement savings. Insurance experts we spoke with told us the big takeaway here is knowing what your insurance covers. Determine if your insurance pays the actual cash value or the current replacement cost.
A spokesperson with the Stout family's home insurance company, Liberty Mutual Insurance, told us the company does not publicly discuss claims.
"Our customer advocacy team is contacting the customers directly to discuss their concerns," the spokesperson told us in an email.
Gateway Fiber is the fiber optic company that hired Sellenriek Construction, a contracting company. That company hired JDK General Contractor to complete the installation of fiber optic cables in the O'Fallon neighborhood on March 1, 2022.
A spokesperson with Gateway Fiber told us in a statement:
"In difficult situations like this, many sources of potential compensation are available based on the safeguards the homeowners have in place. Homeowners had insurance protecting them, and the subcontractor performing work at the time of the accident had the insurance that is required to perform this sort of work. We understand the desire for swift compensation, and the insurance process is the best way to get that. For our part, Gateway immediately terminated the subcontractor performing the drilling work, and we have worked with safety experts and our community leaders to develop several additional safety measures focused on on-site, real-time quality audits and extra measures to ensure visual references to workers during underground boring."
A spokesperson at Spire, the utility company, told us in a statement:
"At Spire, safety is a core value and last March's incident reinforces the importance of safety when digging near natural gas lines. On March 1, 2022, a third party excavator hit a gas line in an O'Fallon, MO subdivision. Once notified, we took immediate action and worked with the O'Fallon Fire Department to evacuate nearby homes and stop the leak. Our work to stop the leak did not cause the incident that damaged homes in the subdivision. Our crews stopped the leak, repaired the damage to our facilities and restored service to unaffected homes. Fortunately, no one was injured and we thank the fire department for their professionalism and hard work that saved lives. The leading cause of damage to natural gas lines is digging by excavators. We want to emphasize the four steps for safe digging:
Step 1: Make the call. Dial 811 to request that your project area be marked. The call and the locating services are free.
Step 2: Pause. You should call at least three days before you plan to dig. A locator will come by and mark the pipelines that could be impacted by your project. That way, you know when to be careful and everyone stays safe.
Step 3: Follow the marks. Spire lines will be marked with yellow flags and/or spray paint. If the marks fade before you begin your project, simply dial 811 again to have them remarked.
Step 4: Dig with care. Be careful when digging around the markers to avoid accidentally damaging buried lines.
Even a small gouge, scrape, dent or crease can cause a future rupture or leak. The only way to make sure that pipeline is safe for use is to have an expert at Spire repair the damage. And if you smell gas, leave the area immediately and call 911."
According to the Insurance Information Institute, there are two ways of insuring your personal possessions.
"If you already have a homeowners insurance policy, find out whether claim payments for damage to your personal property would be based on replacement cost or actual cash value. Check your policy under Section I, Conditions, Loss Settlement, or ask your agent," said spokesperson Scott Holeman.
"As with insurance for the structure, a replacement cost policy generally pays the dollar amount needed to replace a damaged item with one of similar kind and quality without deductions for depreciation. An actual cash value policy pays the amount needed to replace the item, minus depreciation. Suppose, for example, a fire destroyed a five-year-old TV set. If you had a replacement cost policy for the contents of your home, the insurance company would pay to replace the TV set with a new one. If you had an actual cash value policy, the company would pay only a percentage of the cost of a new TV set because the TV had been used for five years and would be worth less than its original cost. Replacement cost provides extra protection above the policy's limit against material and labor cost increases. Therefore, replacement cost is a better homeowner insurance coverage option than the actual cash value because it restores the policyholder's situation to what it was before the covered loss occurred. While both types of coverage help with the costs of rebuilding your home or replacing damaged items after a covered loss, actual cash value policies are based on the items' depreciated value while replacement cost coverage does not account for depreciation."