ST. LOUIS — A woman has been charged following the fatal shooting of her 12-year-old nephew Tuesday night. The boy was shot by a younger relative at a north St. Louis home, police said.
The St. Louis Circuit Attorney's Office charged Aja Johnson, 36, with second-degree endangering the welfare of a child. She's the aunt of the child who died.
St. Louis city police said the shooting happened at around 7:38 p.m. on the 5600 block of Summit Place in the city's Walnut Park West neighborhood.
When officers arrived, the child was unconscious and not breathing. He was pronounced dead at the scene.
Police identified the boy as 12-year-old LaFrance Johnson, who lived at a different address from where the shooting happened. The boy was a sixth-grade student in the Rockwood School District, school officials confirmed.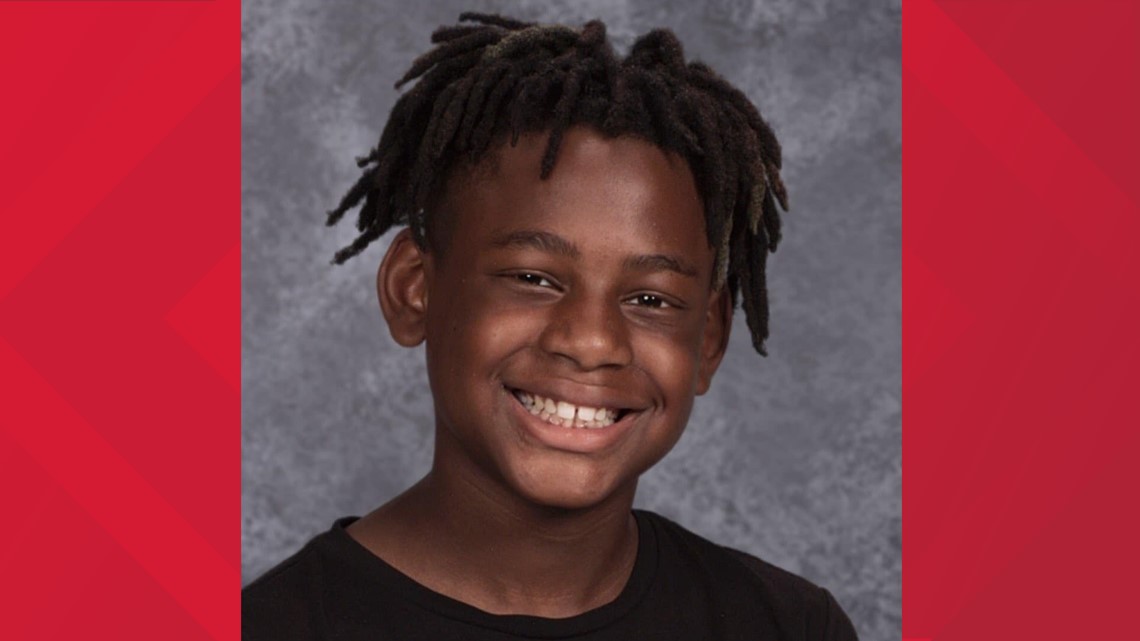 Alderwoman Pam Boyd said family members told her the boy was shot by his 10-year-old brother while they were playing with a gun. An updated report from police Wednesday also stated the boys were brothers.
"The 10-year-old kept saying, 'I didn't mean to shoot him,' and the mom started buckling down and it took four police to hold her and get her composed," Boyd said.
New information outlined in court documents states there were three children playing alone in a bedroom where they found an AR-style shotgun on a bed. The kids had been to the home before, found the same gun unloaded and were able to play with it, court records state.
This time, the 10-year-old picked it up to play with it, thinking it was unloaded.
Aja Johnson told police at the scene the gun belonged to her and that she left it in the bedroom. According to court records, she told police she was to blame for her nephew's death. Johnson was taken into custody.
Police were seeking a charge of endangering the welfare of a child resulting in death. Prosecutors returned with a revised charge Thursday of second-degree endangering the welfare of a child.

Homicide detectives were called in to help with the investigation. The police department's child abuse unit is handling the case.
LaFrance was a student at Selvidge Middle School, Rockwood officials confirmed. The district shared the following statement with 5 On Your Side.
"The Rockwood School District is saddened to learn about the loss of 6th grader LaFrance Johnson from Selvidge Middle School, who passed away tragically last night. Our sincere thoughts and sympathies are with his family as well as the educators and friends who knew and loved LaFrance. We have assembled our crisis team at Selvidge Middle and will have counselors on hand this week for students and staff who will need assistance," the statement reads.
According to data compiled by 5 On Your Side, this is the 31st child shot in St. Louis this year. Four of the children shot this year have died, including three in less than a week.
Free gun lock program
The St. Louis Metropolitan Police Department partners with the Women's Voices Raised for Social Justice organization to provide gun locks to residents as part of the Lock-it for Love initiative.
"These locks will certainly help our fight to render firearms unusable and to help avoid accidents which could lead to critical or fatal injuries," said Lt. Michael McAteer, commander of the SLMPD's Victims Advocate Unit.
Officers in each police district receive gun locks that they can have on hand while responding to incidents in the city. The police department plans to hand out about 4,500 gun locks. The department also plans to have them available at community meetings and for pickup at area stations.
Lock It for Love has also arranged for free gun locks to be available at designated city and county library locations. You can check the website of the library near you to see if that location offers free gun locks.
In St. Louis County, she said library locations where gun locks are available include Weber Road, Lewis and Clark, Florissant Valley and Natural Bridge.
In the City of St. Louis, library locations where gun locks are available include Cabanne, Divoll, Julia Davis and Baden.
Cathy Gilbert, a volunteer with Lock It for Love says, "The data tells us that, if we secure firearms in our homes, we can reduce those kinds of tragic unintentional shootings. It's our responsibility as adults, as responsible gun owners if we have firearms in our home, to make sure they are secured."
Boyd also says she's partnering up with other local leaders in the area to create a campaign called 'Lock it Up' and they hope to roll that out soon.
"With the laws that are out here, there is nothing going to stop you from having a gun but we can educate you to have more responsibility," Boyd says.
Resources for crime victims
If you have been a victim of a crime or know someone who has been, 5 On Your Side has compiled a list of resources.
Better Family Life is a nonprofit community development organization working to "stabilize inner-city neighborhoods." One aspect of its mission is a gun violence de-escalation program.
Life Outside of Violence "helps those harmed by stabbing, gunshot or assault receive the treatment, support and resources they need to find alternatives to end the cycle of violence."
The Urban League of Metropolitan St. Louis has an anti-crime program called "Safety Net for Youth Initiative," which is a joint partnership between and Saint Louis Public Schools to provide services to at-risk youth.
Cure Violence is an international organization that has recently launched in a handful of St. Louis neighborhoods. Violence interrupters are trained to deescalate violent situations within their own communities. To learn more, visit https://cvg.org/