FRANKLIN COUNTY, Mo. — Editor's note: The photos in this story may be disturbing to some readers.
The Franklin County Humane Society is sharing the survival story of its "Warrior Kitty" in the hopes it will inspire the community to support the medical fund that saved his life.
Matty the cat was found in January by a good Samaritan after dragging himself into a yard with a predator trap clamped around his front leg. The Franklin County Humane Society said he was covered in dirt and bugs and they didn't know how long he'd been stuck in the trap.
"He was in so much pain and distress, he had wounds that were consistent with trying to chew his own leg off to escape," the shelter said.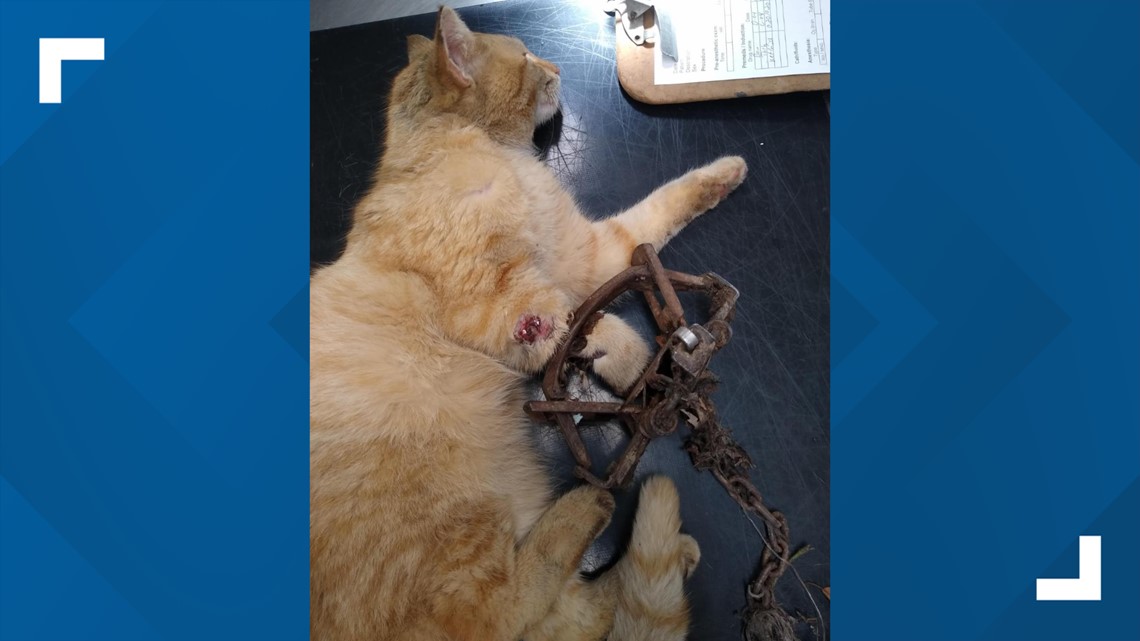 Matty had an emergency amputation and then went straight to a foster home to recover. He was quickly adopted into his forever family and is recovering wonderfully.
The humane society shared a video of Matty cozying up in front of the fireplace in his new home.
"We want to thank the citizens who rescued him, the staff at Pet Station, our own staff who cared for him, the foster family who nursed him back to health, and to his adoptive family who is showering this amazing survivor with love every day," the humane society said.
The Franklin County Humane Society is the only open-admission animal shelter within a 40-mile radius, serving thousands of pets yearly in Franklin County and surrounding areas. It said Matty is just one of several recent medical cases that have quickly depleted its Cinderella Fund, which supports the neediest animals that come to the shelter.
Meramec, a cat recently rescued from a house fire in Pacific, racked up a nearly $1,500 vet bill. Cookies the puppy had trouble walking and needed thousands of dollars in tests before he was finally diagnosed with a condition affecting his central nervous system. Riplet the dog arrived emaciated with two luxating patellas requiring expensive corrective surgery.
PHOTOS: Franklin County Humane Society's featured Cinderella Fund animals
The humane society is sharing the stories of Matty, Meramec, Riplet and Cookies in the hopes of raising donations for the fund, which it describes as a last chance for pets in need of immediate and extended care. So far, it has raised $1,350, and donations will be doubled by an anonymous donor until they reach their $15,000 goal.
A donation of $25 will provide special food for one pet, $50 pays for a week of prescription nourishment, $100 covers an emergency x-ray, $250 supports supplies for longterm care and $500 would fund emergency surgery.