ST. LOUIS COUNTY, Mo. — Four people were killed after a house explosion and fire in north St. Louis County, early Friday.
St. Louis County police named the victims Saturday. They were all between 16 and 21 years old
Christopher Jones,17
William Jones, 21
Travell Eason, 16
Damario Cooks, 18
St. Louis County Police said the explosion happened in a home at the intersection of North Ranch Drive and North Parker Road.
Officials say upon arrival, emergency responders found one person dead, in the yard. Police said the person's injuries were consistent with the explosion.
St. Louis County police sent an update Friday afternoon saying another victim was discovered at the scene. That person suffered fatal injuries, according to police.
St. Louis County Police and bomb and arson investigators responded to the scene and are investigating the explosion. Investigators say the house explosion was reported shortly before 1:30 a.m.
Florissant and Spanish Lake fire departments responded. The fire was elevated to a second alarm fire when firefighters arrived.
Debris was blown all over the yard and in the street in front of the house. The explosion blew windows out of a house across the street and damaged two vehicles parked 50 feet away.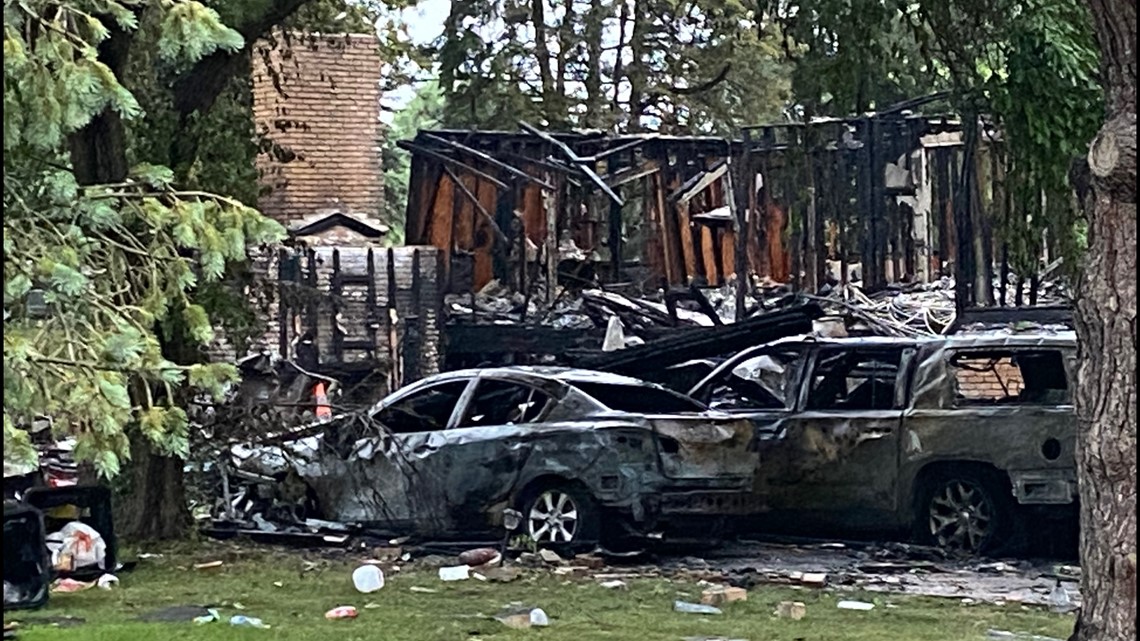 It was an explosion that neighbors say shook the entire North County neighborhood.
"We live six-tenths of a mile away from here," said Mannecke. "And I heard a distinct boom. We saw the house fully engulfed. You could tell there was an explosion of some sort. Hats off to these first-responders who ran right into this situation."
A neighbor who wanted to remain anonymous said it was terrifying.
"It rocked us out of our beds and I could see the damage on different houses back here, windows are blown out but it was scary in the sense of saying that's your neighborhood," he said.
Danielle Dawson who lives behind the rubble at the corner of Parker Road and North Ranch Drive said she immediately rushed to help.
"When I looked out the back door, the house was engulfed, already on fire so I tried to dial 911 and it wouldn't go through. It's like it just kept dialing and kept dialing and saying the next available person would get to you," Dawson said.
Dawson said she tried to grab her own water hose but it wouldn't reach.
"We could literally hear the screaming of people in that house. They were screaming and I could see the one child who was trapped who was waving and nobody could get to him because the fire was just too hot," Dawson said.
Multiple neighbors say they may have an idea about why this happened.
"I know that they have been doing fireworks already so I don't know if it was fireworks. They first told us when the police came and made us leave they thought it might've been a gas line in the house. They were worried it was going to explode again because they hadn't had the gas line shutdown yet," Dawson said.
Now Dawson is picking up the pieces of someone else's life that landed in her backyard.
"So that's all broken out," she said as she pointed to two large sliding doors that were shattered.
Dawson said she doesn't know if the family will be able to rebuild, but they could use all the support they can get.
"A lot of prayers for her would probably be the best thing for her right now," Dawson said.
Anyone with information about the explosion can contact St. Louis County Police investigators at 636-529-8210. To remain anonymous, contact CrimeStoppers at 866-371-8477.
This is a developing story. Information will be updated as it is confirmed.