ST. LOUIS — Protests over the death of George Floyd in downtown St. Louis started peaceful Monday — and continued that way for five hours with a crowd of about 1,000 people. But as the sun set, a small group of agitators began getting violent toward police.
Over a few hours with a couple dozen rioters, a 7-Eleven burned, at least one police car was damaged and fireworks were thrown at officers.
The mood shifted downtown at about 8 p.m.
Small, scattered groups of agitators moved through the downtown area. At least one St. Louis City Sheriff's Department police van was vandalized. It appeared a large object had hit the front windshield, smashing it in.
At about 8:30 p.m., police were seen running out of police headquarters to form a line on Olive Street as a small group of protesters walked up to the building.
Rioters threw several fireworks at police officers, with some of them going off within feet of officers.
Protesters within the crowd were seen moving a metal crowd barricade piece-by-piece to be closer to the line of officers in front of headquarters.
At about 8:55 p.m., police threw several tear gas canisters into the crowd. Protesters quickly scattered throughout the streets in downtown.
5 On Your Side's Jenna Barnes was in the area at the time. She reported hearing police warn the crowd using a loudspeaker that if they did not leave the area, tear gas would be used.
Then by 9:30 p.m., rioters had made their way down to a 7-Eleven store at 17th and Pine. Sky5's camera showed the store's windows had been busted and looters were running out of the business with items in their hands.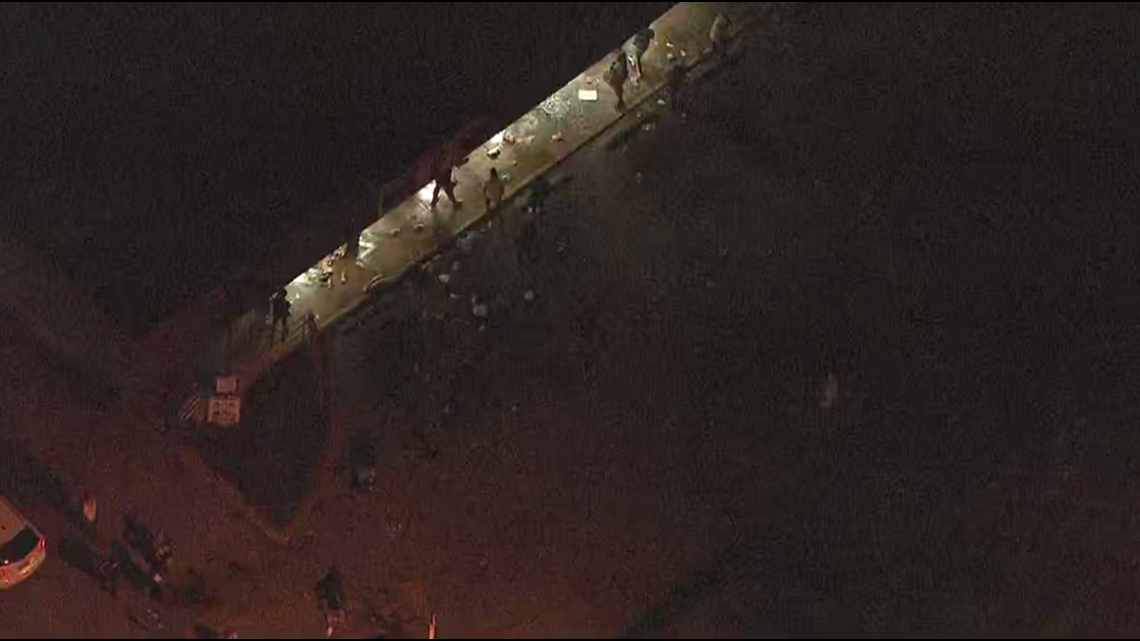 A rioter was seen throwing a firework into the building. It exploded and then moments later, smoke started billowing out. Flames quickly spread inside the business as rioters ran away from the area.
Firefighters arrived and put out the fire. They also responded to a small fire in the middle of the street a couple blocks away from the 7-Eleven.
Watch the extended video from Sky5 below showing the moments leading up to the fire at the 7-Eleven and as flames took over the building.
About a block away from the 7-Eleven, a couple dozen protesters were seen standing in front of a line of police officers who were blocking the street. The officers are elbow-to-elbow in a line across the street while wearing full riot gear.
Police continued to hold the line and pushed toward the crowd to get them to break up.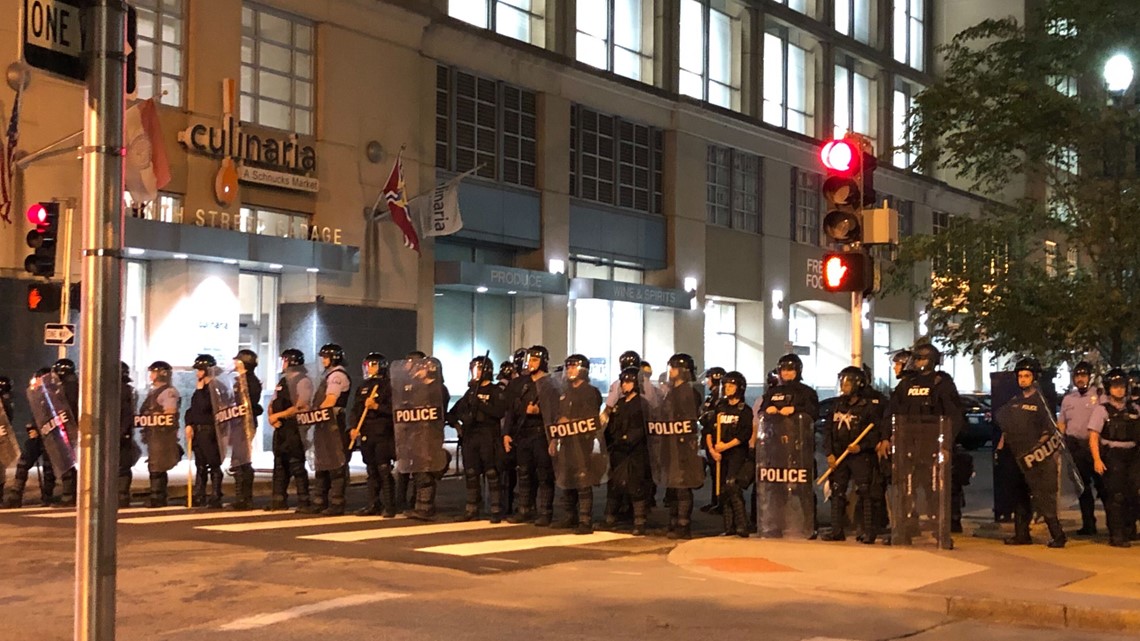 The groups that caused violence and damage Monday night were considerably smaller than the large peaceful crowd that had gathered and marched through downtown Monday afternoon and early evening.
The peaceful protests first started at about 3 p.m.
Demonstrators gathered outside the justice center and city hall. The large group then marched to rally under the Gateway Arch. At one point, protesters could be seen placing what looked like Post-It notes onto one of the legs of the Arch.
Protesters who spoke with 5 On Your Side said they were struck by the diversity of the crowd that joined together under the Arch. They were moved by how everyone was coming together not just to call for justice in George Floyd's death, but also for an end to systemic racism.
Photos: Protesters march through downtown St. Louis Monday
From there, protesters marched together toward Ballpark Village and down Broadway right by Busch Stadium.
At about 6 p.m., protesters entered the ramp to westbound Interstate 64. Police on bicycles rode onto the interstate and formed a line in front of the protesters as they tried to enter the interstate. Police formed the line in order to reroute traffic so protesters could safely enter the interstate.
As of 6:15 p.m., protesters were on I-64 with a police presence in front of them. At one point, many of them were seen kneeling on the interstate.
Protesters were on the interstate for less than an hour.
By 7 p.m. they were back on the streets of downtown. They marched down Market Street and back in front of city hall.
About 1,000 protesters were part of the demonstration.
Protesters gathered and marched over the police-involved death of George Floyd in Minneapolis. Four officers are under investigation, and all four have been fired from their jobs.
Former officer Derek Chauvin has been charged with third-degree murder and second-degree manslaughter. The criminal complaint states he was the officer seen on video with his knee on Floyd's neck while Floyd was pleading, "I can't breathe."
Latest news on George Floyd death and protests: