ST. LOUIS COUNTY, Mo. — Family and friends are searching for 39-year-old Jacquelyn "Jacque" Elizabeth Mitchell from St. Charles.
It's been almost a week since they've heard from her.
James Mitchell said he is determined to find his daughter.
"We're looking Jacque, we're really looking, and we aren't going to stop. Jacque is in contact with her mother and me every single day. Jacque doesn't do drugs, she wouldn't take a Florida trip somewhere," Mitchell shared.
5 On Your Side learned Jacque lives with her mom in St. Charles and also at times with her dad in Bridgeton.
Jacque's sister Stephanie Babcock told 5 On Your Side, "This is just a nightmare. She would never not come home. I know she is missing ... I know something is wrong. She would never not come home ... this is not her character."
Her loved ones said they haven't heard from her since Tuesday.
Family said last Tuesday, Jacque left work in Sunset Hills and went to the nearby Maggie O'Brien's. Jacque is a home health aide.
"We have confirmation that she left Maggie O's at 11:25 p.m. Past midnight, we don't know where she went when her phone turned off because the next day her mom called her and it went to voicemail," Babcock added.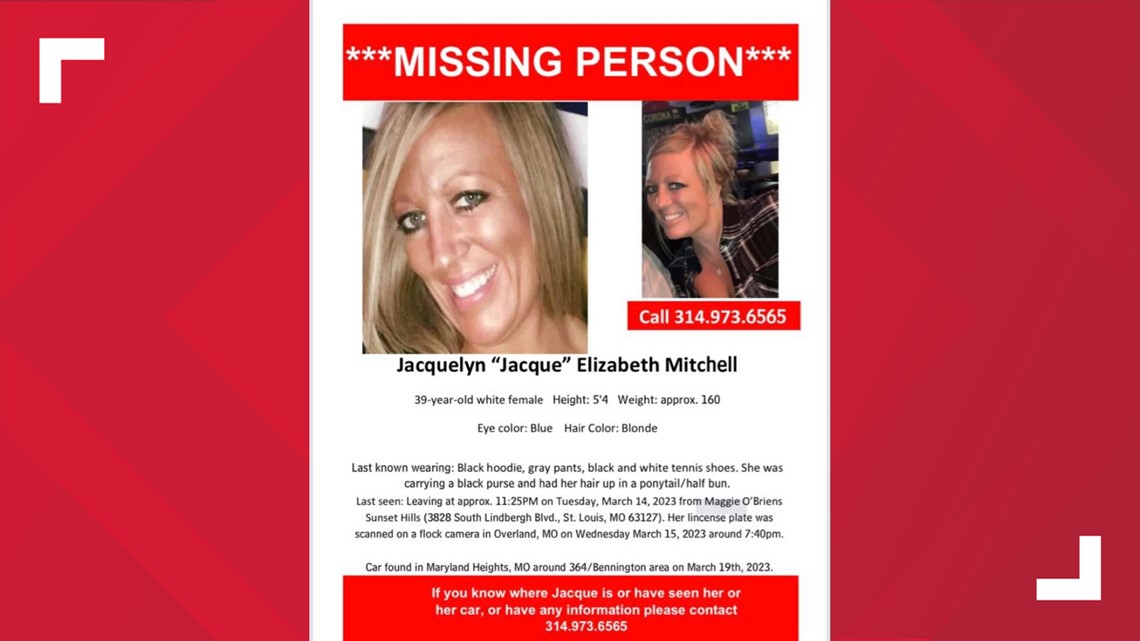 She said there is surveillance footage of her sister leaving the restaurant alone.
Babcock explains Jacque never came home and missed work.
"She is constantly on her phone, and she would never miss work, she loves that job," Babcock pointed out.
There have only been hints of what happened next.
A flock camera picked up her license plate in Overland Wednesday night at 7:40 p.m.
"Her phone last pinged 364 and Bennington," she pointed out.
Because of that, they searched the area and found her car at Whisper Hollow Apartments in Maryland Heights on Sunday.
Babcock explained they already searched that area and the car showed up later on.
"We do know the car was not there the day before that. We asked the gentleman parked next to her if the car was there and he said no way," she added. "I don't believe she drove that vehicle there, she knows no one in the complex. She didn't have her phone or purse or anything in there."
"She has medications she takes every day. We should be trying to fight to find her more," Babcock shared.
Now her family is begging for any additional clues because they believe she's in danger.
With tears in her eyes, Babcock told 5 On Your Side, "She's very loving and loves her family with everything. She would do anything for anyone. She wouldn't hurt anybody."
They said they won't give up and will do anything to inch closer to finding their Jacque.
Choking up, Mitchell made his plea, "Her mother and I are worried sick. Jacque, mom and I want you to come home ... if you can hear us if you can find a way, please find a way to contact us. If anybody knows about Jacque and has her, would you please let her come home to her mother and father?"
Jacque is 5-foot-4, has blue eyes and blonde hair.
She was last seen wearing a Black hoodie, gray pants, black and white tennis shoes.
Babcock said her sister also had a black purse and her wallet always had a ton of receipts.
St. Charles police said as of Monday morning, they don't have any new updates.
If you have any details of her whereabouts or have heard from Jacque, please reach out to the department at 636-949-3300.
To watch 5 On Your Side broadcasts or reports 24/7, 5 On Your Side is always streaming on 5+. Download for free on Roku or Amazon Fire TV.