ST. CHARLES COUNTY, Mo. — Officials confirmed a woman was killed in the Defiance area after a tornado touched down Friday night in the area of Highway F and Route 94.
Powerful winds damaged homes and knocked down trees and power lines. Kyle Gaines, spokesperson for the St. Charles County Ambulance District, said that at least three people had to be pulled from collapsed structures.
The victim was an 84-year-old woman who was asleep as the tornado passed through, according to her son. Her husband, also 84, had gotten up to get a glass of water, officials said. The entire home was blown away, and the couple was found in a field 100 yards away. Nothing remained of their home but the foundation.
Both were transported to an area hospital, where the woman later died. Officials have not released her identity. Her husband remains hospitalized.
A person who was transported in critical condition to an area hospital later died.
The National Weather Service of St. Louis rated the tornado EF-3. Winds topped out at 165 mph. It was on the ground for 21 miles tracking just west of the Factory Outlet Mall in the Chesterfield Valley. There was heavy damage in the area 2.5 miles west of Defiance on Highway F.
"This is the most significant event that I can recall in a good long while here in our community," Gaines said. "But thankfully we do have a large number of first responders both on our ambulance side as well as the fire protection side that are well trained in a variety of rescue tactics that we're utilizing here tonight."
Friday night, first responders were going house to house checking on residents in the area. It was unclear how many homes had been affected.
5 On Your Side spoke with Erin Flynn, the sister of one homeowner whose home was destroyed, and her boyfriend Jesse Dingledine. They credit emergency alerts with saving their family members, who quickly sheltered in their cellar about 15 minutes before the storm hit.
"Tree limbs came down on the cellar, they had to pry themselves out, but otherwise, they have a daughter, a dog -- they got everybody down there safe," Dingledine said. "If they would have stayed inside the house, they probably wouldn't be here with us right now."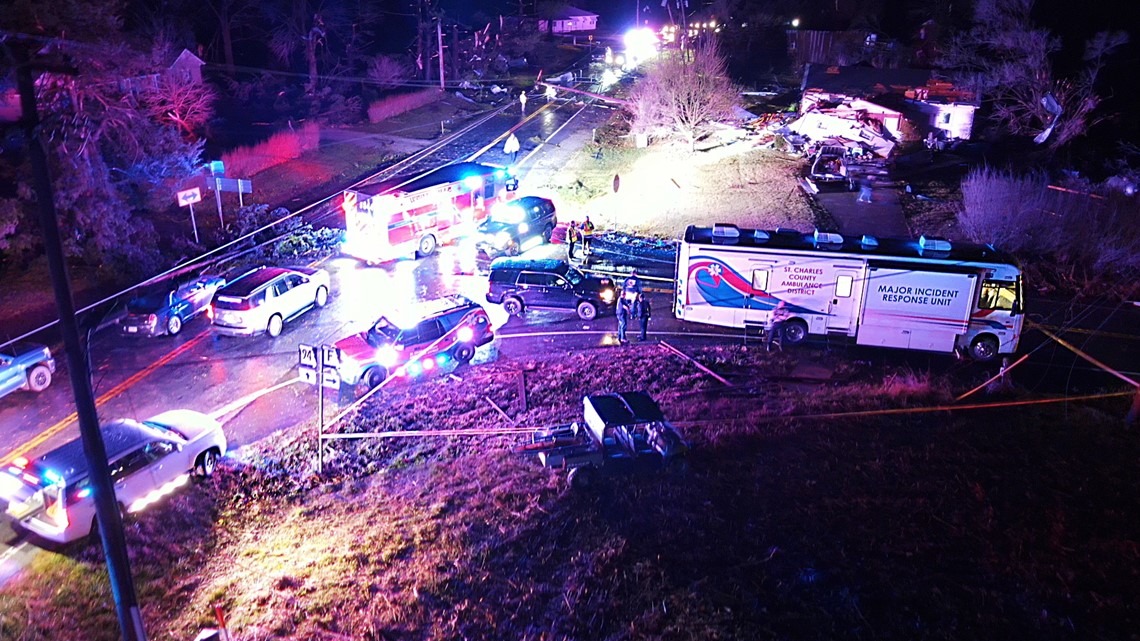 The New Melle Fire Protection District said that the path of destruction ran along three miles of Highway F, from the area of Homestead Ridge Drive to Highway 94.
"There was very little warning of what was to come, and unfortunately there was at least one confirmed resident fatality. The initial responding crews were met with devastation that hindered the response to the original call from both directions...." the department said in a Facebook post. "Crews quickly went to work trying to clear roads of large trees and debris to get equipment where it was needed. As they worked from both sides, multiple homes were found to be completely destroyed, with nothing left but the foundations."
One scene they responded to was a large barn that had collapsed with horses inside. One horse was killed in the collapse, and four others were trapped. Rescuers worked five hours to take the barn apart with chainsaws and skid steers to free the horses, and five veterinarians came to help with sedating and treating the animals. The remaining four horses were rescued from the barn, though one of them later died.
Photos: Dec. 10 storm with tornadoes destroys buildings in St. Charles County
In Edwardsville, at least two were confirmed dead and one person was airlifted after an Amazon warehouse collapsed during the storms. Search and rescue operations continued Saturday as first responders worked with Amazon managers to figure out who was and wasn't accounted for.
This is a developing story. It will be updated as more information becomes available.