ST. LOUIS — A Belleville, Illinois, woman died Tuesday afternoon after police said a piece of metal went through her windshield while she was driving on the highway.
St. Louis police said the crash happened at about 1 p.m. on westbound Interstate 64 near Grand Boulevard. When police arrived, they found 81-year-old Kathleen Bailey's car crashed into a concrete pillar.
Police previously said a boulder crashed through the woman's windshield. They revised their report Wednesday morning.
Police said Bailey was rushed to the hospital, where she was pronounced dead a short time later.
In a report Wednesday morning, police said it's unclear if the piece of metal came off another vehicle or if it was debris on the roadway.
On Friday, the St. Louis Metropolitan Police Department released a photo of the metal that crashed through her windshield.
An accident reconstruction team is handling the investigation.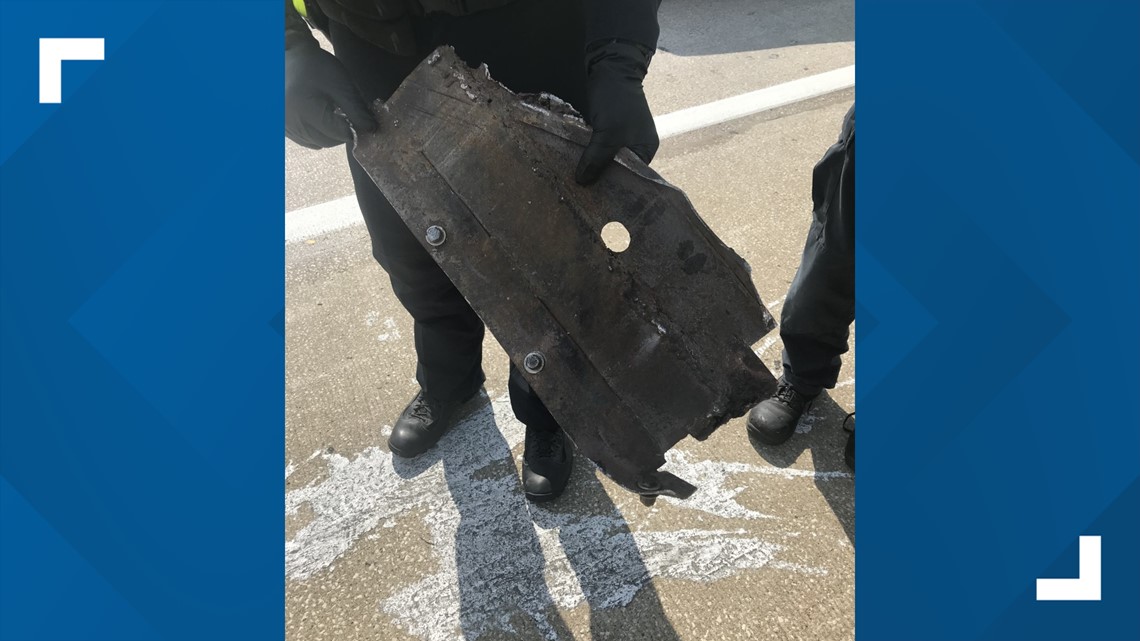 On Monday, Oct. 17, 5 On Your Side reached out to St. Louis Police about any new information on the investigation and if they found out where the metal could have come from.
Police said in a statement:
"...that part of the investigation has not yet been determined; however, investigators are working to locate any video footage that may have captured the incident and/or where the object came from...".
5 On Your Side also got in touch with Bailey's family, but they were not interested in sharing more information.
"There could be a lot of things involved in this crash," he said. "We just don't know yet."
Because the question of where the metal came from that crashed through Bailey's windshield is still unknown, Kurdock said, it's hard to move forward with any action yet.
"Depending on really the source of the debris that unfortunately, killed this woman, we'll have a better sense of some of the things that we can do to combat it in the future," he said.
According to Kurdock, almost 40,000 people a year lose their life to car crashes.
He described Bailey's crash as rare.
"We've heard of these types of incidents happening in the past, but they're not as frequent as other causes of crashes," Kurdock said.
Joshura Davis, vice president at Best Insurance Agency in St. Louis, said the next steps for the family will be tricky, since there's not a definite "cause-in-fact" of what led to Bailey's crash.
"That's what makes it so tough is what were the actual factors that caused this horrible incident to take this individuals life? What caused it? What was it?" he asked.
Davis said there will be an investigation trying to figure out that answer, where all different kinds of experts will be called into help.
"It's something that can't be done in a day or in a month," he said. "It's going to be a long...a long...arduous investigation."
While it's a long road ahead, Davis said, what the family can get from this is a hard question to answer.
"Death is one of those things that you can't put a monetary value on because you really never know, and you can't compensate for the loss of life," he said.
Davis said the investigation for this accident will be lengthy because there are so many buildings around that area. Even little things, such as the weather that day, will come into play.
Bailey's visitation is Monday, Oct. 17. The funeral is planned for Tuesday, Oct. 18, in Belleville.
No other information about the crash has been provided.
To watch 5 On Your Side broadcasts or reports 24/7, 5 On Your Side is always streaming on 5+. Download for free on Roku or Amazon Fire TV.