FLORISSANT, Mo. — The Hazelwood School District is asking the Department of Energy to test all school district properties for radioactive contamination.
This is after conflicting reports about the presence of radioactive contamination at Jana Elementary in Florissant.
In a letter sent to 5 On Your Side, the district's attorney asks the Department of Energy (DOE) for access to test on all properties.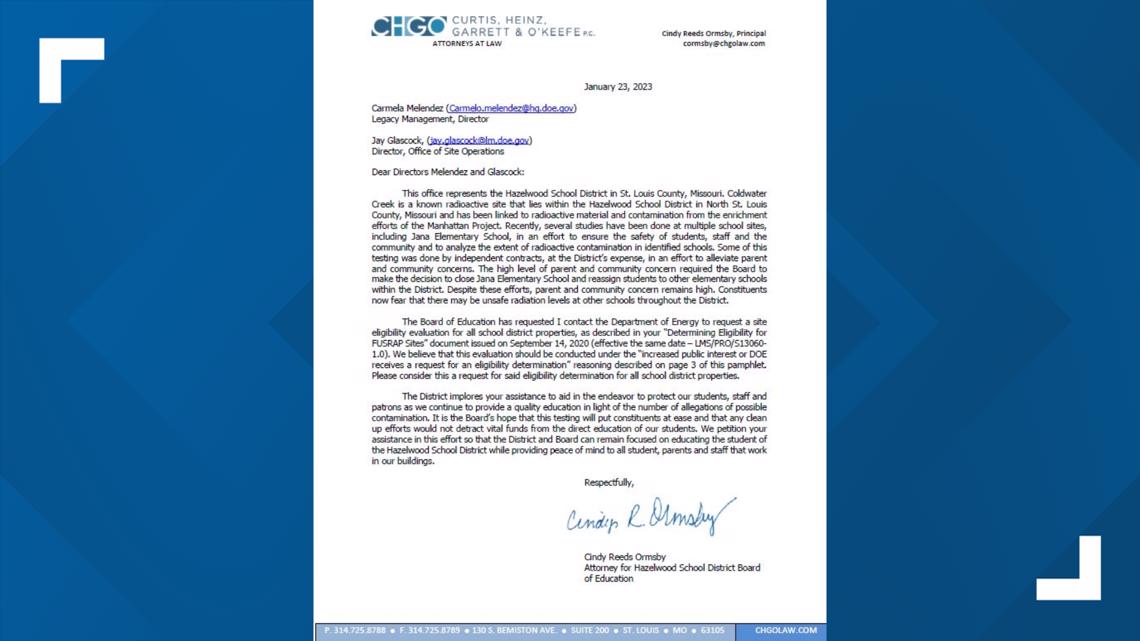 But the USACE can't do the testing the district wants it to without further access.
The U.S. Army Corps of Engineers sent 5 On Your Side this statement:
"Since receiving requests to test all Hazelwood School District properties, we have been in contact with the district and elected officials. Although we do not currently have the authorities within FUSRAP to facilitate the request, we are actively assessing alternate means of assisting the Hazelwood School District in meeting their objective. We will do everything we can to provide them a path toward the peace of mind their students, parents, faculty and staff deserve. In the meantime, we will continue remediation activities along Coldwater Creek to support the community in which we serve."
This year, USACE confirmed there were low-level radioactive contaminants on the banks of Coldwater Creek on the edge of Jana's property boundary.
The agency said there was a low level of concern and Jana was safe.
This contradicted another report from Boston Chemical Data Corporation showing high levels of contamination in and around the school.
The Boston Chemical Data Corp. is working with attorneys who are involved in a class-action lawsuit involving Coldwater Creek.
Because of those conflicting results, the Hazelwood School District brought in a third party, called SCI Engineering.
"It's a little bit scary. But I think it's proactive and important," Ashley Bernaugh said.
Jana Elementary PTA President Ashley Bernaugh said of the letter to the DOE asking for districtwide testing.
"Jana PTA continues to put pressure on both our Hazelwood School District and the USACE to do what's right by this community," she said.
Radioactive material from bombs used in Japan during World War II has contaminated Coldwater Creek in North St. Louis County since the 1970s. Jana Elementary sits on the edge of Coldwater Creek.
Following the three conflicting contamination reports, the school was evacuated in October, and students and staff were redistricted.
"That (further testing) will provide information our community has lacked for the last 80 years," Bernaugh said.
She said the community deserves peace in knowing if other properties are contaminated. 5 On Your Side previously confirmed a district football field and a building within the creek's flood zone were tested too.
This possibility is exactly what Commuso has been worried about.
"Our community was kept in the dark and lied to," she said. "It is not unreasonable that soil could have been moved before anybody knew about the contamination at all."
All advocates like Commuso can do is press on until this community is whole again.
"We can't keep letting our community be casualties of World War II," she said.