ST. LOUIS — Advocates against toxic waste in the St. Louis region spent hours in Jefferson City asking state leaders to fix the harm caused by radioactive waste left in the area decades ago.
On Tuesday, a hearing for House Concurrent Resolution 21 and 22 started at 4 p.m. in the afternoon and testimonies continued passed 8 p.m. in the evening. In total, there was five hours of testimonies.
Emotional tales and stories poured in front of the House General Laws Committee listening to these back-to-back testimonies.
One after the other, people from different communities talked about their health risks and shared the number of loved ones they've loved lost due to possible exposure.
Many said these bills would be just one step closer to some hope.
Freshman State Representative Tricia Byrnes and Richard West are urging the Missouri Attorney General, Missouri Department of Natural Resources, and the state's health department to conduct a joint investigation for contamination of the environment with radioactive and other hazardous contaminants from the Manhattan Project.
From there, it would ask the federal government for monetary compensation, health screenings, and education.
This topic hits close to home for both representatives.
West's mother passed away from cancer while he believes his brother has been exposed to hazardous and atomic bomb waste.
Byrnes represents part of St. Charles County and she began working on this topic five years ago.
"My son was diagnosed with thymoma when he was 15 years old at the time. That cancer for children is documented 50 times in world history. That's what led me start researching," Byrnes admitted.
Byrnes started digging through history, soon unraveling a scary past, linking these cancers to possible toxins.
The republican representative said, "This is strictly focusing on the World War II weapons program that left contamination and negligence across our region. It's a complicated study but they can do it."
Commuso explained these chemicals are all connected to the Mallinckrodt Chemical Works Plant in downtown St. Louis, which was building an atomic bomb as a part of the Manhattan Project.
In the bill, it said this took place between 1942 to 1966.
Byrnes added, "It kind of moved around North St. Louis County and illegally dumped in West Lake Landfill. After Mallinckrodt shut down, it moved to Weldon Spring. It's all the same stuff, it just encompasses a large area, it's definitely a regional problem."
These materials also made their way to Coldwater Creek in north St. Louis County and Bridgeton Landfill, which was a dumpsite for radioactive material following World War II.
The CDC estimated this exposure could have increased cancers.
Now, federal agencies are tasked to clean it all up.
Byrnes said, "We want to see education and information so that people can find out about this. If they do find out they have cancer from this, we should have the federal government picking up the tab for that. No family should lose their family and go bankrupt at the same time."
Byrnes believes it's taken way too long to get results and she doesn't what any more time to be wasted.
"This has gone on for decades for way too long, so we need to stop damaging people and then we have to fix those who have been damaged," she said.
After Jana Elementary received national attention for conflicting reports showing different radioactivity results within and around the school, Byrnes said she thinks this caught the attention of many and could be a push for the bill.
Commuso is also ready for change, and she said, she is hopeful now more than ever.
"This is the first time we're seeing something introduced where we're asking the state to get behind the people and push for federal funds for us. I have to be honest with you, this is the first time in my 10 years that I've been doing this that I feel lot of hope," Commuso said.
Dawn Chapman, co-founder of the advocacy group Just Moms STL, said she is also optimistic.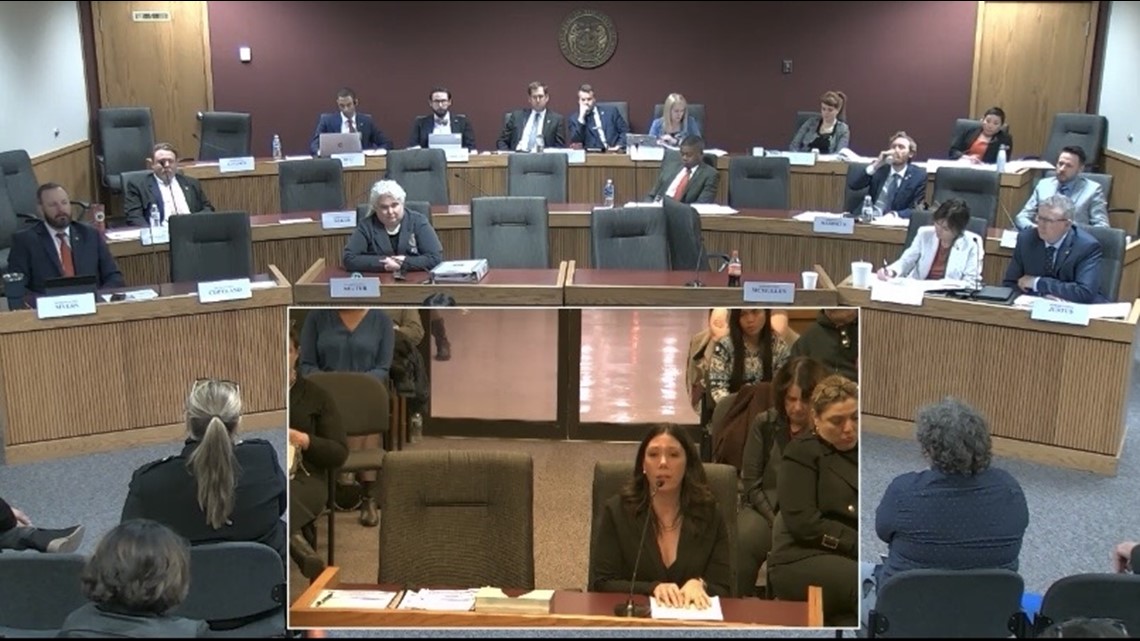 She's been fighting for years for environmental justice, as she neighbors West Lake Landfill.
Tuesday evening, she told committee members, "I've never felt more hopeful tonight from people from all the sites. We saved the world, who is going to save us?"
At the end of the hearing, the committee said, "We hear you and we want to work on this issue."
This compensation would give people money who live in several areas, from Coldwater Water Creek to Weldon Spring to near the West Lake Landfill.
Currently, there is a Community Connections Health Clinic. This clinic was funded by the Bridgeton Landfill Settlement Fund.
5 On Your Side was told if you live in the zip codes affected by the underground fire, you can get free services. Appointments can be made by calling 314-456-4321.