ST. LOUIS — Strong storms blew through the St. Louis region, leaving serious damage on both sides of the river Saturday evening.
Some of that damage was the result of twelve tornados that have been confirmed by the National Weather Service as of Tuesday afternoon.
The first one was in the area of Valley Park, Fenton and Sunset Hills. It was just west of 141 and just south of 44, where that first report of damage was.
Data from the National Weather Service Storm Survey team gives a preliminary rating of EF-1 with the maximum wind at 100 mph. This one had a path of four-and-a-half miles.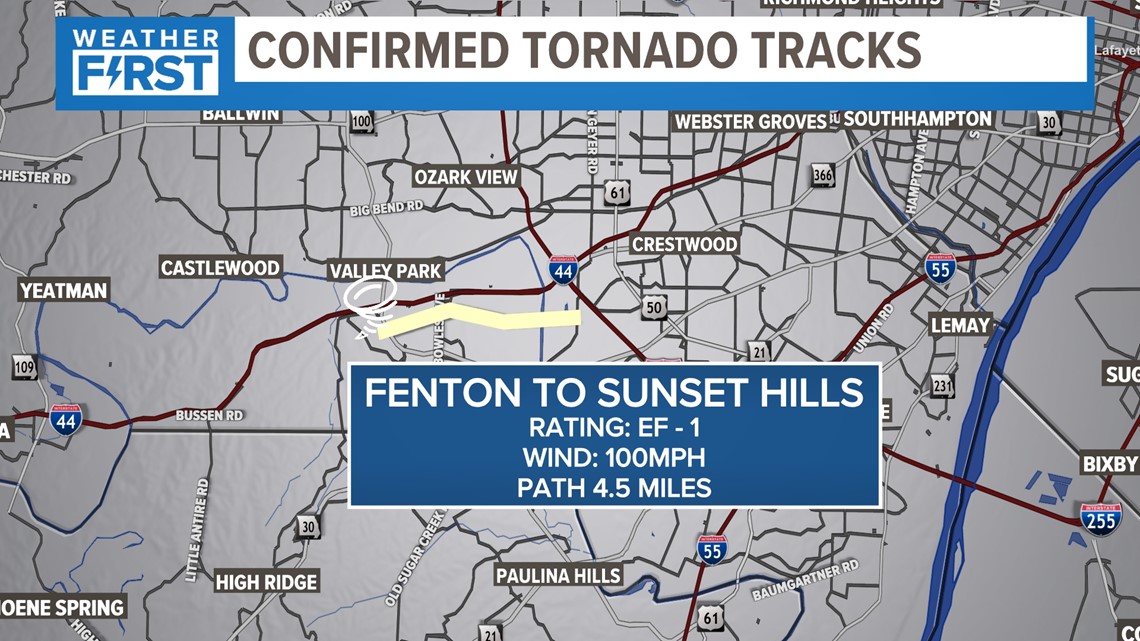 A little farther south in Pevely was a little short spin-up. Top winds were estimated at about 100 miles per hour. It was a small tornado, but it crossed right over I-55 and was just a mile-long path.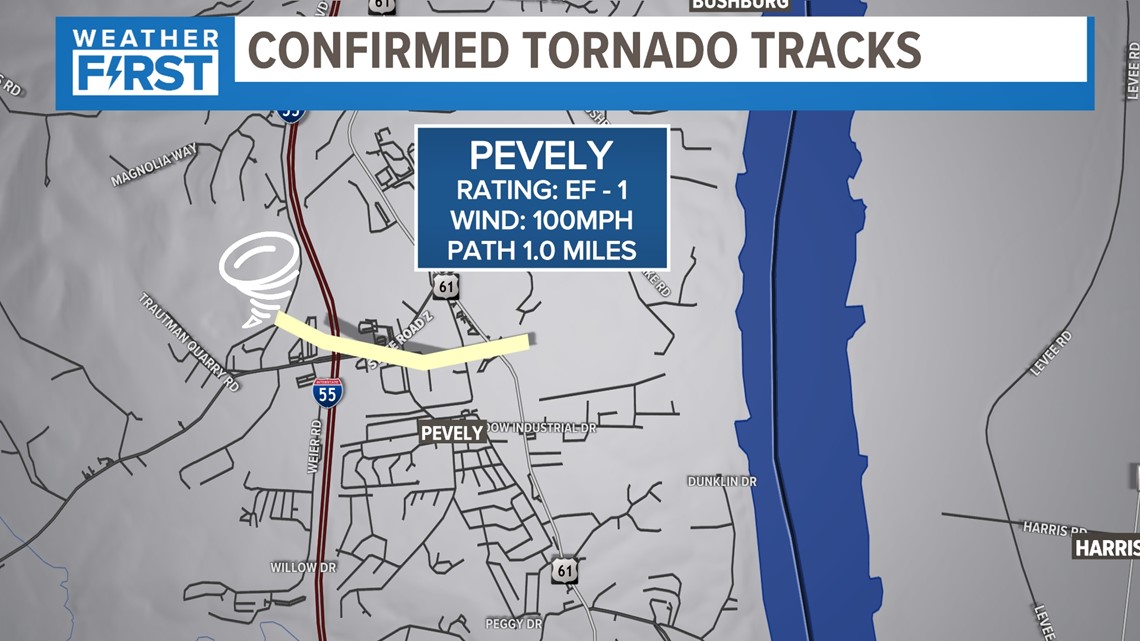 The third was a little farther off to the east near Valmeyer, Illinois and Monroe County. We had about a five-mile track with damage consisting mostly of tree damage. The estimated top speed of this tornado was 85 mph.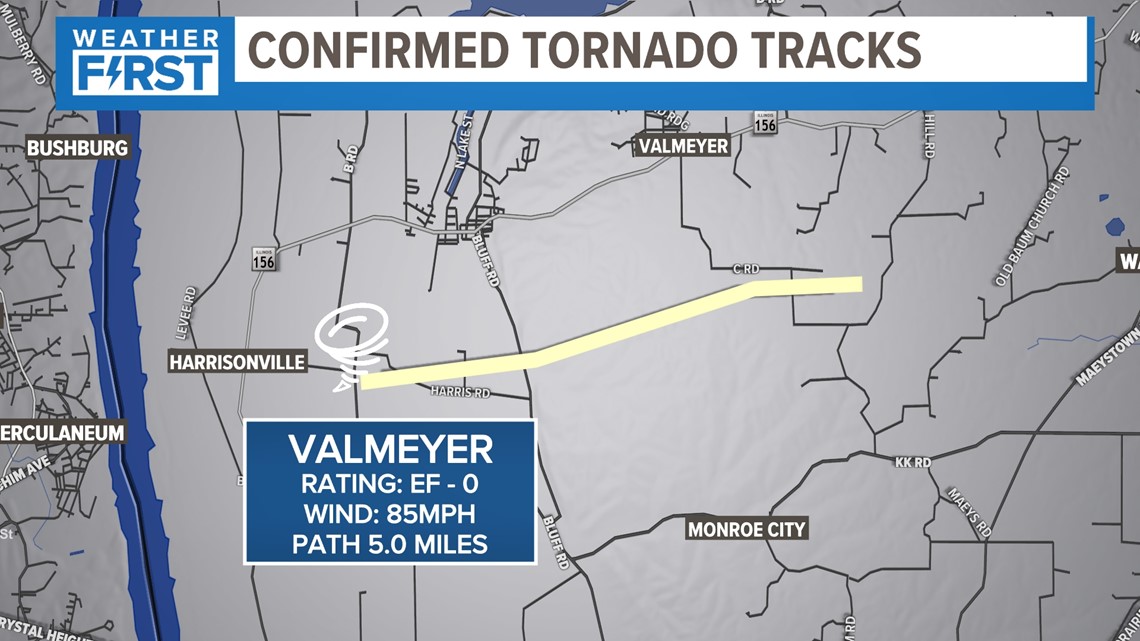 And then the bigger one, the longest track that we have, topped out at 19-and-a-half miles. This is the one that started just around Maeystown and worked its way over Route 3 and then over towards Hecker and then into southern portions of St Clair County, lifting just before it got to the New Athens area.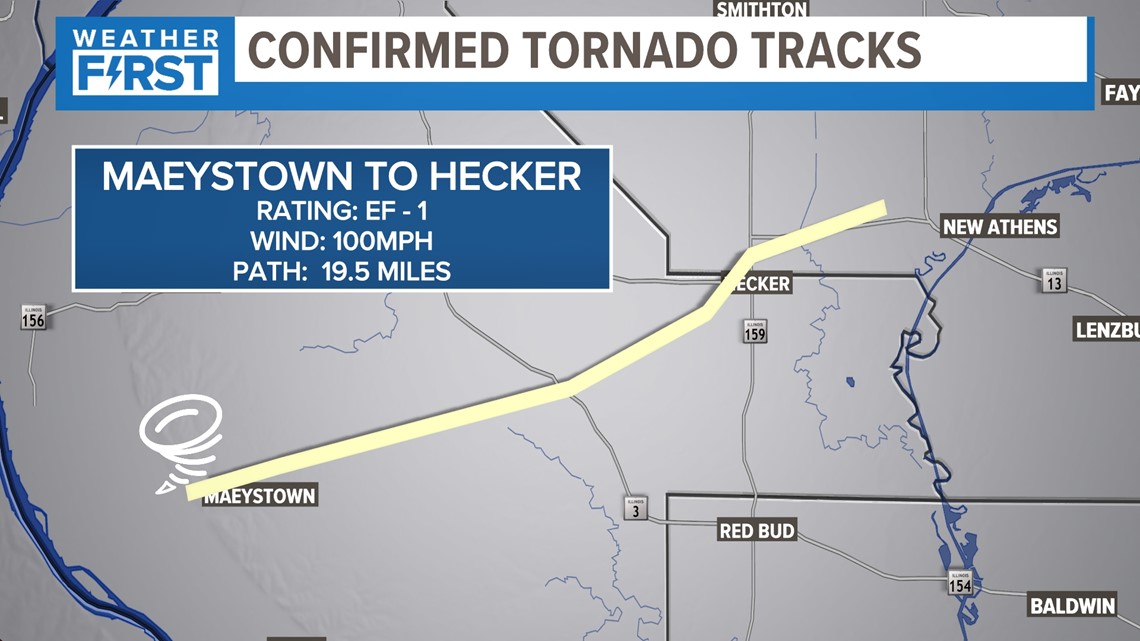 Later in the day on Sunday, the National Weather Service confirmed three more tornados, two in Illinois and one in Missouri.
The shortest of the three was in Hillsboro, where an EF-0 tornado touched down for six-tenths of a mile with top wind speeds of 77 mph.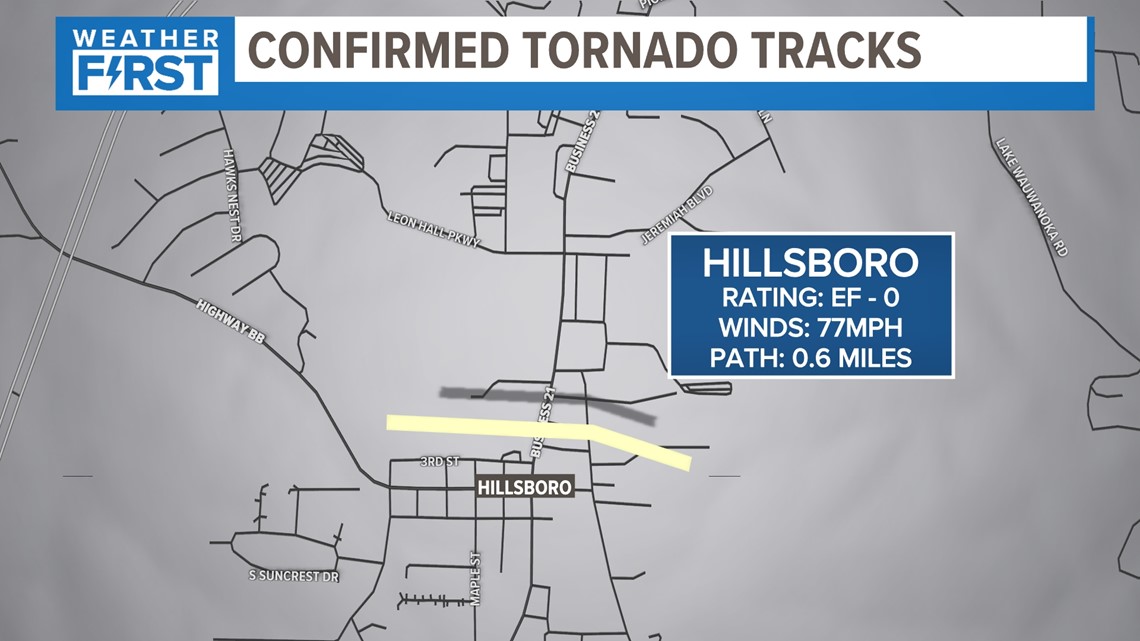 The shorter of the two Illinois tornados was in Swansea, where an EF-0 was on the ground for just over a mile. The winds topped out at 85 mph.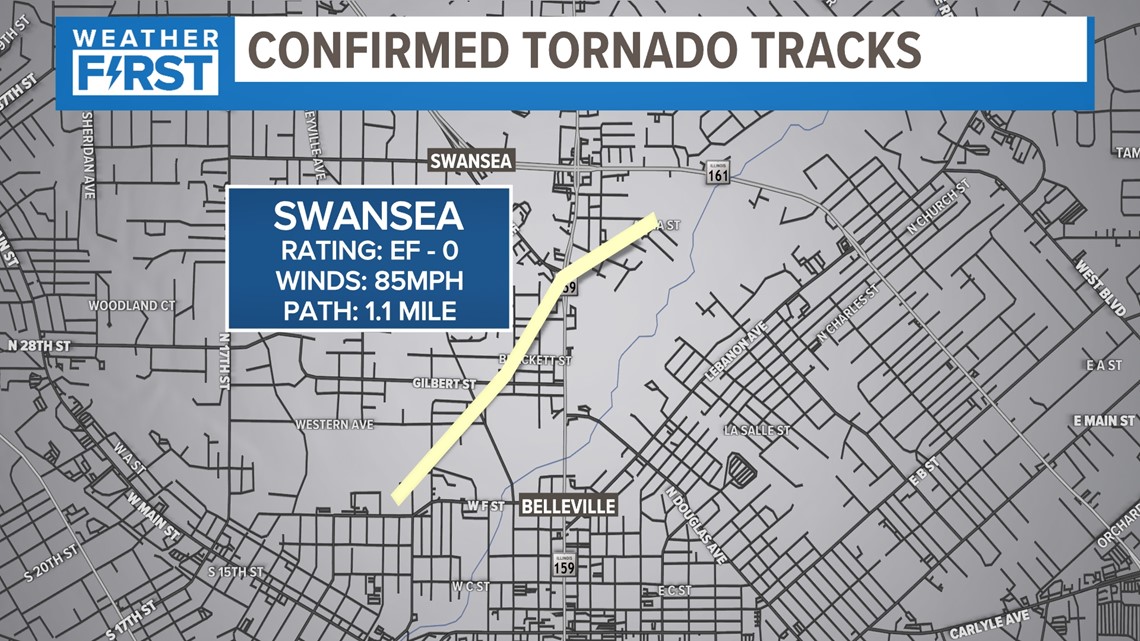 Less than a mile east, another tornado touched down in Belleville. An EF-1 tornado was on the ground for three miles with a top speed of 98 mph.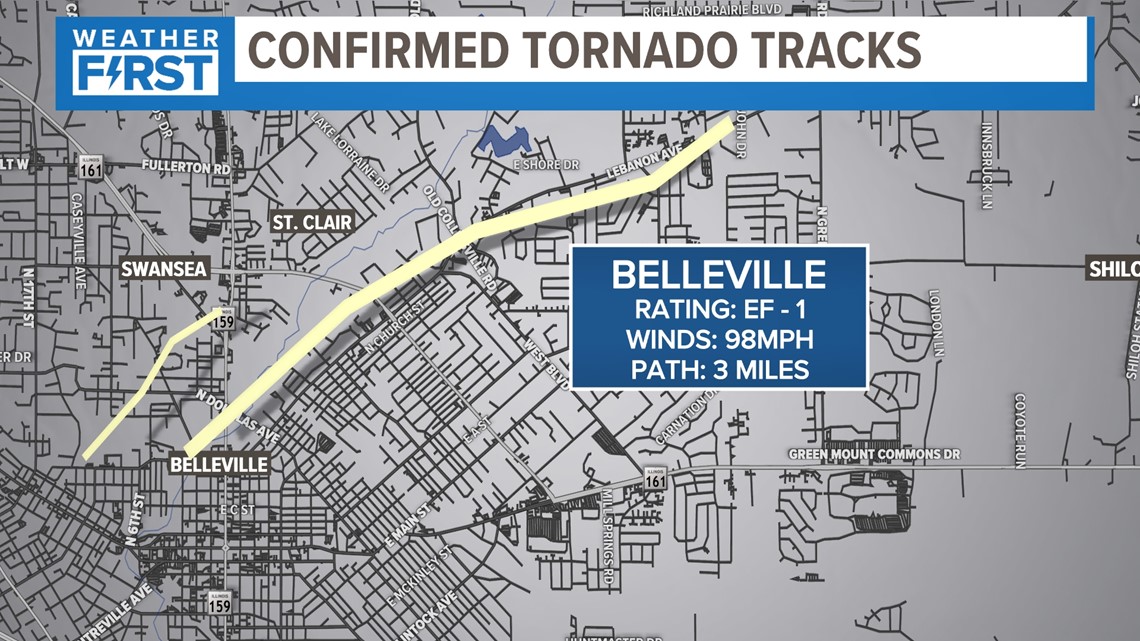 On Monday afternoon, the Storm Survey team found another tornado track from Herculaneum to Festus in Jefferson County. This finding is the eighth confirmed tornado.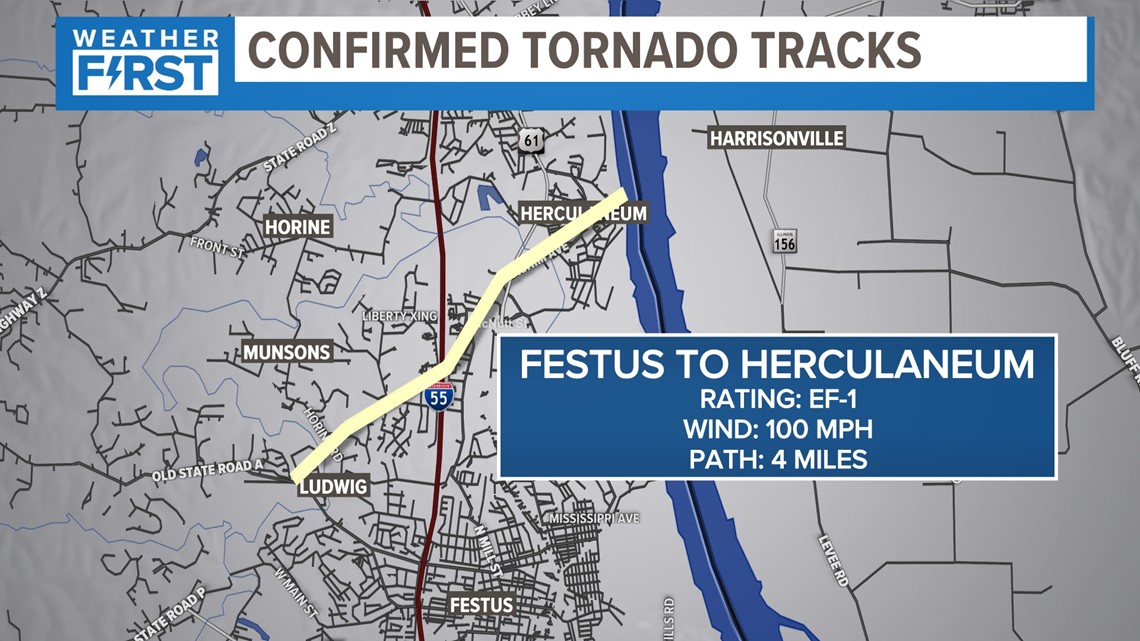 On Tuesday, the NWS confirmed four more tornados. Three of the four new tornados were listed a EF-Unknown because they did not produce known damage, but were identified through video evidence.
The four newly-confirmed tornados were in Signal Hill (EF-0), Columbia, Illinois (EF-Unknown), Collinsville (EF-Unknown) and Covington (EF-Unknown).
Storm survey teams from the National Weather Service are still moving about the area and it'll probably take a couple more days. But it's safe to say there's probably another three or four paths that they'll come up with where they can confirm tornado damage.
There's certainly a lot of additional damage not even related to those spin-off tornadoes. That includes places like Hecker, Pevely and Valley Park.
Download the free 5 On Your Side app to get the latest watches and warnings and track conditions live with our interactive radar. Use the links below to download now.