ST. LOUIS — 5 On Your Side is in Storm Alert as a winter storm moves through Thursday across a large portion of the middle Mississippi River valley.
The first wave of snow, sleet and freezing rain pushed away from St. Louis Wednesday afternoon leaving six to twelve inches of snow over far western portions of the metro area north into the Hannibal, Missouri, area. Across much of the rest of the metro area, the mix of freezing rain and sleet limited snow accumulations, but more snow is expected.
The battle zone continues from Texas to the northeast Thursday as the cold air sags southeast. Another round of significant snow will fall along I-44 in Missouri and east along I-70 into Illinois through Thursday.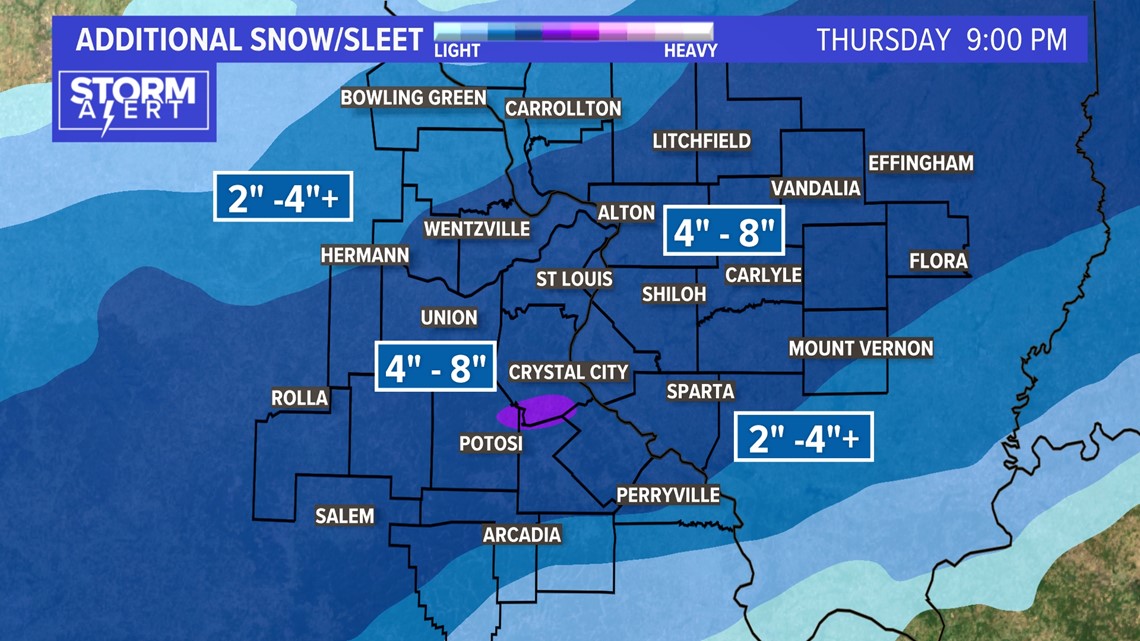 The end result is major travel continuing travel complications across the region.
While some sleet will fall farther south of St. Louis on a line from Salem to Farmington to Ste. Genevieve in Missouri to Nashville and Salem in Illinois, these areas can expect a complete change to snow before the storm winds down later Thursday.
Download the free 5 On Your Side app to get the latest watches and warnings and track conditions live with our interactive radar. Use the links below to download now.
There was enough ice to cause a few downed power branches and some power outages over portions of southern Illinois Wednesday. The winds become a bit gusty where ice accumulates on the trees and power lines on Thursday in an area much farther south.
Stream 5 On Your Side: To add the 5 On Your Side app to Roku or Amazon Fire TV, search for "KSDK" to find the free app to add to your account. Get weather updates, the latest local news and special reports from 5 On Your Side.

Total sleet and snow accumulations range from two to four inches far southeast to as much as 15 inches north of a line from Jerseyville to Troy to Hermann.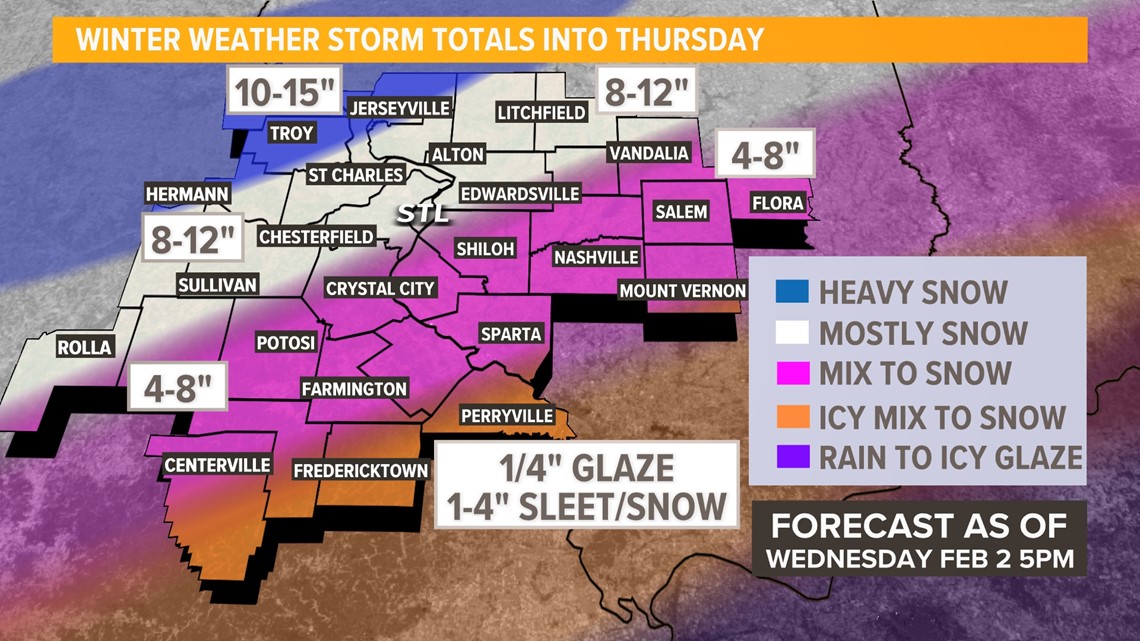 Travel impacts are expected over portions of eastern Kansas, Missouri, Illinois and Iowa and into the Great Lakes as the system evolves. Once the system moves away, the arctic chill will linger into through the end of the week with temperatures well below average for early February.