ST. LOUIS — A security guard for SSM Health Cardinal Glennon Children's Hospital is in critical condition after being run over by a man suspected of breaking into cars.
The suspected thief has died from his injuries and police were seeking murder charges against a woman who was with him, which have since been denied.
The security guard worked for Cardinal Glennon's in-house security division. Administrators said the 38-year-old guard's family has asked for privacy and issued this statement:
"This has been a difficult day at Cardinal Glennon. We're a tight-knit community -- in many ways a family -- and to have one of our own critically injured like this is upsetting. SSM Health believes in the power of prayer, and we ask the community to join us in praying for healing for our friend and colleague."
St. Louis police were called to the hospital parking lot at 1:11 a.m. Wednesday along South Grand Boulevard for a report of a shooting. When officers arrived, they found the security guard with injuries.
Police said the guard was investigating a suspicious vehicle in the parking lot of the hospital.
Police sources told 5 On Your Side the driver of the car struck the security guard, which caused him to be thrown onto the hood of the car and then thrown to the ground where he was run over.
The guard fired five shots at the suspect's vehicle, police sources said. Bullet holes in the hood of the suspicious vehicle, a red Kia Soul, show the guard's shots were clustered close together.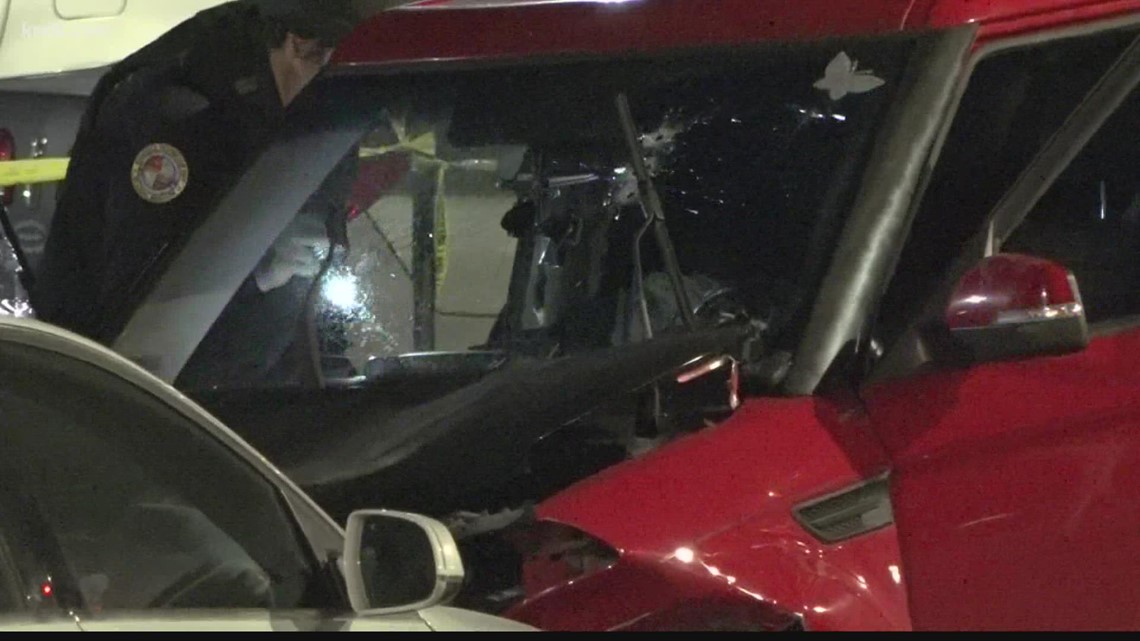 The suspect then crashed into a parked car and ran away along with his female passenger.
St. Louis police found the suspect lying on the ground at South Grand and Lafayette Avenue near the I-44 overpass suffering from a gunshot wound to the chest.
He was taken to a hospital where he was pronounced dead. On Thursday, he was identified as 32-year-old Anthony Smith.
Police sources told 5 On Your Side Smith has a lengthy criminal history that includes outstanding bench warrants out of St. Louis.
His previous crimes also include domestic assault, property damage, previous car break-ins, and drug possession. Some of his previous charges stem from incidents in surrounding communities including Maplewood and Ferguson.
The man's 26-year-old accomplice initially ran away from the scene as well, but police sources said she tried to return and drive the car away. It was inoperable and, when she tried to run away again, police used a Taser to subdue her.
Her criminal history includes outstanding bench warrants from St. Louis as well as arrests for drugs, endangering the welfare of a child, and resisting arrest.
Police said they applied for murder, assault, and armed criminal action charges against her with the St. Louis Circuit Attorney's Office for Wednesday's shooting. In Missouri, an accomplice can be charged with murder if their accomplice is killed while they are committing a felony together.
On Friday, St. Louis police said the Circuit Attorney's Office refused to charge the woman. Police said they weren't given a reason as to why charges were refused.
Resources for crime victims:
If you have been a victim of a crime or know someone who has been, 5 On Your Side has compiled a list of resources.
Better Family Life is a nonprofit community development organization working to "stabilize inner-city neighborhoods." One aspect of its mission is a gun violence de-escalation program.
Life Outside of Violence "helps those harmed by stabbing, gunshot or assault receive the treatment, support and resources they need to find alternatives to end the cycle of violence."
The Urban League of Metropolitan St. Louis has an anti-crime program called "Safety Net for Youth Initiative," which is a joint partnership between and Saint Louis Public Schools to provide services to at-risk youth.
Cure Violence is an international organization that has recently launched in a handful of St. Louis neighborhoods. Violence interrupters are trained to deescalate violent situations within their own communities. To learn more, visit https://cvg.org/