SPARTA, Ill. — Investigators believe they have identified three people tied to more than 30 ATM smash and grabs.
The crimes happened in small towns across Iowa, Minnesota, Alabama, Texas and both sides of the Bi-state.
Outside of the occasional speeding ticket, things are usually quiet in the small towns of Sparta and Waterloo, Illinois.
"To my knowledge, we've never had an ATM theft," said Det. Andy Dahlem of the Waterloo Police Department.
That changed on April 13 at about 11:30 p.m., when officers were called to the Sparta Banking Center.
"They discovered an ATM had been completely demolished by a truck," said Sgt. Cody Mahan with the Sparta Police Department. "They hooked some chains to a truck, and pulled the front off the ATM, and then retrieved the money boxes from inside the ATM."
Roughly three hours later Waterloo Police received a similar call from 1st National Bank, which sits just across the street from the Waterloo Police Dept.
"Officers arrived within a couple of minutes and found a truck still tethered to what was left of the ATM," Dahlem said.
"Shortly after we discovered they were broken into we, actually had the plate the next morning," Mahan said.
"We put a regional broadcast out to hey somebody find this vehicle, stop it for us, and identify the people in it," Dahlem said. "It was stopped at 9 a.m. that morning, and it had already been rented by another person."
By working with other departments, and utilizing license plate scanners, investigators identified three suspects and tracked them to National Car Rental outside Lambert International Airport in St. Louis.
"Lambert police were very helpful in tracking these gentlemen through the entire airport and finding out what flights they were on," Dahlem said.
Using airline flight information, rental car logs and resources from the FBI, investigators tracked the movements of Jacobei Townsend, Jeremiah Neloms and Marcus Cockrell across multiple states where they're suspects in at least 30 ATM robberies.
"In every case that we're seeing, they're in a town two or three days," Mahan said. "They scope out the area, hit the ATMs, and then they fly out as quickly as possible to get out with as much money as they can."
Police in Iowa arrested Townsend and late Wednesday night authorities in Texas tracked down Cockrell.
"They had more chains and more pry bars that they were using to commit these ATM thefts in their vehicle," Dahlem said.
Though Neloms is still on the run, that hasn't stopped Randolph County State's Attorney James Kelly from filing multiple felony charges against all three suspects. He told 5 On Your Side that more charges were likely.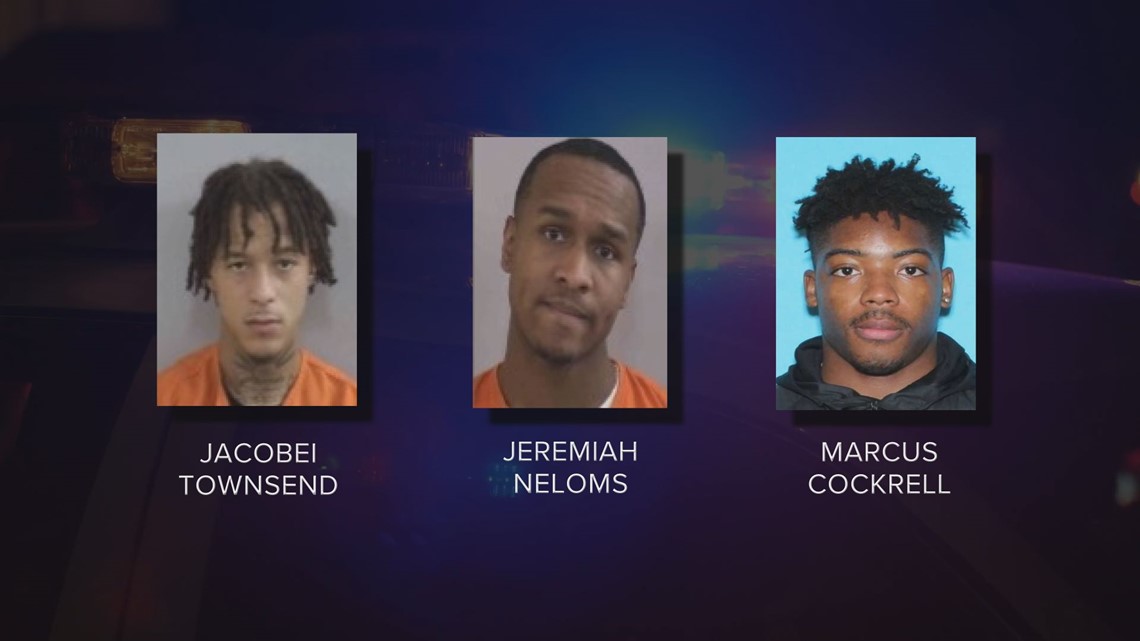 "This instance gives us a great opportunity to show the rest of the community and the rest of the world that this is not a place you want to come and do something like this," said Randolph Co. State's Attorney James Kelley. "We take everything seriously."
However, there is still one question left to be answered.
"We don't know where the money went," said Det. Dahlem. "That's the missing piece so far."
In total investigators believe more than $100,000 was stolen from ATMs across Randolph and Monroe counties.