HERMANN, Mo. — A 35-year-old man is facing charges, accused of killing a Hermann, Missouri, police officer and injuring another Sunday night.
Kenneth Lee Simpson, 35, was charged Tuesday with one count of each first-degree murder, first-degree assault and unlawful possession of a firearm. He is also charged with two counts of armed criminal action.
He is being held without bond. He appeared in court Wednesday morning in Gasconade County where he pleaded not guilty.
The Missouri State Highway Patrol canceled a Blue Alert out of Hermann, Missouri, Monday afternoon after the man suspected of shooting two Hermann police officers the night before was taken into custody.
The alert said the department was looking for Kenneth Lee Simpson. They said he shot two police officers at the Casey's gas station on Missouri Highway 19 and fled the scene.
Hermann police and MSHP are surrounding a home Monday morning not far from the gas station in Hermann, where they believe Simpson is hiding inside.
At the scene, 5 On Your Side saw police break down the door of the home just before 5 a.m., but Simpson had yet to come out.
Around 2 p.m., the suspect was taken into custody, according to the Missouri State Highway Patrol.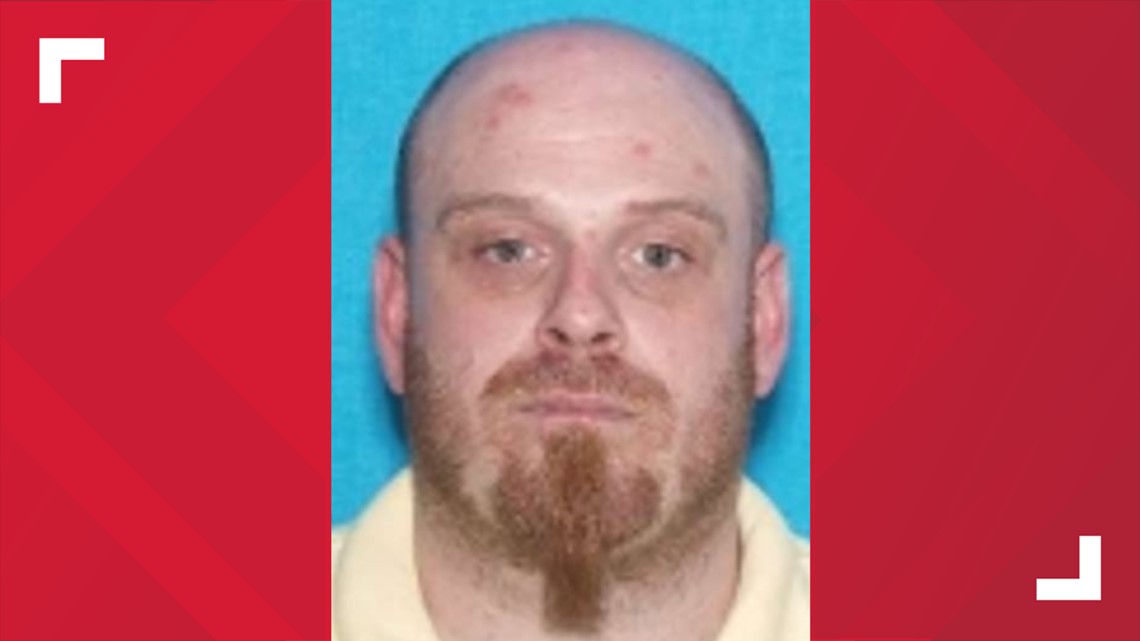 A Blue Alert is issued during the search for a suspect responsible for killing or seriously injuring a law enforcement officer. MSHP said both officers were transported to area hospitals in serious condition.
At 5:22 a.m. Monday, MSHP Troop F tweeted that 34-year-old Detective Sgt. Mason Griffith, one of the Hermann officers who was shot, died due to his injuries.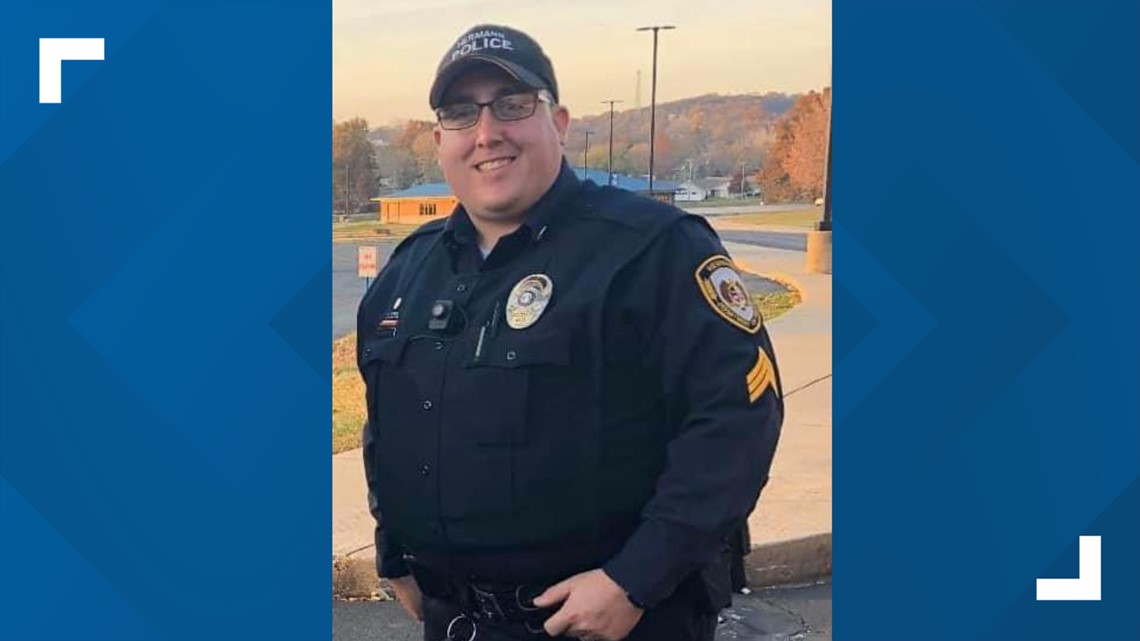 Griffith's wife, Jennifer, shared the following message Monday morning on Facebook: "I have no words… except, you were the most incredible husband, father and leader in your community! You are already greatly missed. I will do my best to honor you every day. Karson will never forget you! I want to thank all my friends family and first responder family!!! Rest Easy Mason we have it from here!!! #5300 #503."
Missouri Gov. Mike Parson was among those on social media offering condolences to Griffith's family and the Hermann Police Department.
"Hermann Police Department Detective Sergeant Mason Griffith will never be forgotten, and Missouri will always be grateful," Parson tweeted. "Teresa and I are praying for Mason's family, friends, and fellow law enforcement officers."
The Gasconade County R-1 School District canceled classes Monday to ensure the safety of students and staff amid the ongoing situation.
A SWAT team made up of at least six people was headed toward the house where Simpson was believed to be inside at about 7:20 a.m.
At about 9:45 a.m., MSHP told 5 On Your Side the standoff at the Hermann home was ongoing, but police were still not certain whether Simpson was inside the house.
At about 11:15 a.m., MSHP said a perimeter was established around the home. The state patrol was working to establish contact with Simpson and were using "additional tactical resources" to resolve the situation.
Monday morning, the City of Hermann on Facebook identified the second injured officer as 31-year-old Adam Sullentrup.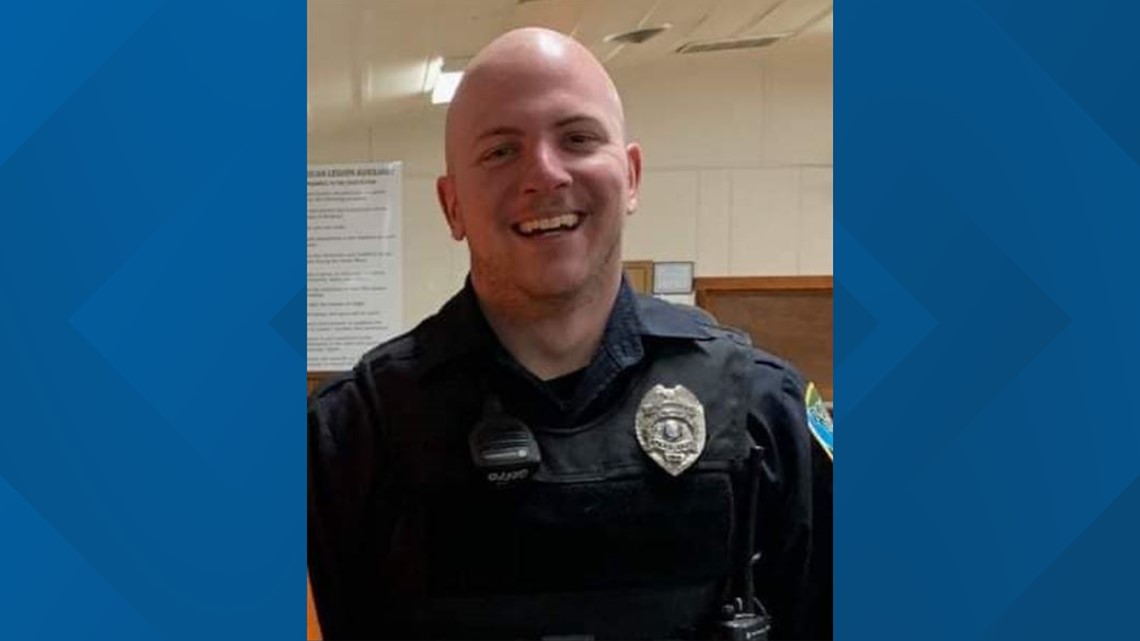 Out of respect and concern for city employees, the city said its office will be closed to the public Monday.
5 On Your Side also spoke with a neighbor who told us it was his brother-in-law's home that Simpson ran into.
We're told there were children inside the home and the family was afraid for their lives. The neighbor we spoke to told us the family was held hostage for a little and then Simpson told them to "run for their lives."
Brad Heart was born and raised in Hermann and lives a couple of houses down from where the stand-off took place.
"They said 'Lock your doors, turn your outside lights on to deter anybody from coming close to your house,' and we just kind of sat all night," he said.
Heart described how he was feeling before Simpson was caught.
"Just to keep myself and my fiancé safe. When it's only two blocks from your house you don't know how the person left, where they are, if they're in a vehicle or if they're on foot, they could be looking anywhere they can to hide out," he said.
Heart said he didn't know the officers personally but said they have good reputations throughout the community.
"These guys were always doing stuff with the kids in town. If they saw kids with a bunch of squirt guns, they'd go and buy squirt guns at the store and get out and have fun with them. Throw the baseball, play basketball at the park. They were just a part of the community, they were always a part of the community. It's just a shame for small town like this, but then again, you never know when or where," he said.
As of Friday evening, a preliminary hearing that Simpson was supposed to appear in court for on March 20 has been cancelled. A new date has not been announced.
This breaking news story will be updated when more information becomes available.
To watch 5 On Your Side broadcasts or reports 24/7, 5 On Your Side is always streaming on 5+. Download for free on Roku or Amazon Fire TV.
Resources for crime victims
If you have been a victim of a crime or know someone who has been, 5 On Your Side has compiled a list of resources.
The Crime Victim Center of St. Louis has multiple programs to support victims of crime. Crime Victim Center's programs range from direct services to crime victims as well as "creating awareness and change within the systems they encounter."
Life Outside of Violence "helps those harmed by stabbing, gunshot or assault receive the treatment, support and resources they need to find alternatives to end the cycle of violence."
The Urban League of Metropolitan St. Louis has the Neighborhood Healing Network, which serves people who have experienced crime, violence or been the victim of an incident that caused trauma.
Cure Violence is an international organization that is present in a handful of St. Louis neighborhoods. Violence interrupters are trained to de-escalate violent situations within their own communities.