MADISON COUNTY, Ill — A 5-alarm fire erupted at a factory near Granite City Wednesday morning, injuring one employee. As of Wednesday night, the fire was under control, but firefighters were still monitoring for hotspots into the night.
Granite City fire officials told 5 On Your Side the fire started at Interco, a recycling factory along Fox Industrial Drive in Madison, Illinois Wednesday morning at around 10 a.m. According to the Interco website, its facilities recycle nonferrous metal, industrial recycling, computers, electronics and EV batteries.
In a post Wednesday night, the Madison County Emergency Management Agency said the shelter-in-place order was lifted for residents in Granite City, but the order "remains in effect until further notice for all others previously notified."
The shelter-in-place order people should stay inside, close all doors and windows and turn off the air conditioning. A Madison County Hazardous Materials team is monitoring the air to determine when the shelter-in-place order will be lifted.
In a 4:15 p.m. press conference, first responders said the fire could go on for hours. Matt Coppin with the incident support team said the fire burned recycling materials, cars and a warehouse at the facility. The warehouse housed recycling materials like lithium batteries.
A 5 On Your Side crew arrived at the scene just before 11:30 a.m. and captured large clouds of black smoke and flames coming from the buildings. A 5 On Your Side photojournalist said he could hear explosions while driving to the scene, and Coppin confirmed that there were multiple explosions during the fire. He said they are still working to identify the hazardous materials that caused the explosions.
"I just could not believe how fast that fire moved and the pops sounded like loud booms," said Rachel Kirkwood. "It was so hot that you could feel the heat on your face."
Right after she took out her trash, Kirkwood turned around and saw a massive fire erupt at Interco, a block away from her home.
"We were standing on the porch and I'm like, 'What in the world!' I turned around and I'm like 'When did this happen?'" said Kirkwood.
Officials said one employee at the factory suffered burns and was taken to the hospital. There is no word on the employee's condition at this time.
Several fire departments in the St. Louis area and Metro East are working together to put out the fire, including departments as far away as Jefferson County, Missouri.
William Geno Sharp's Custom Corvettes shop of 20 years sits across the train tracks on State Street.
He saw the smoke as he drove in from St. Charles.
Sharp was impressed by the quick response from first responders.
"I can tell that the response was super because I told the wife if we get over here and they start calling St. Louis trucks over we know it's big. Unknown to me they were already here. I've never seen this kind of response ever and some of the biggest fires I've seen in my life have been over here on this granite city side," Sharp said.
The cause of the fire remains unknown. Firefighters will be able to get a better idea when the fire is fully extinguished.
There was concern about a nearby lumber yard, but Coppin said the yard was unaffected and they are no longer concerned about the yard.
5 On Your Side Meteorologist Jim Castillo said the smoke was so intense, that it could be seen on the weather radar Wednesday afternoon. He said the radar picks up particles like rain or in this case, smoke.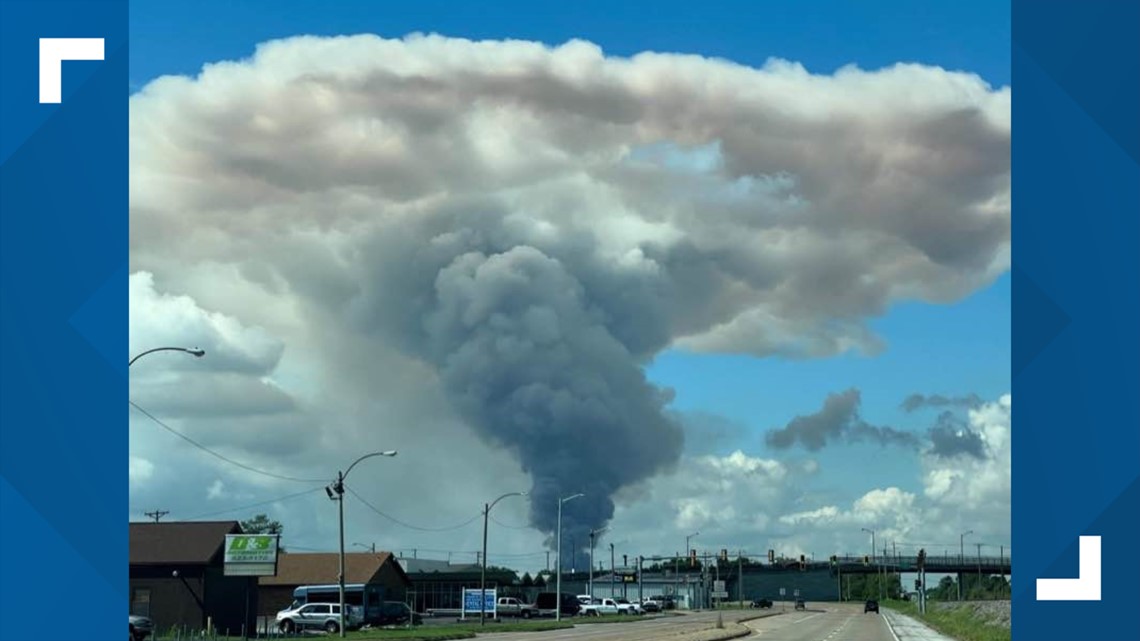 Two years ago, a 3-alarm fire erupted at the same factory. When that fire occurred, homes in the surrounding area were evacuated.
The Salvation Army responded with meals to feed firefighters working the fire. The feeding operation will continue for 72 hours.
It's unclear how long firefighters may need to monitor the fire.
This is a developing story and will be updated as 5 On Your Side confirms more information.