ST. LOUIS — Despite the gloomy start to the day, we're gradually clearing just in time for the holiday festivities this evening. Temperatures are even warmer off to the west as skies have cleared throughout the day.
Locally, Halloween has been a relatively quiet holiday around here, weather-wise. With records going back to 1874, it's quite impressive that we've only seen measurable rain 44 times. We've never had measurable snowfall on this date, either! Just a few flakes to notch a "trace" of snow six and even some sleet back in 1992. This doesn't mean that it hasn't been very warm...or very cold on this date. We can obviously have extremes this time of the year, as is evident by our 62-degree spread between records.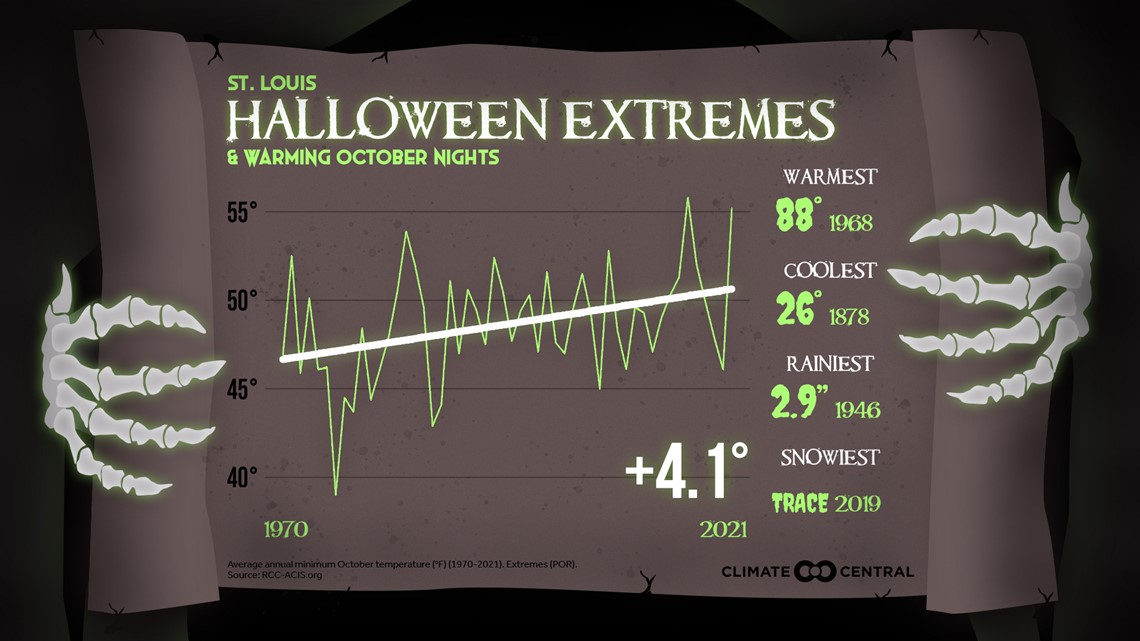 But the biggest difference you're likely noticing in recent years is the fact that it's not cooling down in the evening quite as much. We've reached 70 degrees or greater 45 times on Halloween and we've only been less than 40 degrees on the holiday 43 times. As records go back to 1874, this is quite the shift in recent years.
"On average across the United States, Halloween night has warmed up a little more than 2 degrees over the past 50 years," Climate Central Meteorologist Lauren Casey said. "In St. Louis, you have double the warming of Halloween night in the last 50 years."
Four degrees may seem nominal, but for climate scientists it's alarming.
"In science, small numbers can make a big difference," Casey said. "We can think of that when we look at our internal body temperature, so typically we are at 98.6 degrees, but you tack on a few degrees and you have a fever. You tack on a few more degrees and you have an extremely high and dangerous fever."
When numbers count, we need answers for why St. Louis Halloween nights come in at double the national average. St. Louis University Department of Earth and Atmospheric Sciences Department Chair Chuck Graves said "because we are in the middle of the country, we don't have the modulating effects of the oceans, so there's a good chance that is impacting it. There are studies that the growing seasons are changing and that can have an impact."
Have you noticed a difference as you and your kids spend time outside over the last few years? The lack of layers or rain gear that you need for the holiday may actually be beneficial to some.